Seoul Resurrects Plan for Joint Shipbuilding with North Korea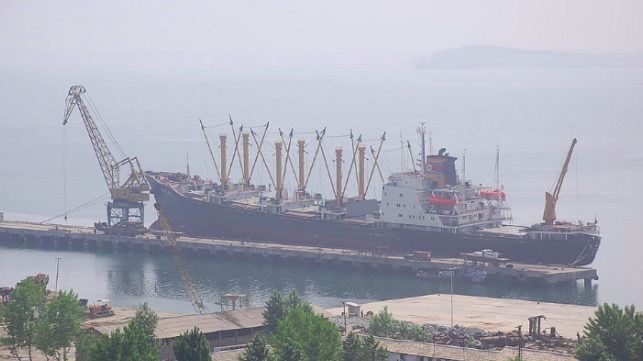 In 2007, South Korea and North Korea agreed to pursue joint economic development projects as part of a broader reconciliation deal. The agreement included a rail line and a freeway to Pyongyang, an industrial complex at Gaeseong, and "cooperative complexes for shipbuilding" in Anbyeon and Nampo, North Korea.
Over the decade since that agreement, the North has accelerated its nuclear weapons program. Its rhetoric and investments in nuclear R&D have attracted negative attention from the international community and severe economic sanctions from the United Nations, including a near-complete ban on North Korean shipping.
In April, as the North and South moved to reconcile their differences and reach a peace agreement, the government of South Korean President Moon Jae-in agreed to resurrect the plan to build shipyard capacity at Anbyeon and Nampo. On Tuesday, South Korean media confirmed that Jae-in's government is working on the joint shipyard plan. South Korea's Ministry of Trade, Industry and Energy and the Ministry of Unification's Inter-Korean Economic Cooperation Team are said to be reviewing options for joint projects, including the Anbyeon-Nampo shipyard venture and the development of unspecified resources.
The plan faces significant hurdles, including the lingering overcapacity in the Korean shipbuilding sector, the stiff competition from Chinese shipyards and the U.N. sanctions that would apply to newly built North Korean vessels. Under the current sanctions regime, if a North Korean yard could attract an order from a foreign buyer, the new vessel would be subject to a U.N. ban on the export of North Korean ships. If a North Korean-built ship were kept by the North Korean government, any export/import cargo in its holds would be subject to the UN ban on most North Korean trade, including petroleum, coal, wood, food, fish, metals, ore, electrical equipment and other core commodities.
The joint shipbuilding plan could also have security implications. The Nampo shipyard builds small merchant ships, dredgers and stern trawlers, but it is also the home of a key North Korean naval shipbuilding complex. Analysts with 38North believe that the facility has recently been used for the testing and development of North Korea's submarine-launched ballistic missiles (SLBMs).