China Announces String of Pioneering Shipbuilding Orders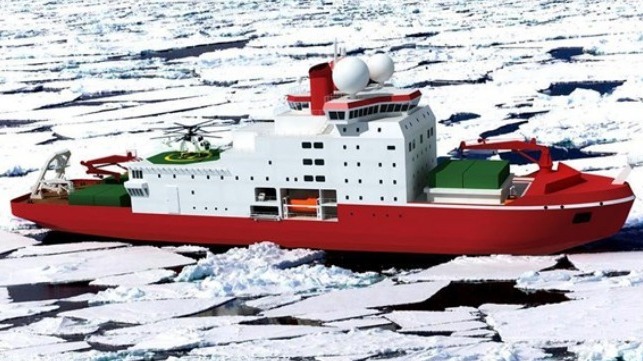 China's state media has announced a string of shipbuilding orders this month that take the nation beyond its established capabilities. The world's top steel maker has become the world's top shipbuilder - and its "Made in China" program is boosting efforts to expand shipbuilding capabilities by 2025.
LNG-Fueled Ro-Ros
Two LNG-fueled Ro-Ros, the largest of their kind in the world, are to be built by Xiamen Shipbuilding Industry. Each 13-deck ship is to be 199.9 meters long, 38 meters wide and 14.8 meters high with a designed draft of 8.65 meters. The vessels will be able to carry 7,500 vehicles and are being built for shipowner Siem Car Carriers. The first vessel will be chartered to the Volkswagen Group on delivery in 2019.
China's Nantong COSCO KHI Ship Engineering built the first LNG-fueled ro-ro which can carry 3,800 cars.
Expedition Cruise Ship
State media outlet Xinhua has also reported that China has begun building its first polar expedition cruise ship. According to China Merchants Industry Holdings Company, the Ulstein-design ship will be 104.4 meters long, 18.4 meters wide and weigh 7,400 tons, with a speed of at least 15.5 knots. Construction of the vessel is expected to be complete by August 2019.
Ferry for Algeria
A consortium established by China Shipbuilding Trading Company and Guangzhou Shipyard International has signed a contract for the construction of a large ferry with a capacity of 1,800 passengers and 600 vehicles. The 200-meter ferry is expected to be delivered to Algeria in 2020.
Research Vessels
Shanghai's Jiangnan Shipyard has unveiled plans to start the construction of China's biggest research vessel this year, with the project expected to take about two years to complete. The vessel will have a displacement of 6,800 tons and will have a podded propulsion system. The project was commissioned by Sun Yat-sen University in Guangzhou.
Jiangnan Shipyard is also building the Dongfanghong 3, a 5,000 ton research and training ship for Ocean University of China in Qingdao. It will be the college's fourth research ship.
China operates more than 50 research vessels, and Chinese scientists have begun preliminary research on a next-generation icebreaker capable of lengthy research missions in the Arctic and Antarctica. The new vessel is anticipated to be able to break ice about three meters thick and withstand -45 C.
Currently China operates one icebreaker, Xuelong, or Snow Dragon. China State Shipbuilding Corp is constructing the country's second, and the first domestically designed, research icebreaker, tentatively known as Xuelong 2. Construction started in December 2016, and delivery is expected in 2019.
Aircraft Carriers
China has also announced its intention to build larger aircraft carriers, having mastered the technical ability to do so. China is currently trialing its first domestically built carrier which is expected to enter service in 2020. The new 50,000-ton aircraft carrier is being built in Dalian and will be capable of accommodating domestically-developed J-15 fighter jets.