Australia-Singapore Plan Green Shipping Corridor by 2025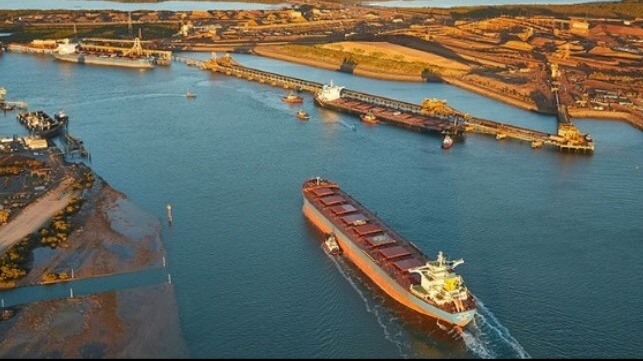 Australia and Singapore have committed to establishing a green and digital shipping corridor by the end of 2025. This is a follow-up to the earlier Green Shipping Cooperation initiative signed by the two countries in October 2022 and aligns with their broader initiatives to be at the forefront of launching decarbonization efforts for shipping.
Australia's Department of Infrastructure, Transport, Regional Development, Communications and Arts (DITRDCA) and Singapore's Maritime and Port Authority (MPA), agreed to work together with port operators, relevant jurisdictions, and energy value-chain stakeholders to galvanize the action plan to decarbonize and digitize the shipping industry.
Initially, DITRDCA and the MPA aim to identify areas of mutual interest toward the reduction of carbon emissions in the maritime sector. This includes the establishment of low and zero-carbon fuel supply chains, greening port services, and accelerating port operations that lead to the development and uptake of green marine fuel sources. In addition, the collaboration will also involve the identification of digital shipping solutions to facilitate the paperless handling of cargo between ports of Australia and Singapore.
"In view of the substantial cross-border trade between Australia and Singapore, this collaboration is a significant step towards exploring how both partners can take a global leadership role in optimizing their shipping routes to test and trial green and digital solutions," DITRDCA and the MPA said a joint press statement
While the concept for green corridors known as the Clydebank Declaration is drawing broad interest since it was proposed at the COP26 Conference in October 2021, both Australia and Singapore have sought to be at the forefront. The concept calls for specific trade routes between major port hubs to emerge as the first examples of zero-emission solutions for shipping. The MPA also has an agreement with the Port of Los Angeles and the Port of Long Beach to establish a green and digital shipping corridor. Australia is also spearheading initiatives for the creation of green corridors on its major trade routes announcing an agreement working with the shipping lines and miners for a green corridor to Asia.
Last month, a new study from the West Australia-East Asia Green Corridor Consortium found that ships powered by ammonia could be deployed on the iron ore trade routes between West Australia and East Asia by 2028.
The study reinforced a previous pre-feasibility report, which identified the iron ore shipping routes from West Australia to China and Japan as having favorable conditions for early adoption and the potential to have a large impact on the decarbonization of the maritime sector.
Australia is a large exporter of minerals with much of the ore shipping from Western Australia going to destinations in Asia. In 2019, for example, approximately 65 million metric tons of iron ore were exported from Australian mines to Japanese steelmakers, making this the third-largest dry-bulk trade route in the world. A total of 111 bulkers on the route burned approximately 550,000 metric tons of fuel oil, equal to 1.7 million metric tons of CO2 emissions.