Turkey Sends Drillship to Contested Waters off Cyprus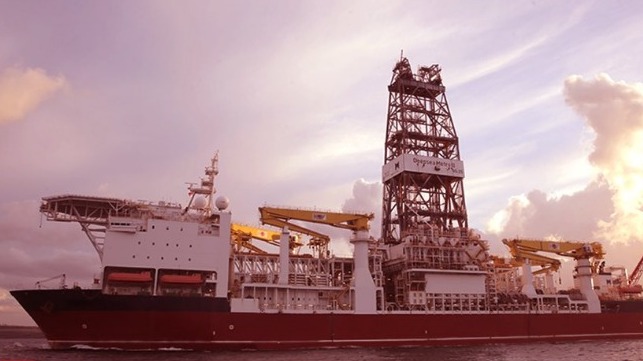 Turkey announced this week that it intends to send its own drillship into contested waters off Cyprus to explore for offshore oil and gas, upping the ante in its attempt to drive ExxonMobil and Eni out of potentially-lucrative lease blocks in the Eastern Mediterranean. Turkish naval forces recently prevented an Eni-chartered drillship from operating in a lease area off Cyprus' east coast.
Turkey's state-owned petroleum firm has its own drillship, the Deepsea Metro II, along with two seismic ships. As of Thursday, the Metro was moored near Gebze, in the Sea of Marmara, and her AIS status showed her under repair. At the time of the Metro's purchase, Turkey's energy ministry suggested that she would be refitted and deployed in early 2018.
On Thursday, the European Union objected to Turkey's stance on Cypriot offshore exploration. "The European Council strongly condemns Turkey's continued illegal actions in the Eastern Mediterranean and the Aegean Sea and underlines its full solidarity with Cyprus and Greece," the EC said in a statement.
Turkey dismissed this diplomatic protest. "The EU has completely lost its objectivity on the matter of Cyprus. If this attitude continues, it is impossible to accept the EU as a third party on the Cyprus issue," Turkey's foreign ministry said in a statement. Turkey insists that the revenue from petroleum exploration in Cyprus' EEZ should be shared with the Turkish Republic of Northern Cyprus, an autonomous region aligned with Ankara.
"We are heading for a full-blown crisis in the eastern Mediterranean," said Prof. Hubert Faustmann of the University of Nicosia, speaking to The Guardian. "And that is because Turkey is determined not to allow exploitation of any resources without its consent and participation of Turkish Cypriots."
USS Iwo Jima departs Limassol
On Thursday, as two ExxonMobil research vessels began operations southwest of Cyprus, AIS data showed that the U.S. Navy amphib USS Iwo Jima put to sea from the port of Limassol, on Cyprus' southern coast. The Royal Navy amphib HMS Albion departed the same port on the same day, also bound for sea.
The Iwo Jima arrived in Limassol on Monday, bringing units of the 26th Marine Expeditionary Unit (MEU) and a complement of Harrier II jump-jets, tilt-rotor troop transports and helicopters. She recently finished an annual training operation with Israeli forces off Haifa, and the U.S. Navy suggested that her presence in Cyprus is part of a routine deployment.
U.S. 6th Fleet announced Friday that the amphib USS Oak Hill has departed the Black Sea for an undisclosed destination. The Oak Hill is part of the Iwo Jima Amphibious Ready Group, along with the amphib USS New York.