U.S. Navy Arrives as Exxon Begins Cyprus Campaign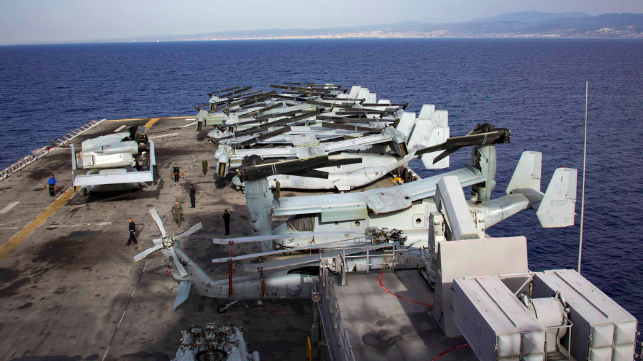 American oil major ExxonMobil has launched its exploration campaign off the coast of Cyprus, despite Turkish threats against oil majors over leases in Cypriot waters. The Exxon-chartered research vessel Med Surveyor departed Limassol on Saturday and is operating off the island's southwest coast.
Last month, Turkey deployed warships to stop an Eni-chartered drillship from operating in Cyprus' EEZ. On February 23, the Italian oil company abandoned its attempt and sent its drillship to explore a site off western Morocco instead. Turkish Prime Minister Binali Yildirim extended a comparable warning to other oil majors on March 7, suggesting that "provocative activities [off Cyprus] will be met with the appropriate response."
On Monday, the U.S. Navy amphibious assault ship USS Iwo Jima arrived in Limassol, Cyprus, bringing units of the 26th Marine Expeditionary Unit (MEU) and a complement of Harrier II jump-jets, tilt-rotor troop transports and helicopters. She recently finished an annual training operation with Israeli forces off Haifa, and the Navy suggested that her presence is part of a routine deployment.
"We share the same views of maintaining safety and security of the world's oceans and sea lanes. Through strengthened relationships, we can . . . work with our partners to maintain a safe, secure and prosperous European region and global security environment," said Iwo Jima's commanding officer, Capt. Joseph O'Brien.
"The 26th MEU remains ready to respond to crisis and deter aggression on a moment's notice," said Col. Farrell J. Sullivan, commanding officer of 26th Marine Expeditionary Unit. "This port visit provides us with an opportunity to meet the people and experience the rich history and culture of Cyprus."
Turkey's objections
Cyprus is divided in two, with the southern half (the Republic of Cyprus) aligned with Greece and the northern half (the unrecognized Turkish Republic of Northern Cyprus) aligned with Turkey. Greece and Turkey are both NATO allies, but the control of Cyprus has been a source of tension between them for decades. The Republic of Cyprus conducted the recent offshore auction, but Turkey and Turkish Cyprus also lay claim to some of the lease areas, including Eni's lease at Block 3.
After Turkish warships forced Eni's drillship to depart, Turkish President Recep Tayyip Erdogan issued a firm warning to others with interests in Cyprus' offshore development. "We warn those who overstep the mark in Cyprus and the Aegean," he said. "We recommend that foreign companies don't allow themselves to be an instrument of issues that surpass their limits and strength, by trusting the Greek Cypriot side . . . Their show of strength lasts only until they see our ships and our planes." Erdogan's government has called for all exploration off Cyprus to halt until Turkish Cyprus shares in the lease program.
The EU and the U.S. have both called on Turkey to seek a diplomatic solution to the development of Cyprus' offshore resources.