Trump Withdraws U.S. from Iranian Nuclear Deal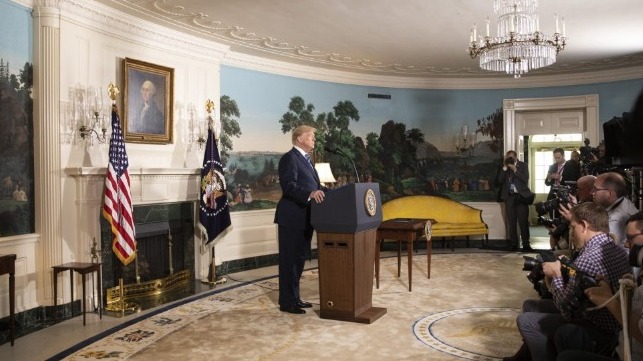 President Donald Trump announced Tuesday that he will withdraw the United States from the Obama administration's nuclear agreement with Iran and reimpose the previous regime of economic sanctions. Depending upon the details and the extent of these punitive measures, trade with Iran - especially trade in petroleum - could be severely affected.
During the sanctions period from 2012-2016, Iran lost an estimated $160 billion in oil revenue due to a clampdown on trade, and it lost access to $100 billion in overseas financial assets. Under the Obama administration's deal with Tehran, the U.S. and its European allies eased these banking and trade sanctions in exchange for a broad range of concessions: the removal of 98 percent of Iran's nuclear material, limitations on equipment for enriching uranium, an IAEA nuclear monitoring regime and a ban on nuclear weapons R&D.
The agreement went into effect in January 2016, and Iran gradually resumed oil exports to overseas markets. The IAEA and the U.S. State Department have assessed that Iran has complied with its side of the arrangement, though security concerns about Tehran's involvement in regional conflicts and its investments in ballistic missile technology remain.
President Trump has long signaled that he does not approve of the nuclear deal and has promised to end it. America's allies in Europe and many of Trump's advisors counseled against withdrawing from the agreement, but in a speech at the White House on Tuesday, Trump carried out his threat. "The Iran deal is defective at its core," Trump asserted. "It is clear to me that we cannot prevent an Iranian nuclear bomb under the decaying and rotten structure of the current agreement."
Former vice president Joe Biden, an advocate for the deal and a frequent critic of Trump's policies, said in a statement that reimposing sanctions was a mistake. "It will allow Iran to garner international sympathy while doing nothing to reduce its harmful activities across the Middle East," Biden said. "It will free up Iran's path to a nuclear weapon and ultimately force us into a binary choice between engaging in a new military conflict or living with a nuclear-armed adversary."
Geopolitical considerations aside, the reimposition of sanctions will likely affect shipping. A ban on banking with the Central Bank of Iran and other designated Iranian financial institutions will automatically go back into effect on May 12 if Trump does not waive it as he has before. Historically, buyers of Iranian crude have used these financial channels to make payments, and these transactions could be affected. However, the ban contains exceptions, and it may not impact buyers from all nations equally.
In July, sanctions on foreign businesses that work with Iran's oil industry - including foreign maritime firms that carry Iranian petroleum and petchem cargoes - will take effect if Trump does not act to waive them. A ban on providing insurance to Iranian shipping firms and a blanket ban on supplying the Iranian energy and maritime sectors would also resume, with significant implications for international shipping.
If these sanctions are reimposed, they would directly impact Iranian plans for ramping up oil exports. Iran is getting ready to ship the first commercial export loadings of its new West Karoun oil grade later this month, and French oil major Total and unspecified Chinese E&P firms are said to be in talks with Tehran for new investments in the West Karoun region.