Singaporean Tanker Suspected of Sanctions-Busting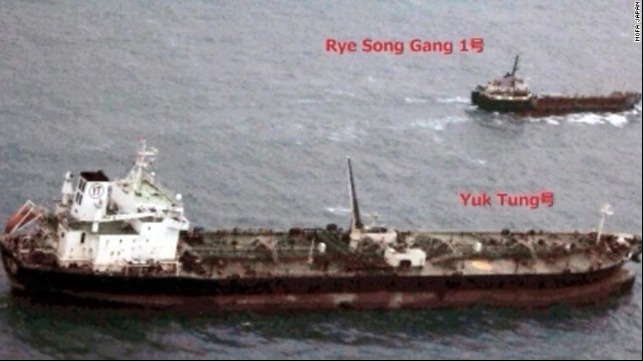 The Japan Maritime Self Defense Force says that it detected and photographed a "strongly suspected" high-seas petroleum transfer between a Singaporean-owned tanker and a North Korean vessel over the weekend. If the claim is accurate, it would represent another violation of U.N. sanctions against providing fuel to North Korean shipping.
A Japanese P-3C maritime patrol aircraft photographed the North Korean tanker Song Hae (ex name Rye Song Gang 1) alongside the Singapore-owned and -managed tanker Yuk Tung early on Saturday morning (photo above). The vessels parted ways shortly after the plane arrived on scene.
It is the second time that the Rye Song Gang has been implicated in illegal fuel transfers, and it is one of the eight vessels the UN has banned from all ports for the carriage of prohibited goods to North Korea. The previous incident involved the Taiwanese-operated vessel Lighthouse Winmore, which has since been impounded by South Korean authorities.
"The government strongly suspect the two engaged offshore delivery which was banned by UN Security Council resolutions," Japan's ministry of foreign affairs said in a statement.
High-seas transfers are a covert way for North Korea to circumvent a U.N. prohibition on the export of petroleum to North Korea. The transfers are explicitly forbidden, but are harder to detect and thwart, especially as third-party nations do not have the authority to enforce the ban by interdicting suspected smugglers on the high seas. The United States and its western allies have called for the UN Security Council to allow interdiction - and effectively, a naval blockade - but Russia and China are opposed, and both have veto power on the Council.
The 1994-built Yuk Tung (ex name Santrina) is a 36,000 dwt tanker. She was purchased by Singapore-based oil trader and bunkerer Yuk Tung Energy early last year. The Japanese foreign ministry and the press described her as a Dominican tanker, reflecting the company's decision to flag her in the Commonwealth of Dominica, an open registry.
In a measure of the globalized nature of shipping, Dominica's registry is operated by a firm in Fairhaven, Massachusetts. The company administers the island nation's flag services, along with related offerings like corporate registristration and STCW licensing, and it advertises seafarer training at a school that shares its address. The company was not immediately available for comment.