Ship Manager Denies Sanctions-Busting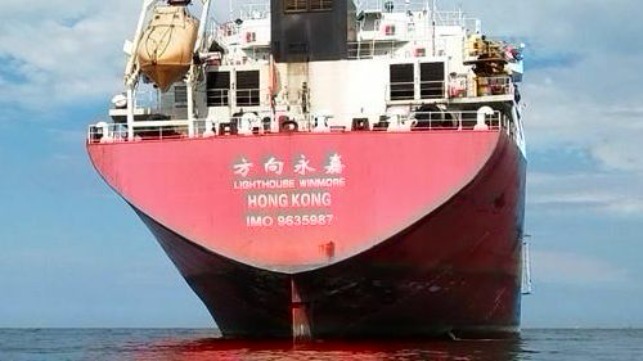 The ship manager of the Lighthouse Winmore, a product tanker recently seized for alleged sanctions violations, has denied any knowledge of the vessel's involvement in trade with North Korean entities.
According to South Korean officials, the Chinese-owned Winmore – operating under charter to Taiwan-based Billions Bunker Group – loaded 14,000 tons of petroleum product at the South Korean port of Yeosu on October 11. On October 15, she got under way for Taiwan. However, Korean officials assert that she made four high-seas transfers to other vessels during her voyage, including a 600-ton transfer to the North Korean ship Sam Jong 2 on October 19.
South Korean customs officials boarded the Winmore and questioned her crew upon the vessel's return to Yeosu on November 24. They formally seized the Winmore in late December, shortly after the UN Security Council mandated detention of vessels suspected of North Korean sanctions violations.
Zeng Haibo, deputy general manager of the Winmore's Chinese ship management firm, told the South China Morning Post this week that he had no knowledge of whether the tanker had violated United Nations sanctions on North Korean shipping. He emphasized that the Winmore was operating under a charter to a Taiwanese company.
"We just rent the ship out. We are not aware of what goods the ship carried or whether it was used to trade with North Korea," he said.
"We are liaising, through our mainland lawyers, with the relevant authorities."
Oil trader denies involvement
On Tuesday, top-three independent energy trader Trafigura denied any involvement in the alleged transfer of fuel between the Winmore and the Sam Jong 2. South Korean authorities say that Trafigura was the original owner of the petroleum cargo that was loaded onto the Winmore on October 11.
Trafigura says that it sold this cargo to Hong Kong-based Global Commodities Consultants on a free-on-board in Yeosu, and that it was intended for shipment to Taiwan. Global Commodities Consultants then sold the cargo again to an unnamed third party.
"Trafigura conducts its business so as to comply with applicable sanctions and has had no involvement in the final destination of this cargo," the firm said in a statement.