Sanctions Force Total to Pause Iranian Offshore Project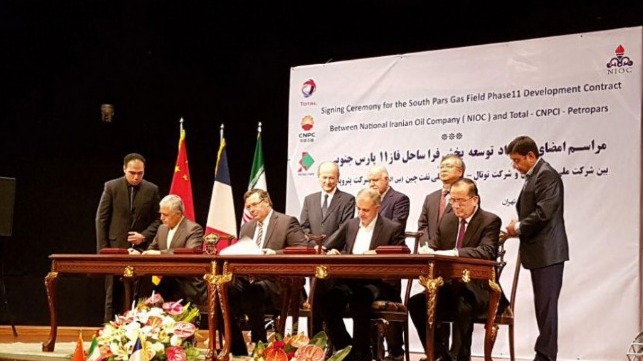 On Wednesday, French oil major Total said that it will not take on new commitments for the South Pars 11 offshore gas project because of renewed American sanctions on Iran.
Due to U.S. President Donald Trump's decision to withdraw America from the JCPOA agreement and reimpose secondary sanctions on Iran, "Total will not be in a position to continue the SP11 project and will have to unwind all related operations before 4 November 2018 unless Total is granted a specific project waiver by the US authorities," the company said. The waiver would have to include an explicit exemption from the U.S. Treasury's secondary sanctions, which will penalize non-U.S. companies for engaging with Tehran by limiting their participation in the U.S. financial system.
"Total has always been clear that it cannot afford to be exposed to any secondary sanction, which might include the loss of financing in dollars by US banks for its worldwide operations (US banks are involved in more than 90% of Total's financing operations), the loss of its US shareholders (US shareholders represent more than 30% of Total's shareholding) or the inability to continue its US operations (US assets represent more than 10 billion dollars of capital employed)," the company said in a statement. "In these circumstances, Total will not take any further commitment related to the SP11 project."
Total had issued tenders for subcontracts for SP11's jackets, topsides, drilling services and pipelines just last month. Pars Oil and Gas Co. CEO Mohammad Meshkinfam told semi-official news service Shana that the contracts were worth about $850 million, and would mainly benefit Iranian companies.
South Pars (or North Dome, as it is known in Qatar) is the largest gas field in the world. SP11's first phase would have 30 offshore wells and two wellhead platforms, with two subsea pipelines to bring the production back to shore for processing. Expected output is in the range of two bcf (400,000 boe) per day, all for consumption in the growing Iranian domestic market.
At the time of the contract signing last year, Total CEO Patrick Pouyanne said that "this is a major agreement for Total, which officially marks our return to Iran to open a new page in the history of our partnership with the country." Total has a 50.1 percent operating interest in the SP11 project, with 30 percent for Chinese oil major CNPC and 19.9 percent for the National Iranian Oil Company.
The departure of Total may not halt the development of South Pars: NIOC managing director Ali Kardor told media in early May that CNPC would take over Total's operating interest in SP11 if the French oil major backed out.
State-owned CNPC is less exposed to the American market, but it may also prove vulnerable to the potential of sanctions enforcement, as it has in the past. CNPC took over from Total at SP11 once before, in 2010, but it backed out in 2012 during the first round of Western sanctions on Iran's nuclear program.