Salvage Operation is Underway in Gibraltar to Remove OS 35 Wreck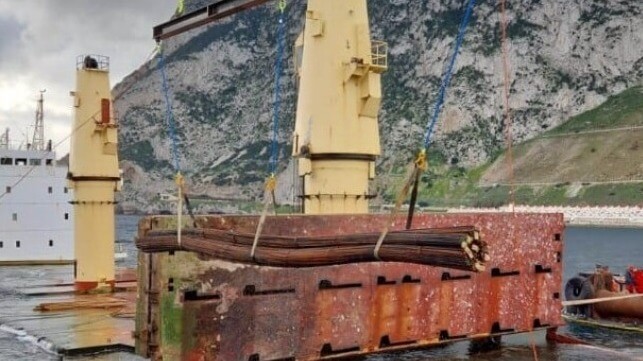 Salvage operations are underway off Gibraltar to remove the wreck of the bulker OS 35 after some weather-related delays. The port approved the salvage plan late in 2022 setting a target to complete the removal process of the 35,000 dwt bulker which was intentionally grounded and later sunk after fitting another vessel while outbound from the port on August 29, 2022.
The anchor handling tug Koole 42 along with Barge H-283 arrived in Gibraltar early in January from Suriname and after some initial preparations were positioned alongside the 584-foot hulk which is sitting on the sandy bottom. At the beginning of the week, port officials said that work had started with the removal of the first two of the four boom cranes aboard the vessel. They were still working to remove two additional booms so that they would be able to gain access to the cargo holds.
Port officials reported today that they have been able to open the cargo hatches and the first phase of the salvage operation is fully underway. This effort focuses on removing and then recycling the cargo which consists of a load of 33,632 tons of steel bars. Salvage crews had previously stripped much of the interiors of the ship as well as removed equipment and worked to capture residual amounts of oil on board.
The Captain of the Port also announced that they have also received confirmation that the tug Koole 31 towing barge K10030 have successfully departed from Brest on January 20. The vessel had been waiting in the French port due to bad weather before beginning the trip to join the efforts. The Captain of the Port's office is saying that they expect the second tug and barge to arrive in Gibraltar before the end of the month, weather permitting.
John Ghio, The Captain of the Port said at the beginning of the week, "The works continue to progress around the clock in a good and timely manner to ensure the clean-up operation is done as diligently as possible." This morning he added, "Today's developments represent important progress towards the removal of the wreck and its contents."
Dutch salvage firm Koole Contractors is managing the operation. After the cargo is removed the plan is to complete the separation of the vessel into two sections. The OS 35 partially broke after the grounding and the port decided with the salvage team to sink the stern to prevent an uncontrolled break. The salvage plan calls for completing the separation and then lifting the sections one at a time onto the barges for removal and recycling.
The local authorities continue to say they believe the deadline of May 30, 2023, for the removal of the ship and its contents can be met.