Port Services Firm Blacklisted for Sanctions-Busting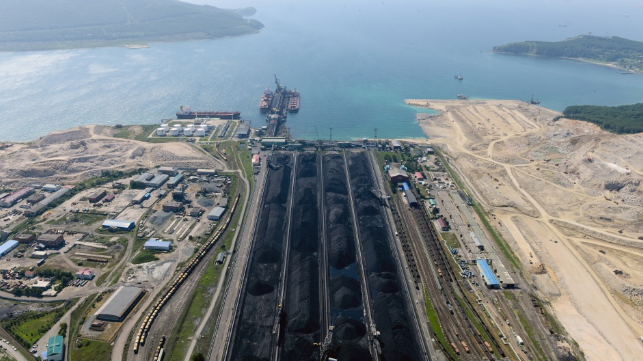 The U.S. Treasury has blacklisted a Russian port services firm for alleged violations of sanctions on North Korea's nuclear program. The decision drew an immediate protest from the Kremlin, which described the move as an attempt to "punish" Russia.
In a statement Wednesday, the Treasury's Office of Foreign Asset Control (OFAC) said that it has designated Profinet Pte., a port services firm in the Russian Far East, for "facilitating illicit shipments on behalf of North Korea." As a result of the decision, U.S. entities are prohibited from doing business with Profinet, and any of the firm's assets within the U.S. are now frozen. Profinet's director, Russian national Vasili Aleksandrovich Kolchanov, is also designated.
According to the Treasury, Profinet provides loading, bunkering, supplying, and departure arrangements for vessels calling at the Russian ports of Nakhodka, Vostochny, Vladivostok, and Slavyanka. OFAC asserts that Profinet has provided port services to North Korean vessels, including the blacklisted ships Chon Myong 1 and Rye Song Gang 1, which are believed to have carried thousands of tonnes of petroleum products in violation of U.N. sanctions. Profinet allegedly continued to offer its bunkering services to North Korean vessels even after its employees knew of oil-related sanctions on Pyongyang. Kolchanov was personally involved in North Korea-related deals, and he interacted directly with North Korean representatives in Russia, OFAC alleged.
In comments to Reuters, Kolchanov denied any wrongdoing, and said that he was only involved in preparing documents for North Korean vessels in his capacity as an agent. He told Russian state media on Thursday that Profinet had last done business with the Chon Myong 1 and Rye Song Gang 1 in mid-2017, before the sanctions on these vessels were implemented.
On Thursday, the Russian Foreign Ministry protested OFAC's decision to blacklist Profinet. "Washington did not bother to present any proof or at least to comment on the motives behind its decision. Behind Washington's new anti-Russian actions we see an attempt to 'punish' our country for its principled position on the North Korean subject, including within the framework of the UN Security Council," the Kremlin said.
OFAC also designated a Chinese firm, Dalian Sun Moon Star International Logistics Trading, and its Singapore-based affiliate for allegedly facilitating North Korean trade in alcohol and tobacco. According to OFAC, Pyongyang earns $1 billion per year by trading in cigarettes. The firm is also accused of providing information for how to evade sanctions on shipments to North Korea.
Treasury warns industry of sanctions enforcement
The U.S. asserts that North Korea's shipping industry provides a means for Pyongyang to evade sanctions against its nuclear weapons and ballistic missile program. The United States and the UN have pursued numerous actions against ships and entities that engage in sanctions-busting, including worldwide port bans on tankers that have conducted ship-to-ship petroleum transfers with North Korean vessels.
In a statement, the Treasury warned the entire shipping industry - flag states, shipowners, operators, mariners, insurance companies, brokers, oil companies, ports, class societies, and others - of the "significant risks posed by North Korea's shipping practices." The department cautioned industry members to watch for known North Korean sanctions-busting practices, like disguising ship identification markings, manipulating AIS transponder data and falsifying cargo documents. Violators can be subject to civil penalties of $290,000 per violation and other measures, including flag state deregistration.
"Treasury . . . will take action to block and designate companies, ports, and vessels that facilitate illicit shipments and provide revenue streams to the DPRK," said Treasury Secretary Steven Mnuchin. "All facets of the shipping industry have a responsibility to abide by [U.S. sanctions] or expose themselves to serious risks. Consequences for violating these sanctions will remain in place until we have achieved the final, fully verified denuclearization of North Korea."