Port of San Diego and U.S. Navy Make Plans for Sea Level Rise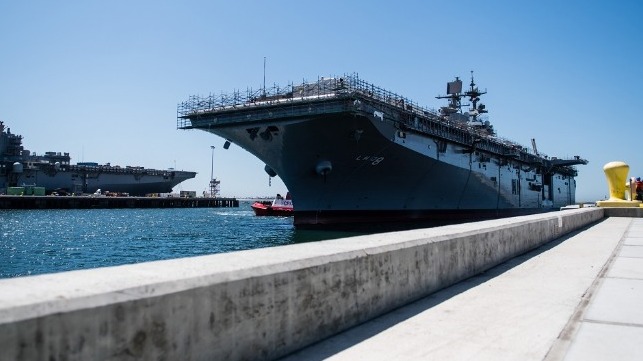 The Port of San Diego has reached an agreement with Commander Navy Region Southwest to jointly address the local effects of sea level rise. It is the first partnership of its kind, and it will allow the port and the Navy to share information and modeling on the future impact of rising seas.
"The Port and the Navy are responsible for the San Diego Bay coastline – it's vital that we work together to evaluate and plan for the potential impacts of sea level rise," said Chairman Rafael Castellanos, Port of San Diego Board of Port Commissioners. "Our partnership ensures that we will continue to be a resilient, strategic port and economic engine well into the future." The Scripps Institute of Oceanography's new Center for Climate Change Impacts and Adaptation may also support the port's efforts to understand the local effects of sea level rise.
San Deigo is a designated "strategic port" for military uses - it is the home of Pacific Fleet, 54 naval and Coast Guard vessels, the General Dynamics NASSCO shipyard and the West Coast's amphibious warfare hub - and the port says that preparing for sea level rise will help safeguard regional, national and global security.
"The potential impacts of sea level rise do not recognize jurisdictional boundaries and demand collaboration among all stakeholders," said Rear Adm. Yancy Lindsey, Commander Navy Region Southwest. "We look forward to continuing to work closely with the Port, local municipalities, and other interested parties on this challenge to ensure the resiliency and viability of our Navy installations, San Diego Bay, and its surrounding communities, now and into the future."
As part of its comprehensive master plan update, the port is already conducting a vulnerability assessment of coastal flooding and inundation caused by projected sea level rise and severe storms on San Diego Bay and the surrounding waterfront.
The Department of Defense has funded similar research on other regions, including a study on the resilience of military installations built on atolls in the Pacific. That study, titled "Most atolls will be uninhabitable by the mid-21st century because of sea-level rise exacerbating wave-driven flooding," determined that the Ronald Reagan Ballistic Missile Test Site at Kwajalein is highly vulnerable.