Owner of Sanctions-Busting Ship Sues its Flag State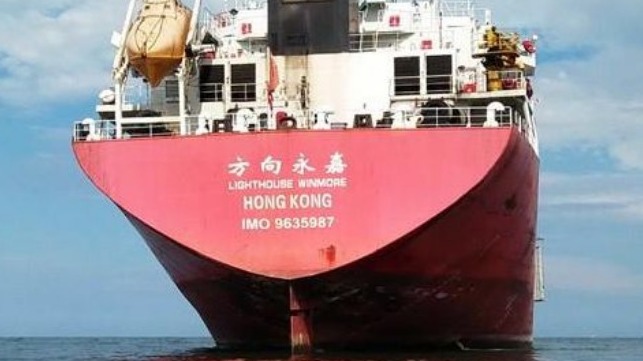 The owner of the Lighthouse Winmore, the product tanker seized last year over charges of violating UN sanctions on North Korea, is suing Hong Kong's Marine Department for an alleged "failure" to help recover the vessel from South Korean authorities.
According to Korean officials, the Hong Kong-flagged Winmore loaded 14,000 tons of petroleum product at the South Korean port of Yeosu in October 2017. On October 15, she got under way for Taiwan. However, she allegedly made four high-seas transfers to other vessels during her voyage, including a 600-ton transfer to the North Korean ship Sam Jong 2 on October 19.
On November 24, 2017, port officials at Yeosu detained the Winmore on allegations of carrying out a banned high seas transfer. The sale of petroleum to North Korea is broadly prohibited under UN Security Council sanctions related to the nation's nuclear program.
Shipowner Win More Shipping maintains that the charterer, identified as Taiwan-based Billions Bunker Group, never informed it of the vessel's illicit activities. Billions' owner, Chen Shih-hsien, has been charged with forgery in connection with an allegedly false assertion about the Lighthouse Winmore's destination.
Win More Shipping claims that Hong Kong's Marine Department now intends to deregister the vessel by August 22, leaving the tanker and her 25 crewmembers stranded in South Korea. In a court filing, Win More said that Korean authorities might be willing to release the vessel if Hong Kong requested a waiver from the United Nations; by failing to make the request, Win More suggests, Hong Kong is not doing enough to win the vessel's freedom.
The ship's Equasis record shows that her classification was withdrawn in March and has not been renewed.