North Korea has "Excellent" Oil and Gas Potential
An article from GeoExPro, a petroleum geoscience magazine, says that North Korea has "excellent" oil and gas exploration potential, both onshore and offshore.
The assessment was made by Michael Rego, an exploration consultant with access to North Korean geophysical data that has so far received little international attention.
The article outlines seven locations which could hold oil and gas reserves worth further investigation including North Korea's western sea and deep deposits off the east coast.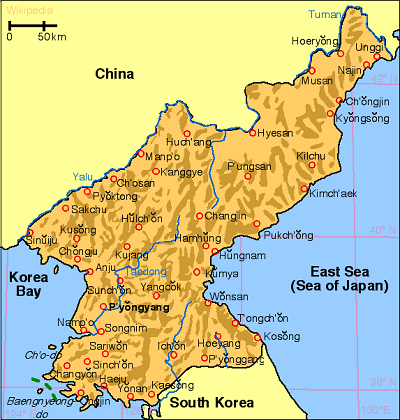 China conducted surveys off the west coast in the 1960s. Subsequently, Russia has also conducted surveys along with Taurus Petroleum in Switzerland and Malaysia's Petronas.
NK News reports Rego saying that the West Sea definitely has oil and has flowed oil at reasonable rates from at least two exploration wells.
However, the country's political climate, including sanctions currently in force, and water depths of up to 2,500 meters off the east coast present barriers to development. A shortage of funds is likely to further hamper development. In the 1990s, North Korea couldn't provide food for its population, and it continues to struggle to meet the energy demands of its population, generally falling short even in providing electricity to its capital city.
Despite the possible hurdles, some companies appear undaunted, reports NK News. The China Railway Investments Group recently said they were planning large scale investment in North Korea including the oil and gas sector.
The Energy Information Administration (EIA) states, as of July 2015, that the country has no proven oil reserves or petroleum and other liquids production. During North Korea's industrial peak in the 1970's and 1980's, the country was able to import oil from China and the Soviet Union at below market prices. Following the end of the Cold War, these deals ended, and North Korea's oil consumption dropped from 76,000 barrels per day (b/d) in 1991 to 17,000 b/d in 2013.
It is difficult to get an exact estimate of the amount of oil imported into North Korea each year, states the EIA. Some estimates report that North Korea imports more than half of its oil from China and some volumes from Russia. North Korea has the capacity to refine 64 thousand barrels a day, however as a result of the economic decline, has utilization rates below 20 percent. Despite this, North Korea is able to refine enough crude oil to meet some of their domestic demand.
North Korea is currently under international United Nations economic sanctions due to its nuclear weapon and ballistic missile programs. These sanctions restrict North Korea's access to international banking, trade and travel. North Korea is also under economic sanctions from individual nations such as the United States, China, the United Kingdom, Canada and Japan.