Japan Files WTO Complaint Against Korean Shipbuilding Subsidies
Japan has initiated a WTO dispute complaint against the government of South Korea over subsidies for the Korean shipbuilding industry. Tokyo has long warned that it could file an objection to Seoul's financial backing for large domestic shipbuilders like Hyundai Heavy Industries, Samsung Heavy Industries and Daewoo Shipbuilding and Marine Engineering, which have been hard-hit by the shipbuilding downturn.
Japan claims that certain Korean policy measures, including funds, loans, guarantees, insurance and other financing, violate the WTO's Agreement on Subsidies and Countervailing Measures and the General Agreement on Tariffs and Trade (GATT) 1994.
The Japanese government alleges that these measures amount to "producer support" - direct financing that keeps companies in business and allows them to offer below-market prices - and "sales support," designed to promote sales for Korean shipbuilders during periods of low demand. In particular, Japan cites Seoul's extensive support for large domestic shipbuilders during financial restructurings; government-backed loan guarantees and other financing insurance for commercial vessel orders; the provision of government loans, bond financing and equity investments for purchasers of new Korean-built vessels; and direct subsidies for vessels that meet certain "eco-ship" energy efficiency criteria. Japan alleges that these subsidies may hurt the Japanese shipbuilding industry by suppressing prices, reducing sales volume and displacing non-Korean newbuilds from the international market.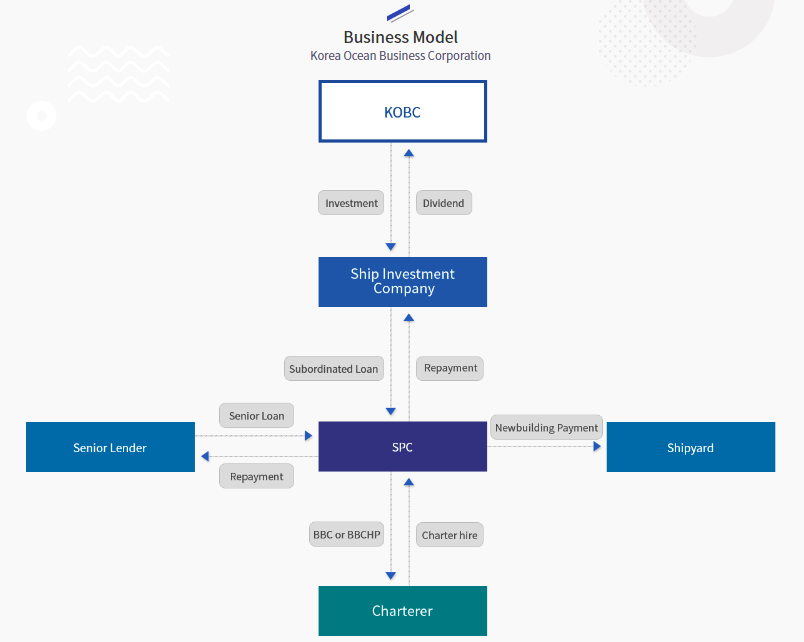 Korea Ocean Business Corporation's ship investment business model (KOBC)
In particular, the Japanese complaint singles out the new Korea Ocean Business Corporation, a government-financed investment vehicle that provides backing for shipping companies to buy new Korean ships. KOBC has a $4.4 billion budget to invest in up to 200 new vessels, including funds to purchase a 30 percent equity stake in up to 40 ships (chart above). Among other projects, KOBC is supporting Hyundai Merchant Marine's orders for 12 megamax and eight neopanamax boxships, which will be distributed equally amongst all of Korea's "Big Three" shipbuilders.
Japan's filing also noted the significant involvement of government-backed banks in supporting and sustaining Korean shipbuilders during the 2015-17 industry downturn. Korea Development Bank (KDB) and Korea Export-Import Bank (KEXIM) led the long-running, multi-billion-dollar effort to restructure Daewoo Shipbuilding and Marine Engineering's finances, and KDB is now the yard's majority shareholder. Japan also singled out government-backed providers of loan guarantees, including KAMCO, K-Sure, KDB and KEXIM.