KDB Takes Majority Stake in DSME with Debt Swap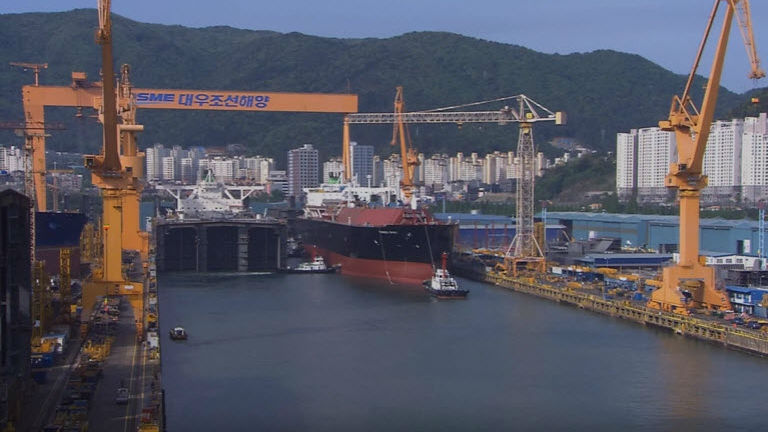 Korea Development Bank (KDB) has finalized a multi-billion dollar capital increase, share conversion and debt-for-equity swap with Daewoo Shipbuilding and Marine Engineering (DSME). The changes give state-owned KDB a controlling interest in the yard by reducing share volume and increasing the bank's holdings of the consolidated shares from 49 percent to 79 percent.
The impact on private investors was not immediately clear. As of the end of September, foreign stockholders and "others" held a combined 42 percent of DSME; as of December 30, the next-largest shareholder after KDB held less than 0.01 percent of the yard's ordinary stock.
KDB was DSME's largest creditor, and the debt swap will improve the shipbuilder's balance sheet while transferring additional ownership to the Korean government (KDB is state-owned). Seoul has held a majority stake in DSME for some time, divided among several government agencies and financial institutions. The yard is a major employer and a key naval shipbuilder, and its survival as an independent entity is a strategic priority for the government.
The swap is the first part of a $2.8 billion restructuring deal between DSME, KDB and the yard's second-largest creditor, state-owned Eximbank. The package will cut DSME's debt-to-equity ratio from 7,000 percent to 900 percent, roughly the level required for its continued listing on the Korea Exchange. DSME has until September of 2017 to improve its debt-to-equity ratio, or it may face delisting.
Global consulting firm McKinsey said in October that out of South Korea's Big Three shipbuilders, DSME is the "least likely to survive by 2020." DSME disputed the findings, describing them as "based on completely false assumptions" and "unacceptable."
DSME's business has faltered over the past year due to the downturn in shipbuilding, but even before the decline in ordering activity it was booking – and for a time, concealing – a series of multi-billion-dollar losses. Three former executives have been indicted for accounting irregularities over the period from 2013 to 2014, and employees of the yard's former outside accounting firm, Deloitte Anjin, are also under investigation. As one measure of national attention to the scandal, Korea's National Assembly is now considering a law to hold accounting companies' executives personally responsible in the event that a major error is found in one of their clients' balance sheets.