Iranian Patrol Boats Shine Laser at U.S. Marine Corps Attack Helicopter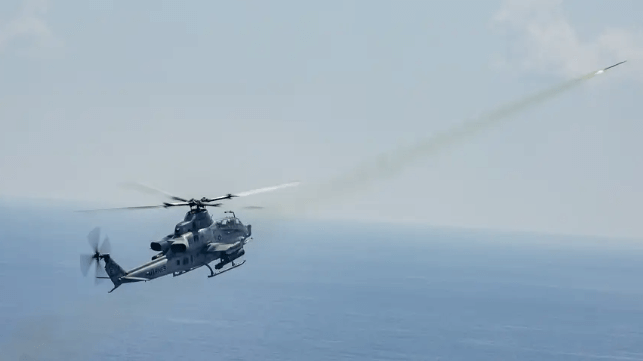 Iran's Islamic Revolutionary Guard Corps (IRGC) has a long history of harassing U.S. forces in the Persian Gulf, and the methods are varied, from speedboat drive-bys to tanker boardings to the physical theft of military unmanned vessels. Their latest method is new for the region, but it is a familiar hazard: an IRGC patrol boat used a laser to illuminate a U.S. Marine Corps helicopter, putting the aircrew's safety at risk.
On Wednesday evening, an AH-1Z Viper attack helicopter from the Marine Corps' 26th Marine Expeditionary Unit was operating over the Persian Gulf in international airspace. At about 1930 hours, IRGC vessels shone a laser "multiple times" at the helicopter while it was in flight. No injuries were reported, according to 5th Fleet, and the aircraft was not damaged.
"These are not the actions of a professional maritime force. This unsafe, unprofessional, and irresponsible behavior by the Iranian Revolutionary Guard Corps Navy risks U.S. and partner nation lives and needs to cease immediately," said U.S. 5th Fleet in a statement.
The Viper is an updated and upgraded attack helicopter descended from the Vietnam-era AH-1 Cobra. It is suitably equipped for engaging small vehicles and watercraft, like those operated by the IRGC: its primary weapon is a 20mm autocannon capable of penetrating light armor, and it is often fitted with rocket pods and guided antitank missiles.
The incident follows one day after news that the U.S. and Iran may be entering into direct negotiations over the future of American sanctions regime and the Iranian nuclear program. Direct discussions have been off the table since the Trump administration exited the Joint Comprehensive Plan of Action (or Iran nuclear deal) in 2019, but quiet mediated discussions and preliminary deals - like the recent prisoner exchange and fund-release agreement - have been widely seen as stepping-stones towards a bigger bargain. According to independent UK-based outlet Amwaj, Iranian Supreme Leader Ayatollah Ali Khamenei has given his personal approval to resume direct talks with the U.S. on the nuclear question, marking the first return to the table in years. Both the U.S. and Iran have denied the report.