Greenpeace Protests Against Arctic Drilling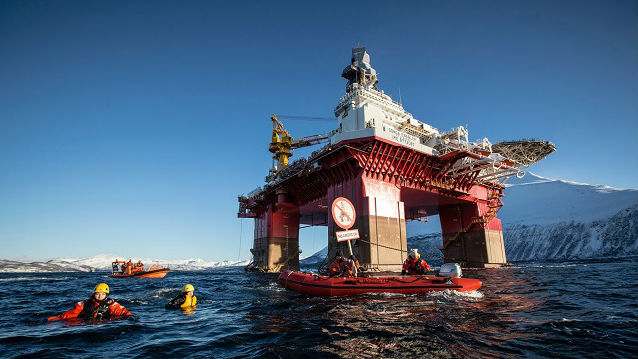 Activists from Greenpeace Nordic and Greenpeace Germany protested in a fjord in northern Norway on Monday.
The activists, in kayaks, staged a peaceful protest around the Songa Enabler about Statoil's exploration plans and the Norwegian government for opening up a new oil frontier in the Arctic.
For the first time in 20 years the Norwegian government is opening up a new oil frontier in the Arctic, allowing state-owned Statoil and 12 other oil companies to start exploration the Barents Sea. Statoil is set to drill offshore in the far north Korpfjell license this summer.
"This rig is heading off to sea to drill in the melting Arctic. Any new oil well is an unacceptable threat to the climate and puts people's homes, health and families at risk. We demand that the Norwegian government and Statoil cease and desist all new operations in the Arctic," said Truls Gulowsen, Head of Greenpeace Norway.
The new oil drilling in the Arctic is violating the Norwegian constitution, says Greenpeace. The constitution says that the State shall ensure future generations the right to a safe and healthy environment. Greenpeace Nordic and Nature and Youth are set to prove this to the Oslo District Court in a trial starting on November 13. This is the first court case that attempts to oppose drilling for new oil and gas in the Arctic based on the Norwegian constitution and the Paris Agreement.
So far more than 170,000 people have added their names to support the case which Greenpeace says is part of a global wave of people litigating for the climate to hold governments and fossil fuel companies to account. Current cases include a case brought forward to the Human Rights Commission in the Philippines, Our Children's Trust case in the U.S. and the "Climate Grannies" case in Switzerland.
The 13 oil companies that have new license blocks in the Barents Sea are: Statoil (Norway), Capricorn, Tullow and Centrica (U.K.), Chevron and ConocoPhillips (U.S.), DEA (Germany), Aker BP (Norway), Idemitsu (Japan), Lukoil (Russia), Lundin Petroleum (Sweden), OMV (Austria), PGNiG (Norway/ Poland).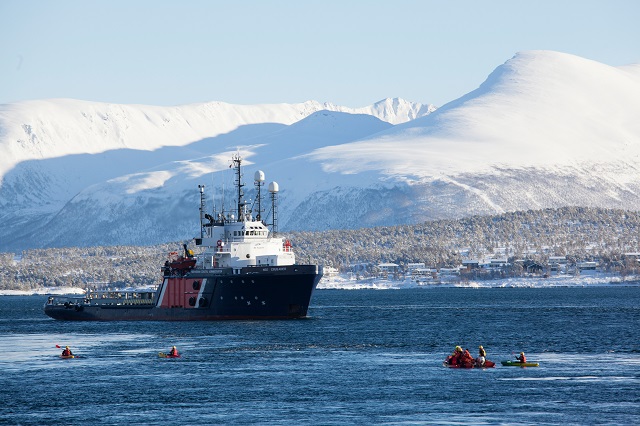 Credit: Joerg Modrow / Greenpeace