GPA Announces Big Plans to Expand Savannah Terminal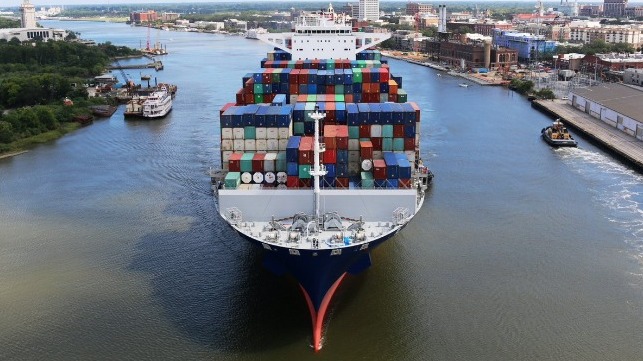 On Thursday, at his annual State of the Port address, Georgia Ports Authority director Griff Lynch described a $2.5 billion plan to expand the capacity of the fast-growing Garden City Terminal by nearly 50 percent by 2028.
The Port of Savannah's main container terminal is already the largest single facility of its kind in the United States, and it is the nation's fastest growing as well: it posted an 8.4 percent increase in TEU handled last year.
Under the expansion plan, the terminal's rated capacity would expand from 5.5 million TEU per annum to 8 million TEU within ten years' time. "We're preparing to redefine the Port of Savannah as not simply the load center for the Southeastern U.S., but as the port of choice for major inland markets east of the Mississippi River," Lynch said.
The port is already working towards this goal with projects like the Mason Mega Rail terminal, which will double the terminal's rail capacity by 2020. Earlier this week, GPA's board approved a $92 million package of improvements as part of the rail terminal project, including 124,000 feet of new track, rail control devices, and the infrastructure needed to support new RTGs.
the procurement of new STS and RTG cranes. The port is also in the midst of a harbor deepening project, which is now about half finished and will wrap up in 2021. As neopanamax boxships have become commonplace in the USEC-Asia trades, Georgia's state officials have worked hard to secure federally-authorized dredging to accommodate deeper draft hulls. In future years, the prospect of even bigger ULCVs could also force a re-evaluation of the 185-foot air draft limit imposed by the Savannah River's Talmadge Bridge.
Attracting business
At the event, Georgia Governor Nathan Deal said that the port's connections to overseas markets and inland hinterlands are a major attraction for businesses relocating to the state. Last year, developers built out six million square feet of industrial space in the Savannah market, and ten million more are currently under construction, with vacancy at a rock-bottom low of 0.5 percent.
"Industries are drawn to Georgia by its growing population, economic energy and its superior connectivity to important centers of production and commerce," Gov. Deal said. "Companies that ship through Georgia's ports benefit from superior road and rail infrastructure, and more global container services than any other port on the U.S. East Coast."