Governments Talk, Protesters Rally and Ships Sail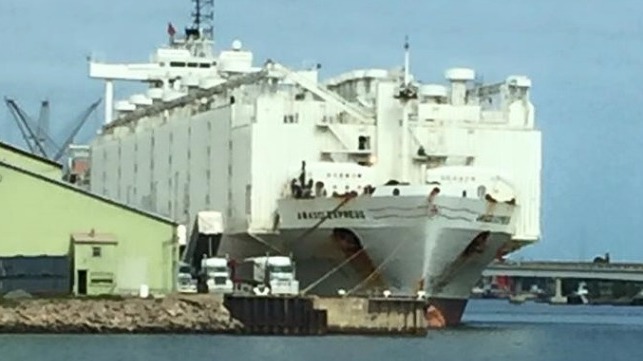 One of Australia's live exporters told ABC News on Wednesday that the reputation of the industry rests on how well it is regulated. The report cited an executive from Wellard who was speaking after it was revealed that the company had urged the government to stop "substandard" livestock carriers from operating in Australia last year - a few months before 2,400 sheep died on the 28-year-old Awassi Express on a voyage to the Middle East for Emanuel Exports.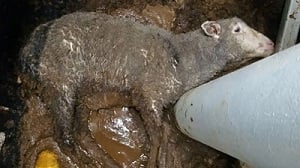 Whistle-blower footage aired on 60 Minutes last month showed conditions on that voyage and others. The program showed thousands of sheep suffering severe heat stress; sheep caked in melted feces and urine; injured and sick animals left to die slowly; decomposed bodies left in pens with living sheep and pregnant ewes giving birth and their lambs dying.
The Wellard report published by ABC News mentioned old vessels and those with double-tiered decks. It cited ventilation, lighting and drainage improvements on newer ships that could improve animal welfare and also noted that older vessels predominate in the Australian trade. It listed the following ships as being involved in the Australian trade (with details added here from MarineTraffic):
| | | |
| --- | --- | --- |
| Ship | Year Built | Flag |
| Greyman Express | 2016 | Singapore |
| Gudali Express | 2016 | Singapore |
| Ocean Shearer | 2016 | Singapore |
| Gloucester Express | 2016 | Singapore |
| Gelbray Express | 2014 | Singapore |
| Girolando Express | 2014 | Singapore |
| Galloway Express | 2013 | Singapore |
| Ocean Outback (Now Bahijah) | 2010 | Marshall Islands |
| Ocean Swagman | 2009 | Singapore |
| Nine Eagle | 2006 | Singapore |
| Yangtze Harmony | 2004 | Liberia |
| Jawan | 2003 | Panama |
| Brahman Express | 2002 | Philippines |
| Ocean Drover | 2002 | Marshall Islands |
| Shorthorn Express | 1998 | Philippines |
| Devon Express | 1997 | Philippines |
| Diamantina | 1997 | Singapore |
| Angus Express | 1998 | Luxembourg |
| Bison Express | 1995 | Philippines |
| GL Lan Xiu | 1995 | Panama |
| Dareen | 1994 | Panama |
| Ocean Ute | 1994 | Marshall Islands |
| Barkly Pearl | 1993 | Marshall Islands |
| Nada | 1993 | Panama |
| Awassi Express | 1990 | Panama |
| Maysora | 1989 | Bahamas |
| Finola | 1987 | Denmark |
| Al Shuwaikh | 1986 | Kuwait |
| Ghena | 1984 | Panama |
| Al Messilah | 1980 | Kuwait |
| Bader III | 1978 | Bahamas |
Pressure from animal welfare groups has continued since the 60 Minutes program, with the RSPCA highlighting this week that the 2018 "horror season" for the export of sheep from the southern hemisphere winter to the Middle Eastern summer has begun. RSPCA Australia Chief Scientist and Strategy Officer Dr. Bidda Jones said: "This is a time when we're cramming our animals together and sending them from moderate climates to some of the hottest places on earth, at the hottest time of the year. It is during the May to October period that 70 percent of annual onboard mortalities happen, and that figure doesn't even account for the suffering that leads up to those deaths and the suffering of those animals that survive."
Despite the controversy and the Australian government's claim for greater industry transparency, it has not yet released footage or inspection reports made on board the Maysora, a vessel with double-tiered decks, which departed Fremantle late last month bound for the Middle East. The government instigated the inspection after public outcry over the 60 Minutes program. Meanwhile, other vessels are loading livestock in Australia, and animal welfare rallies have been held around the nation.
The RSPCA is calling for an end to May to October live exports and a halving of stocking densities to prevent the conditions shown on 60 Minutes. The Maysora reportedly sailed with stocking densities dropped 17.5 percent.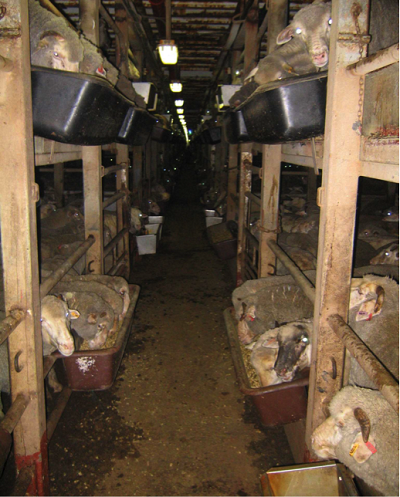 Like the RSPCA, veterinarian Dr. Sue Foster, spokeswoman for Vets Against Live Export, says 17.5 percent is not enough. "It is still at odds with the amount of space required for good animal welfare for nearly all classes of sheep. A 47 kilogram sheep gets 0.308 square meters under the current Australian Standards for the Export of Livestock. With a 17.5 percent increase, it gets 0.362 square meters. This is still essentially three sheep to a square meter." Clearly this is insufficient for sheep to lie down and to have unrestricted access to food and water troughs, she says.
The other potential issue is that even if 17.5 percent fewer sheep are loaded, it may not equate to increased space allowances if larger, heavier sheep are loaded. "Given that sheep are not individually identified or weighed and that sheep numbers can be inaccurate, with disputed loading figures for both of Emanuel Exports' recent high mortality voyages, it is difficult for anyone to fully know the situation onboard the ship and to measure the situation accurately," says Foster.
Jones says public response to the issue has been unprecedented. "Never before have we seen so many Australians expressing their outrage and fury over the treatment of Australian animals. The Australian public is waiting and watching for the results of the government's review, especially now the hotter months have officially begun in the Gulf."
It's not just the Australian public waiting and watching. Around 3,000 people rallied in Tel-Aviv last weekend, calling for an end to live animal imports from Australia to Israel. They too had seen the 60 Minutes program. Six Knesset members participated in the event: Sharren Haskel, Yael Cohen Paran, Tamar Zandberg, Nurit Koren, Mossi Raz and Dov Khenin. Before that, the Israeli Prime Minister spoke out on the issue after his wife had called the wife of Australia's Prime Minister to express her concern.
Israel's Minister of Agriculture, Uri Ariel, also spoke to his counterpart in Australia: "We intend to reduce significantly the transport of livestock from Australia to Israel; this has always been our policy. I stated that I cannot interfere with a shipment outside Israel's territorial waters, but we will interfere on animal welfare issues as soon as the shipments reach Israel's territorial sea."
Meanwhile, legal action continues in Brazil, another major live export nation, this time focused on cattle. Brazil has the largest cattle herd in the world and is the world's second largest producer and largest exporter of beef. Again the Middle East has been the focus of opposition to the trade.
Last year, Animals International exposed the brutal treatment of animals exported live from Brazil once they reach slaughterhouses in Egypt and Lebanon. Investigators witnessed cattle from Brazil being stabbed in the eyes, ears and legs and suffering prolonged cruelty.
In December 2016, Brazil's Fórum Animal started a campaign against live export in partnership with Animals International. The group continues to conduct meetings with the Ministry of Agriculture and other public and private organizations, and the movement has grown, along with the number of protests held across the nation.
In 2017, livestock exports from Brazil rose 42 percent over the previous year, with Turkey, Egypt, Lebanon and Jordan as the main buyers. In December 2017, Fórum Animal filed a public civil action to interrupt the departure of a ship from São Sebastião port. This was the first legal action against live export from Brazil, and in January 2018, after a veterinarian reported on conditions on board the Nada, a federal judge banned live exports. The ban was subsequently overturned, and the Nada sailed. As in Australia and Israel, the political, legal and social battle continues.