Garamendi: Give American Mariners a Role in LNG Exports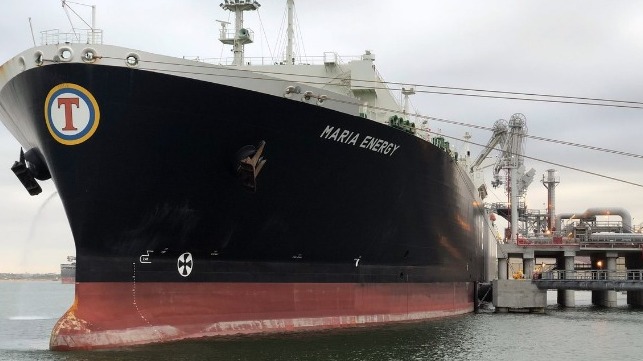 In anticipation of a U.S.-China trade deal involving American LNG exports, Congressman John Garamendi (D-CA) and Senator Roger Wicker (R-MS) have asked the Trump administration to give U.S.-flagged and crewed vessels a new role in America's booming LNG industry. At present, there are no U.S.-flagged LNG carriers, and American LNG exports go to market aboard foreign-flagged, foreign-crewed vessels.
According to the Wall Street Journal, the resolution to the long-running trans-Pacific trade war could see China agreeing to buy up to $18 billion worth of LNG from Cheniere Energy on a 20-year contract. (Cheniere has confirmed that it has held related talks with state-owned energy company Sinopec.) In a joint letter released Tuesday, Senator Wicker and Representative Garamendi urged the administration to use this opportunity to create new jobs in America and boost the U.S.-flag international fleet.
"If we don't use these trade negotiations to require our LNG exports to ship on U.S. vessels, the United States will continue exporting its LNG on foreign-flagged ships manned by foreign crews," said Garamendi. "The U.S.-flag international fleet has declined 60 percent since 1991 to just 80 vessels. These negotiations give us the opportunity to reenergize American shipyards and rebuild our nation's dwindling merchant fleet, which provides a vital economic stimulus and critical sealift capacity for our military."
Wicker and Garamendi are the sponsors of the "Energizing American Shipbuilding Act," which would guarantee that fixed percentages of all exported LNG and crude oil would travel on U.S.-built, crewed, and flagged vessels from 2025. They plan to reintroduce it in the current Congress, and believe that the proposal would grow the U.S.-flag fleet and support thousands of new jobs for American mariners, shipyards, and the domestic maritime industry.
16 LNG carriers were built in the US between 1977 and 1980, but all have since been flagged out or scrapped. Today, the majority of the world's LNG carriers are built in South Korea, where the "Big Three" shipyards - Samsung Heavy Industries, Hyundai Heavy Industries and Daewoo Shipbuilding and Marine Engineering - have made a specialty out of building this complex vessel class. Korean LNG carriers currently cost $180-200 million, and the Government Accountability Office has estimated that constructing these vessels in America would be two to three times more expensive. VesselsValue puts the premium for all American-built vessel classes somewhat higher, at about three to four times the cost of a conventional ship.
This premium is visible in newbuild pricing: a recent pair of American-made Panamax boxships were more costly than CMA CGM's new 23,000 TEU Megamaxes, which will be seven times larger. For a time, the most valuable tanker in the world was the 115,000 dwt U.S.-built Liberty Bay, half the size of a standard VLCC and more than twice as expensive.
In 2015, the Government Accountability Office studied the possibility of shipping all American LNG on U.S.-flagged vessels (not a fraction, as proposed by Wicker and Garamendi). Based on a conservative estimate, GAO found, the costs of vessel construction and operation could increase the cost of transporting LNG from the United States by about 25 percent, potentially decreasing demand for U.S. LNG. "Any reduction in demand for U.S. exports due to the proposed requirements and resulting changes to the LNG market may decrease jobs in other U.S. industries such as the liquefaction and the oil and gas industries," GAO warned.