The Most Expensive Tanker
VesselsValue.com has released its next infographic in a series focusing on the most expensive live vessels and what they could buy you outside of shipping.
This week looks at the most expensive tanker vessels, which is not a VLCC, but a Jones Act aframax.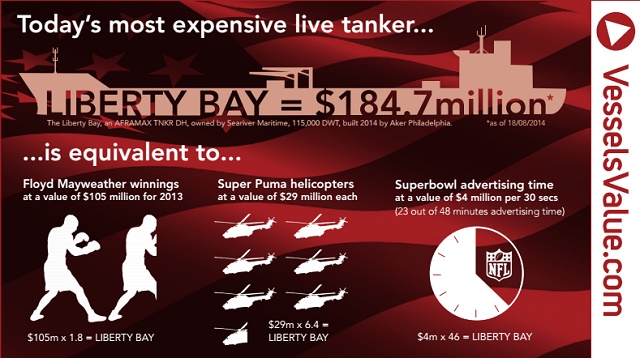 A VesselsValue.com spokesperson weighed in on their calculation:
"To be Jones Act, a ship must be U.S. built, owned, crewed, classed and flagged. The cost to build vessels in the U.S. is 3-4 times more than Korean or Japanese yards, due primarily to higher labor costs. Additionally, Jones Act vessels operate in a protected market so they generally experience much more stable and higher freight rates."
Both these factors result in second hand - and obviously newbuild - values of Jones Act vessels being substantially higher than for non-Jones Act vessels of the same type, size, age. It is surprising, but this is a value premium that is carried through all of our tanker valuations."
The 115,000-deadweight-ton Liberty Bay is 820 feet long and has capacity to carry 800,000 barrels of oil. In addition to a double hull for all cargo and fuel tanks, the Liberty Bay is equipped with redundant components for key systems. These include main engine components and controls as well as fuel, lube oil and electrical systems to deliver energy efficiencies and better performance. It also features design enhancements for improved environmental protection.
Today, there are four VLCC tankers operating in Valdez-U.S. West Coast by Alaska Tanker Company, which when built were known as the Triple-Doubles due to triple redundancy and double hulls. But, the Liberty Bay, Aker-built Aframax, will be the most exprensive tanker ever built in U.S.