"Trainees" on Anti-Migration Group's Ship Seek Asylum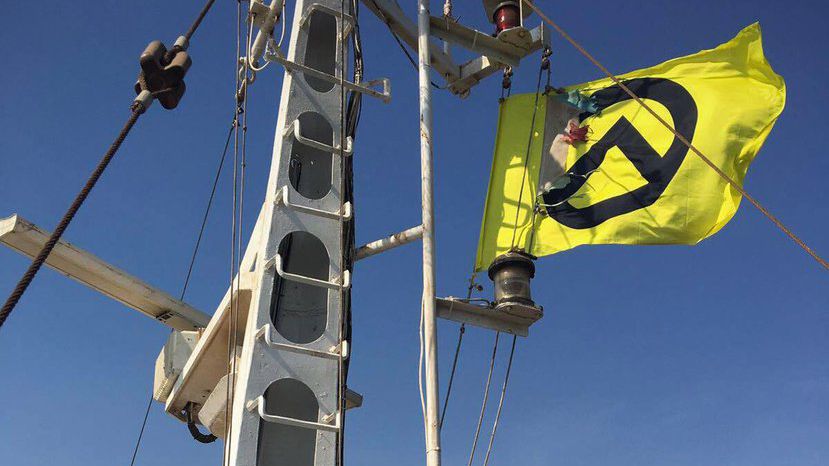 The anti-immigration youth group Defend Europe had a setback Wednesday when its chartered vessel, the former floating armory C Star, was detained by authorities in Turkish-controlled Northern Cyprus. Local media report that the C Star's crew are being held by the police in Famagusta, and her master and chief mate have reportedly been arrested for "forging false documents."
The purpose behind the C Star's stop in Famagusta was not immediately clear, as she was bound for Catania, Sicily, 850 nm to the west. The group intends to sail from Catania to waters off Libya in order to monitor the activities of migrant rescue NGOs.
In an unexpected twist, 20 individuals of Asian descent – all cadets, according to Defend Europe – were on board when the vessel berthed in Famagusta. In a Twitter post Wednesday, the anti-immigration group defended itself against accusations that these "apprentice sailors" were maritime migrants. Shortly thereafter, Defend Europe reported that five of these apprentices had been "bribed" into applying for EU asylum.
"We were reported [sic] that at the airport, as the apprentices were about to return to their country of origin, NGOs offered them to stay in Europe and apply for asylum, in exchange for promises and money," the group said. "Fifteen apprentices refused, five accepted this act of bribery and are now making false accusations against the owner of the ship."
Defend Europe added that the trainees had attempted to disembark in Egypt, but had been unsuccessful. The C Star was detained for a week by Egyptian authorities before being allowed to proceed through the Suez Canal, and organizer Martin Sellner told Buzzfeed that the detention in Famagusta was the same thing – "false allegations that lead to repression to delay us. The company will go to court against that," he said.
Human rights group Hope Not Hate contends that Defend Europe has ties to the far right, and that it is primarily motivated by anti-Muslim and anti-immigrant views. Robert Timm, a German architecture student and one of Defend Europe's organizers, countered in a recent interview that no one in the group is "actively a neo-Nazi," though he acknowledged that some of them may have been involved in far-right groups in their youth. In their own words, the group's organizers seek to implement "an Australian 'No Way' Policy to save Europe and to save lives," referring to an Australian government PR campaign from 2014.