ICS Defends IMO's Role at UN High Seas Talks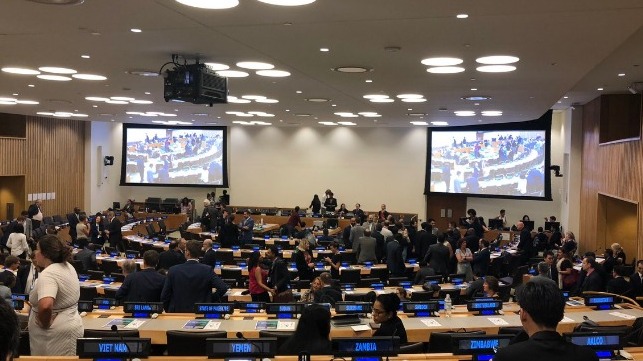 This week, as the UN takes up negotiations on new treaty language to protect the high seas, the International Chamber of Shipping (ICS) is in New York to represent the industry and advocate for its continued regulation by IMO.
On Wednesday, the UN launched the first of four sessions on a new treaty to protect ocean waters outside of national jurisdictions. Ships traveling upon the high seas are subject to regulation under UNCLOS, which is enforced by flag state and port state authorities, but by definition, their activities are not subject to oversight by nearby littoral states.
The advocacy coalion High Seas Alliance argues that UNCLOS offers inadequate regulation for fisheries and for new industrial activities like deep-sea mining. To address this gap, the UN has taken up a two-year series of intergovernmental talks to expand the treaty. The negotiations will include discussions on environmental impact assessments and on marine protected areas - two topics that could potentially affect shipping.
The International Chamber of Shipping says that it supports the objectives of the negotiations. However, on Wednesday, ICS chairman Esben Poulsson called on the delegates to ensure that the UN initiative will not "unwittingly" interfere with freedom of navigation or "cut across" the work of IMO.
"IMO should always be the lead organization for developing environmental rules that may affect international shipping," said Poulsson in a statement. "IMO's jurisdiction is broad and extends already to shipping activity in areas beyond national jurisdiction."
Advocates for a new marine conservation treaty presented a different view. "Activities on the high seas are managed one sector at a time, and new threats are emerging. Any kind of effort to protect a vulnerable habitat must currently go through different international entities that manage shipping, fishing and mining," said Dr. Lance Morgan, president of the Marine Conservation Institute. The High Seas Alliance - which counts the Marine Conservation Institute among its members - is calling for new institutions to provide comprehensive regulation of the high seas, including a Conference of Parties (CoP), a technical committee, a compliance committee, a secretariat and a dispute resolution system.
ICS is the largest trade association for international shipping, and its member associations cover about 80 percent of the world's merchant fleet by tonnage. The association has consistently defended IMO's regulatory role, particularly with regard to carbon emissions. ICS played a part in preventing shipping's inclusion in the Paris Agreement on CO2 reductions, successfully advocating for IMO regulation instead. The trade association was also an opponent of the EU's regional CO2 legislation, which would have imposed Europe's emissions trading scheme on shipping in lieiu of an IMO agreement.