Carrier USS Ford Forced to Return to Port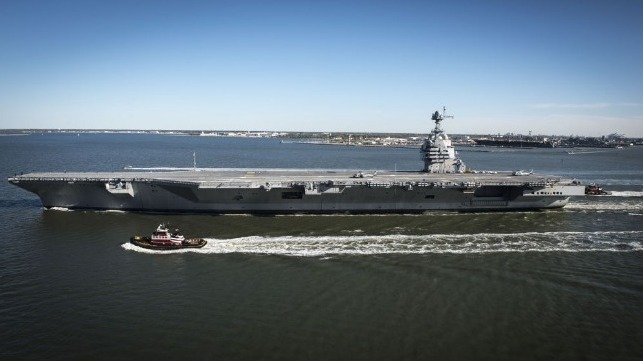 This week, the first-in-class carrier USS Gerald R. Ford was forced to return to port at Norfolk, Virginia after another propulsion problem, the fourth reported for the $13 billion warship.
A spokesperson for the Navy told media that Ford was forced to interrupt her sea trials because of a "propulsion system issue associated with a recent design change," which required unspecified adjustments. The sea trials are the last set scheduled before the Ford enters a maintenance availability period this summer.
Bill Couch, a spokesman for Naval Sea System Command, told Navy Times that the issue was a new problem, unrelated to the two main thrust bearing failures that Ford suffered in April 2017 and January 2018. General Electric has acknowledged that the bearing failures resulted from defects in manufacturing. The Ford also suffered a turbine failure in 2016.
The Navy says that while Ford continues to work through issues related to her propulsion and her munitions elevators, she is progressing well in trials for other core systems. The service said in a statement that she has successfully completed testing for her fixed-wing aircraft/helicopter integration, air traffic control center, JP-5 fuel system, daytime underway replenishment capability, defensive systems, and her Dual Band Radar - a key achievement, since the advanced radar system had proved to be a source of difficulty in initial testing. None of the propulsion issues identified so far have been related to the vessel's nuclear reactors, the Navy reports.
Ford is the first in her class, and the service has worked to temper expectations by noting that she was expected to have some systems fixed during testing, just like previous generations of advanced surface combatants. The Navy believes that all of the issues identified to date will be corrected in a year-long post-shakedown repair period at Newport News and that Ford will achieve operating capability in 2022. Any improvements will be integrated into the next carrier in the series, the USS John F. Kennedy, which is currently under construction.