USS Ford's Cost Breaks Past $13 Billion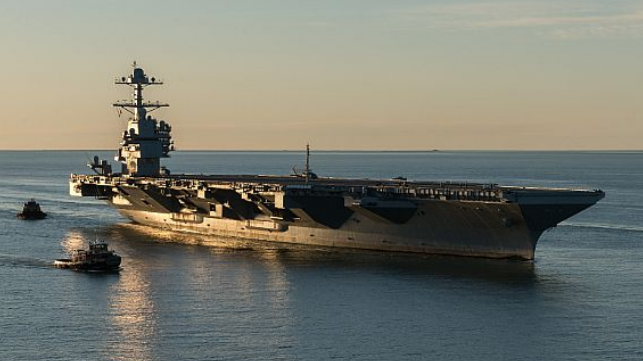 The cost of the U.S. Navy's newest aircraft carrier, the USS Gerald R. Ford, has officially reached the $13 billion mark. At a Congressionally-mandated maximum price of $12.9 billion, she was already the most expensive vessel ever built, but problems with her propulsion system and high-tech elevators will force the Navy to shift funding to bring her up to operational status.
The Ford suffered a second main thrust bearing failure in January, following a similar incident in April 2017. The bearings, manufactured by General Electric, were apparently made with "machining errors." GE has acknowledged that these deficiencies were the root cause of the failure.
In addition, the Navy told Bloomberg this week that none of Ford's 11 "Advanced Weapons Elevators" (AWEs) are operational. They are undergoing testing and adjustment "to preclude any effect on the safety of the ship and personnel," the service said in a statement.
According to their manufacturer, Federal Equipment Company, these electromagnetic elevators can lift 12 tons at 150 feet per minute, with acceleration to full speed within 2 seconds. Previous-generation weapons elevators could only carry a fraction of this load and could not achieve the same speeds.
The Ford class, designed during the tenure of Secretary of Defense Donald Rumsfeld in the early 2000s, is built around a powerful nuclear plant with abundant electrical generating capacity. The weapons elevators, the high-tech catapults that launch fighters off her deck and the arresting gear that allows them to land are all electrically powered, and she features an advanced type of dual-band radar. In a "transformational leap," DoD elected to concentrate all of these advancements in one single first-in-class ship. When her design was finalized in 2004, the Navy's plan "acknowledged technological, cost, and schedule challenges were being put on a single ship, but assessed this was achievable."

All of these key systems have encountered difficulties, and in 2017, DoD's Director of Testing & Evaluation concluded that "based on current reliability estimates, CVN 78 is unlikely to be able to conduct the type of high-intensity flight operations expected during wartime." The Navy notes that she has completed 750 aircraft launch and recoveries since her delivery one year ago.