Carrier USS Ford Suffers Another Bearing Failure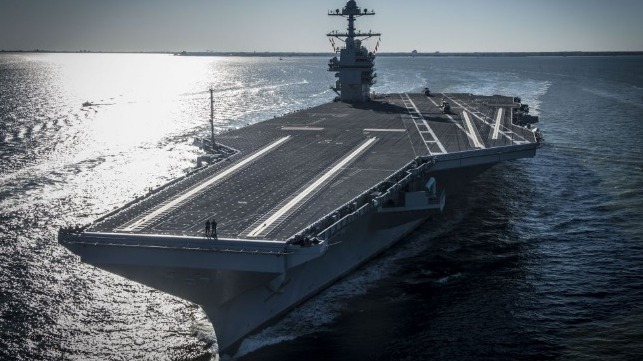 The U.S. Navy's new $13 billion carrier, the first-in-class USS Gerald R. Ford, suffered another propulsion system bearing failure in January, according to a new Bloomberg report.
This is the second time that the Ford has experienced the failure of a main thrust bearing on its propulsion system, following an earlier incident in April 2017. The bearings, manufactured by General Electric under its contract for the Ford's propulsion system, were apparently made with "machining errors," the root cause of the failures.
The Ford is the most expensive vessel ever built, and she has suffered from a string of cost overruns and commissioning issues. These have included problems with her advanced dual-band radar system, electromagnetic aircraft launch system (EMALS) and new advanced arresting system. "The poor or unknown reliability of these critical subsystems is the most significant risk to CVN 78. Based on current reliability estimates, CVN 78 is unlikely to be able to conduct the type of high-intensity flight operations expected during wartime," the DoD's Director of Testing & Evaluation wrote in a FY2017 report. In 2016, then-Secretary of the Navy Ray Mabus blamed the deployment of multiple new technologies at once for the Ford's problems, and he ordered an independent review of the carrier's design.
The Ford also faced delays in starting sea trials due to serious problems with voltage regulators on its four main turbine generators, which were built by Northrop Grumman. In 2016, one regulator reportedly malfunctioned badly enough to damage the number two turbine's rotors, and the turbine had to undergo a major overhaul. Naval Sea Systems Command emphasized that these problems were in no way related with the vessel's nuclear plant, which was built by Bechtel.