Winds of Change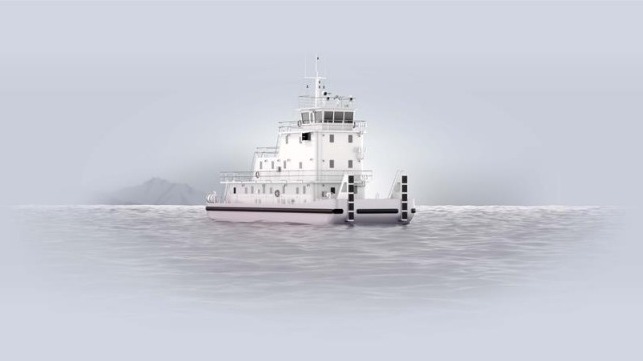 (Article originally published in Nov/Dec 2018 edition.)
Tugboat operations in the U.S. haven't changed much in decades. Long-established companies – often family-owned – see little reason to change in a sector that, by and large, works effectively and provides vital links in America's complex supply chain.
According to the American Waterways Operators (AWO), an association representing the tugboat, towboat and barge industries, the sector is the largest component of the domestic maritime industry, providing half a million jobs, generating $100 billion in annual economic output, and employing more than 33,000 American mariners. Vast quantities of commodities including oil, grain and coal are shipped over the country's waterways with one 15-barge tow carrying the equivalent of 216 rail cars or more than 1,000 semitrailers.
Meanwhile, operators of escort and berthing tugs in U.S. ports are handling increasing volumes of trade and larger ships. And there are signs that, before long, some existing support vessels may no longer be operationally flexible or powerful enough to ensure the smooth running of the supply chain.
New Developments
These developments and others suggest that the industry's traditional "business-as-usual" philosophy may be ready for a shake-up. Expansion of the Panama Canal and the "cascading" of larger box ships across the Pacific from Asia to the U.S. West Coast are two other factors driving the need for more powerful tugs.
In energy too, the picture has changed dramatically. The U.S. has recently overtaken Saudi Arabia as the world's largest oil producer. Crude oil and refined product exports have soared, and the first VLCCs have been deployed in shipping crude to Asia. Liquefied natural gas terminals, originally designed for imports, have been reconfigured to export growing volumes of gas.
At first glance the country's tugboat operators don't seem to be adapting very quickly. But behind the scenes there are plenty of positive developments, and what has traditionally been one of the country's most conservative sectors is now starting to embrace change.
There are, however, built-in constraints. The 98-year-old Jones Act is one of them. Speaking on condition of anonymity, foreign tugboat designers and builders admit that partnering with U.S. yards to comply with Jones Act requirements can double the price of a new tugboat and extend its construction by many months.
For naval architects and builders striving to achieve another few percentage points in terms of construction and operational efficiencies, this is seriously demotivating. It also undermines the incentive for U.S. tugboat operators to embrace the new designs and technologies that are transforming the sector in other parts of the world including Canada, Europe, Turkey and Singapore.
Making Inroads
However, some foreign shipyard groups have made inroads into the U.S. market. Netherlands-based Damen, for example, has partnered with Conrad Shipyard to build four new Damen Stan Tugs 3711 for Young Brothers, Hawaii's largest inter-island cargo service provider.
Earlier this year, Damen launched the RSD Tug 2513, a new design with two "bows," enabling it to operate bow-first in all conditions with a bollard pull of 75 tons ahead (push) and 71 tons astern (pull). A Damen Twin Fin Skeg gives the tugboat good course-keeping characteristics.
Another feature of the U.S. tugboat sector is a reluctance to be seen as a pioneer of new technology – in case it doesn't work. Batteries are a case in point. Whereas energy storage is often a key component of hybrid systems for tugs, ferries and offshore supply vessels, there is an understandable hesitancy in the tugboat sector to incorporate them following incidents several years ago involving overcharged batteries catching fire.
However, energy storage technology has come a long way since then. Recently, Canada's Corvus Energy announced it had clinched an order from Turkey's TK Tuzla Shipyard subsidiary, Navtek Naval Technologies, for its Corvus Orca energy storage system. The installation will be made on the world's first battery-powered Zero Emissions Electric Tug (ZeeTUG), which will operate in Istanbul following delivery early in 2019.
ZeeTUG exemplifies a key business driver for terminal operators, port authorities and other end-users worldwide: environmental sustainability. From shore-based power to the carbon footprint of service vessels, executives are now looking for improvements in operating efficiency, faster response times, lower fuel consumption and reductions in harmful emissions. These priorities, experts suggest, will inevitably become a new driver in the next phase of tugboat evolution in the U.S.
"A Breakthrough Year"
Former Rolls-Royce Marine executive Erik Larsen describes 2018 as "a breakthrough year" in new technologies and specifically for hybrid propulsion systems in the U.S. Rolls-Royce received its first such order earlier this year from San Francisco-based Baydelta Maritime LLC.
The tractor tug is now under construction at Nichols Brothers Boat Builders in Washington State and is scheduled for delivery in March. The 90-ton bollard pull tug was designed by Jensen Maritime, Crowley Maritime's Seattle-based naval architecture and engineering firm, and will be deployed in San Francisco escorting large vessels including tankers.
The Rolls-Royce package consists of electric motors, shaft generators, and a power management and control system. The hybrid arrangement is highly flexible allowing diesel, diesel-electric, or electric-only operation up to eight knots. Power is supplied to US 255 azimuth thrusters with ducted fixed-pitch propellers that can be rotated through 360° around the vertical axis. This provides effective thrust in every direction, aiding maneuverability and improving crash-stop capability.
Larsen says some tug operators are now looking for more powerful units with bollard pulls of 100 tons or more – required to handle large vessels including container ships and LNG carriers safely and efficiently. But this level of power cannot be easily met with a diesel-only set-up. Hybrid systems with power-boosting potential will be required.
Larsen adds there is growing interest in LNG-powered tugboats but, once again, refers to the conservative nature of the sector. Furthermore, most tugboats in the U.S. use high-speed engines that are not geared to LNG operation although both Rolls-Royce and MTU have new engines under development. Another challenge is fuel storage, an area where designs are now available from firms including Robert Allan and Jensen Maritime.
The Holistic Approach
Finland's Wärtsilä also has a keen eye on the U.S. tugboat sector. According to Donato Agostinelli, Business Development Manager for Offshore & Special Vessels, the company is actively on the lookout for a U.S. tugboat operator with whom to collaborate.
Emphasising the importance of operational data, Agostinelli says: "We have worked with a vast number of tug owners and operators in Europe, Asia and even Latin America. So far, we haven't had an opportunity to collaborate with a U.S. operator, but we are naturally interested in doing so."
The company is adopting a holistic approach because it believes this is the best way of breaking into a very conservative and competitive sector. It's hard to find pioneers in innovation, Agostinelli explains, because "a failure in trying to be innovative can cause serious problems on companies' balance sheets. But once something is proven, it is easily adopted."
He adds that "To overcome this challenge, we have been actively promoting our holistic approach to ecosystem-thinking in the region to increase awareness and hopefully spark the interest of owners on the inland waterways and other potential partners who are willing to take the journey forward with us. We always strive to bring together regulators, industry and society to find ways of improving the entire ecosystem. To enable this, we actively seek to arrange workshops to bring our different stakeholders together."
"All-in-One" Setup
ABB has been working closely with one tugboat operator and is likely to release details of two deals involving an all-electric vessel and a diesel-electric tugboat in the next few weeks. The company recently unveiled its Tier 4-compliant electric towboat, which can yield a 30 percent reduction in fuel consumption and savings of up to $8.5 million in operating costs over 15 years compared with a conventional towboat.
"As a leader in all forms of electrical propulsion," says Edward Schwarz, Vice President of Sales for ABB Marine & Ports in North America, "we can customize solutions to meet an owner's special needs. Even in the North American tug market, owners are driven by different goals. For owners who are looking to decrease emissions and operating costs, a hybrid solution is a great fit, and we have almost daily conversations with owners and designers about this technology."
Schwarz emphasizes the importance of good shipyard cooperation and points to the company's all-inclusive systems: "ABB's standard scope of supply includes all the power-generating systems, power distribution, automation control, energy storage if applicable, propulsion motors and, in many cases, our own propulsion – the Azipod. This means shipyards have only one company to work with on the main electrical systems." – MarEx
U.K.-based Paul Bartlett is a maritime journalist and consultant. This is his first appearance in the magazine.
The opinions expressed herein are the author's and not necessarily those of The Maritime Executive.