Petchem Boom
Demand for petchem products is growing, both in the U.S. and abroad, benefiting ports – especially along the U.S. Gulf Coast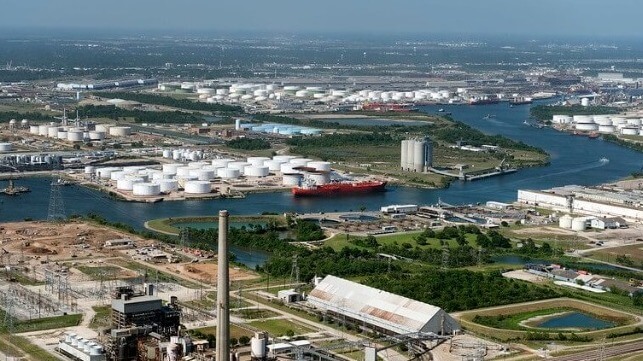 (Article originally published in Mar/Apr 2023 edition.)
According to the U.S, Department of Energy, petrochemicals derived from oil and natural gas account for over 6,000 daily products and high-tech devices. The demand for such products is expected to grow with industry speculation suggesting a compound annual growth rate in petrochemicals of nearly five percent through 2026.
But growth in petchem demand also means the need for more oil and gas. That, in turn, offers a challenge to the petrochemical industry because of global pressures to reduce the use of carbon-emitting fuels and feedstocks like oil and gas. Many marine ports, which have a high concentration of petrochemical facilities on their properties, are part of the equation.
So the issue begs the question: Is there any discussion between the port community and petrochemical producers on the challenges of reducing the use of fossil fuels? According to Captain Bill Diehl, President of the Greater Houston Port Bureau, the topic is front and center.
"Houston is the Energy Capital of the World," he says. "With 96 percent of all manufactured goods directly tied to the petrochemical industry, shifting to low-carbon energy and manufacturing is complicated and will take time. The best talent in the energy industry is concentrated in Houston, and the energy companies are prepared to lead the global transition to a low-carbon or no-carbon future. Our companies are investing in energy transition pragmatically while continuing to meet current demands."
Seaboard Blue
As a sidenote and example of the use of "greener" fuels, the Port of Miami marked a milestone recently with the refueling of the container ship, MV Seaboard Blue, with liquefied natural gas (LNG) prior to its sailing to Honduras and Guatemala.
Seaboard Blue, with a 1,000-TEU (twenty-foot equivalent unit) capacity, was retrofitted in 2017 to run on both LNG and diesel fuel. The vessel was the world's first container ship converted from conventional diesel propulsion to LNG and joined Miami-based Seaboard Marine's North Central America service.
"Seaboard Marine's adoption of greener sources of fuel is exemplary and a significant step toward our goal of keeping Miami-Dade a county on the cutting edge of sustainability," noted Miami-Dade County Mayor Daniella Levine Cava in a release. "Together with our shore-to-power project that will soon become a reality, these investments continue to position PortMiami as an industry leader and help to ensure our community becomes future-ready."
Eddie Gonzalez, President & CEO of Seaboard Marine, adds, "Seaboard Blue is a key new component of Seaboard's fleet transformation. The recent purchase of this LNG-powered ship not only demonstrates Seaboard Marine's ongoing commitment to sustainability but also to providing reliable service to our customers."
Petchem Row
However, as the world ponders green fuel and climate issues, the wave of newly constructed oil, gas and petchem facilities continues unabated along the Texas and Louisiana coasts and inland as well, and the Port of Beaumont in southeast Texas is one of the ports reaping the benefits.
The port specializes in handling project cargo and has additional attributes that appeal to private companies looking to move large components to project sites along the Neches River, including its location at the terminus of the federally maintained channel, which means there's limited vessel traffic moving in the areas surrounding the public docks and wharves, says Sade Chick, Director of Corporate Affairs. For these reasons, she adds, LNG facilities, refineries and chemical plants along the waterway rely on the Port of Beaumont to move the large pieces of cargo.
Chick says the largest projects being constructed in southeast Texas right now are for the export of liquefied natural gas as the U.S. takes the global lead in LNG exports. However, a new ethylene production plant is also under construction as well as a facility that will produce blue ammonia.
Another project involves Chevron Phillips Chemical. CPChem, a joint venture between Phillips 66 and Chevron, recently announced an $8.5 billion integrated polymers facility that will be built in partnership with QatarEnergy in the Golden Triangle region (Beaumont, Port Arthur and Orange) in Orange, Texas. A new company, Golden Triangle Polymers Company LLC, has been established to oversee the project.
When operational in 2026, the plant will include a 4.6 billion pounds per year ethane cracker and two 2.2 billion pounds per year high-density polyethylene units. An ethane cracker converts ethane into ethylene, which is used to produce polyethylene – the most widely produced plastic polymer used in the production of everything from durable goods like pipe for natural gas and water delivery to recreational products like kayaks and coolers. It's also used in essential packaging applications to protect and preserve food and keep medical supplies sterile.
The project's goal is to have 25 percent lower greenhouse gas emissions than similar facilities in the U.S. and Europe.
Another big international company operating near Beaumont – OCI Beaumont, owned and operated by Amsterdam-based chemicals manufacturer OCI N.V. – is planning to invest close to $5 billion to expand its East Texas complex. It plans to add a nitrogen-based fertilizer production facility and a renewable fuels plant to its existing 28-acre ammonia and methanol plant south of Beaumont on the Neches River. If the plans are finalized, OCI would spend $2.8 billion on the additional fertilizer production units.
The cargo generated by these projects for Port Beaumont doesn't come without its challenges, says Ernest Bezdek, the port's Director of Trade Development.
"Space is always the biggest challenge," he explains. "Many of the industrial facilities require space to handle their cargo while preparations are being made at the construction site. The pandemic created some issues as the components were manufactured but site preparation and construction were delayed due to COVID-19. We're just beginning to see some relief from the issues created by the delays. The future is bright. However, additional space is a priority not only for ports but for private industry as well."
LyondellBasell, based in the Netherlands with its U.S. headquarters in Houston, is one of the largest plastics, chemical and refining companies in the world. It announced in March the startup of the world's largest propylene oxide (PO) and tertiary butyl alcohol (TBA) units. These new assets on the U.S. Gulf Coast in Channelview, Texas have an annual capacity of 470 thousand metric tons of PO and one million metric tons of TBA and its derivatives.
PO goes into making polyurethane foam, typically used to make mattresses, car and furniture seat cushions, insulation and a variety of other products. TBA is converted to produce two ether-based oxyfuels, methyl tertiary butyl ether (MTBE) and ethyl tertiary butyl ether (ETBE). Both MTBE and ETBE are high-octane fuel additives that help gasoline burn more efficiently.
Another project involving LyondellBasell was the signing of a long-term contract with Nexus Circular of Atlanta to supply LyondellBasell with approximately 24,000 tons of recycled plastic feedstock per year. The material will be produced at Nexus Circular's new advanced recycling facility, which will begin construction this year. The new facility will convert mixed plastic waste into recycled feedstock. LyondellBasell will use the recycled feedstock at its Channelview, Texas facility to produce new plastics that will be marketed under the CirculenRevive brand.
Nexus Circular is a commercial leader in advanced recycling with a proven proprietary technology and a leading process design that converts landfill-bound films and other hard-to-recycle plastics into high-quality liquids, which are then used to produce virgin-quality plastics.
#1 in Resins
Port Houston continues "to see increasing resin demand driving export-loaded containers up 31 percent above the same month last year," says the port's Executive Director, Roger Guenther. "We are the top resin port in the nation, and exports of container cargo with polymers and other petrochemical products remain strong. We continue to make the investments in our facilities to handle future growth."
Port Houston exported 59 percent of all resins from the U.S. in 2022.
"New resin-packaging facilities continue to come online around the port," notes Guenther, adding to Port Houston's export volumes via its two container terminals, Barbours Cut and Bayport Container Terminals.
In addition, Packwell plans to build a new state-of-the-art resin-packaging facility on a site leased from Port Houston at the Bayport Industrial Complex. Packwell is a plastics bagging and logistics company established in Houston in 1986, and its packaging expertise involves bagging polymers of all categories.
Last year, the Houston Port Commission awarded more than $300 million in new capital projects, a new record supporting Port Houston's continued investment in growth and infrastructure.
The fiscal year 2023 capital plans anticipate an Operating Capital Improvement Projects budget of $579 million and $99 million for Project 11, the expansion of the Houston Ship Channel. The dredge used for much of the work is the cleanest in the Americas, Guenther says.
Halifax-based Tom Peters is the magazine's ports columnist.
The opinions expressed herein are the author's and not necessarily those of The Maritime Executive.