High Resolution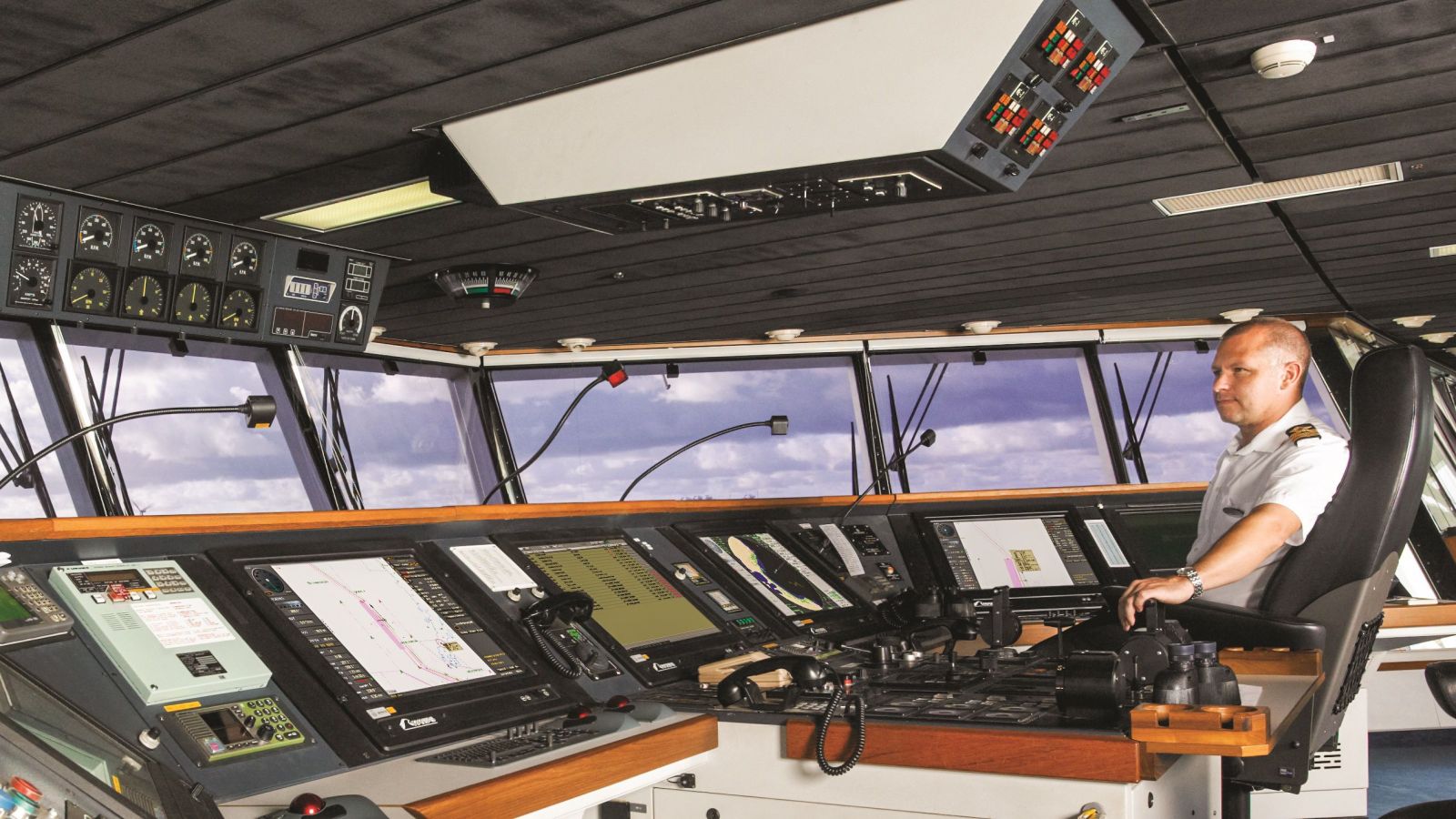 (Article originally published in Jan/Feb 2017 edition.)
From January/February 2017 Edition
Recent advances have improved the accuracy and security of bridge display systems.
The U.S. marine transportation system includes 500,000 square nautical miles of navigationally significant waters, according to the National Oceanic and Atmospheric Administration (NOAA), which adds that "NOAA tools, such as nautical charts, accurate positioning services and weather observations, play a key role in ensuring that shipments move swiftly and safely along our marine highways."
It's the same the world over as marine navigation plays an increasingly important role in the swift and safe flow of goods. As global trade increases, so too does the complexity of navigational systems. E-navigation, systems integration, evolving regulations and standards for equipment, cybersecurity and the "connected ship" are just some of the new concerns facing operators and manufacturers alike.
Cybersecurity
The growing threats of global terrorism and Internet piracy have further reinforced the importance of secure navigational and communications systems. In a speech last October, Frank Coles, CEO of IT solutions provider Transas, called on the International Maritime Organization (IMO) to set standards of compliance for connectivity systems between ship and shore. He noted that, compared to the highly regulated ship-equipment environment, the connectivity environment is relatively uncontrolled in terms of maritime certification and compliance.
"The connected ship is like a long chain with each piece linking to the next," Coles explained, "and at every point there is the opportunity for a failure. It can be hardware or software or both, and it can be a cyber virus penetration or simply a denial of service, either of which can cause damage." Coles says that the essence of cybersecurity is a smart information technology system, including appropriate processes and procedures, and therefore standardization and regulatory control of a ship's systems should extend to the realm of connectivity.
Børre Flaglien, Product Manager for Navigation at Kongsberg Maritime, says his company's approach to cybersecurity issues "is to isolate all navigation equipment [i.e., no hardwired connectivity]. With K-Remote [a Kongsberg product for remote connectivity], we offer a gateway between the bridge and shore where security is addressed through a combination of software and hardware in addition to policy. We also enable a secure ship-to-shore exchange of data such as route optimization and navigation data via K-Remote and the Kongsberg Information Management System (K-IMS)."
New ECDIS Standards
But while the security of systems has become a huge priority, the design and manufacture of navigation equipment to meet new industry demands and changing regulations is another big challenge. "Increasing requirements in a small market can be a challenge for both manufacturers and shipowners," Flaglien says. "Take, for instance, the new IHO (International Hydrographic Organization) Presentation Library Standard [new technical standards for ECDIS], coming into force in September. It is retroactive, so we expect a large part of the Kongsberg-equipped fleet to upgrade to meet this IMO-enforced requirement, which means a boost in technology capability for a large number of vessels."
One company, RH Marine Group of Rotterdam, has already moved to meet the regulatory change. In December, RH Marine's ECDIS was officially certified to meet the IHO standards. "One of the biggest benefits of upgrading ECDIS systems to the latest S-52 Presentation Library will be a reduction in the number of audible alarms triggered by ECDIS, helping ease the issue of alarm fatigue on the bridge, while still maintaining safety at sea," the company said in a release.
RH Marine worked closely with Bureau Veritas during the certification process. Besides upgrading the system, work was done to improve usability and enhance performance. Highlights of the new ECDIS include a modern settings menu for intuitive operation; user profiles to optimize settings per user, operation or sailing area with the touch of a button; route prediction to see the effect of the ship's rate of turn on the route; implementation of new Presentation Library 4.0, ready for the next generation of charts; and the presentation of date-dependent objects to optionally show temporary dangers applicable in the future.
The company says the update and accompanying certification mark an important step in the future of its Rhodium Bridge Systems.
Big Picture
Trond K. Johannessen, President and CEO of Hatteland Display in Nedre Vats, Norway, says "Shipping is becoming ever more focused on data for safer and more efficient operations," and that fact adds to the challenge of developing adequate navigation and bridge technologies.
"There are hundreds, sometimes thousands, of sensors and data collection modules on board," explains Johannessen, "and all this data has to be processed and displayed. This leads to an increasing need for larger displays and high-resolution products on the bridge, purely to enable operators to make use of the data that is being made available. This is the thinking that led us to develop the 55-inch, ultra-high-definition chart-and-planning table. Its physical size and 4K resolution are changes in the way data is displayed on the bridge as it allows integrated bridge system (IBS) and navigation technology manufacturers to combine multiple data feeds into a single, user-friendly system."
Johannessen believes the "bigger is better" approach is helping the industry innovate and changing the way navigators work: "The result is safer and more efficient vessel operation." The new era of larger vessels is added reason for bigger displays: "Large ships produce more data," he says. "There are more systems and more sensors, so the challenge is to show this data in a user-friendly, easy-to-read format. This is why larger displays are often required and why we are committed to developing bridge displays with higher resolutions."
At Navico Marine Electronics, a Norwegian firm in Lysaker that produces the Simrad line of products, Executive Vice President Nicolas Queru says the current downturn in most shipping sectors has made shipowners conservative when it comes to ordering new navigation equipment: "They are only interested in cost-effective solutions." He acknowledges, nonetheless, that technological progress has enabled the delivery of new services that can optimize efficient navigation and improve safety and that the push from new regulatory requirements continues to forcefully drive implementation of proven technologies such as ECDIS.
Queru anticipates bridge technologies "will be more and more integrated, network-capable and gravitating around the core elements, i.e., ECDIS, radar and conning, with remote connection to shore-based fleet support and monitoring teams."
Navico, like its competitors, continues to find new and advanced solutions for its navigation line. The company says it is introducing an "ECDIS subscription service consisting of an all-inclusive, subscription-based offer including IMO type-approved ECDIS systems, planning station, chart services and a chart data management tool onboard, fleet management chart data control application onshore, installation and commissioning worldwide, full warranty, annual maintenance, ECDIS software all-time compliance and several additional services around navigation optimization and fleet operations efficiency improvement."
3D, Anyone?
Providence, Rhode Island-based FarSounder knows the challenges of navigation equipment development and has established itself as a leader in 3D sonar systems. "People have been trying to do something like we have for 10 to 12 years or more," says President & CEO Cheryl Zimmerman, "and so far no one has come close. So now most of the companies are trying to work with us instead of trying to invent it themselves."
Zimmerman said a few companies have already signed on with FarSounder and are integrating systems, and there are ongoing discussions with other companies as well: "That will bring more customers because everybody picks a different integrated bridge solution for themselves. So it is originating from the different company customer bases, who are asking to be integrated just like we are integrated in the Wärtsilä Nacos platinum platform, an integrated navigation, automation and control system."
What makes FarSounder's 3D unique, she adds, is: "We see far ahead, but we do it in an environmentally benign way. Our approach allows us to generate a navigation image with a fast update rate. We show whole volume out to 1,000 meters and a wide field of view and process down to 50 meters, and we show that on each ping of the sonar. So it is very practical."
FarSounder has diversified its technology and is selling to both commercial and military markets. Zimmerman says the company is entering new areas by selling commercial products for military applications and expects to announce more for that market within the next 18 to 24 months.
Tom Peters is a frequent contributor to the magazine.
The opinions expressed herein are the author's and not necessarily those of The Maritime Executive.