Heart of the Matter
How do you maximize power while minimizing or eliminating emissions?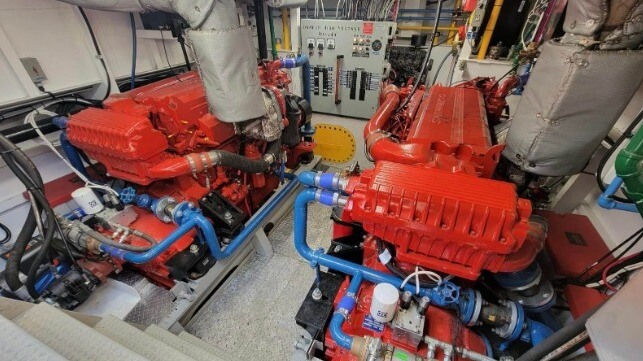 (Article originally published in Nov/Dec 2022 edition.)
Forward motion. It's what defines the global shipping industry. In the decades since 1990, the total volume of cargo transported by ships has more than doubled – from four to over 10 billion tons. In the seven years between 2013 and 2020, capacity grew by 37 percent to nearly two million deadweight tons. The industry keeps growing and moving forward.
At the same time, regulatory requirements have also moved forward. Ambitious decarbonization goals, such as the IMO 2050 requirements, call for a reduction in marine greenhouse gas emissions of at least 50 percent while reducing the carbon intensity of the global fleet at least 40 percent by 2030 – a scant seven years away. The 2050 goal calls for a variety of techniques and technologies ranging from voyage and speed optimization to alternative fuels and increasingly efficient power and propulsion systems.
Which leads directly to the heart of the matter, and the heart of the ships. Power and propulsion.
A ship, in order to be of use, must be making way. Moving through the water. Sailing for destinations near and far. This is only possible through the use of an increasingly sophisticated and regulated set of equipment – from the power source to the propeller and all points between. These systems are expected to do more with less. More efficiency, less fuel. More power, less downtime. More monitoring, less emissions.
Fortunately, the industry appears to be up to the challenge.
Leading Edge
In order to continue moving forward, companies are committing to ambitious goals of their own, often matching and sometimes even exceeding those enacted by the IMO.
U.S.-based Cummins is one such company. Its next-generation environmental sustainability strategy, dubbed Planet 2050, has set ambitious short-term goals for 2030 including:
Reducing absolute GHG emissions from facilities and operations by 50 percent and Scope 3 absolute emissions (see sidebar) from newly sold products by 25 percent
Reducing volatile organic compounds emissions from paint and coating operations by 50 percent
Generating 25 percent less waste in facilities and operations as a percentage of revenue.
Reusing or responsibly recycling 100 percent of packaging plastics and eliminating single-use plastics across dining facilities, employee amenities and events, and
Reducing water consumption in facilities and operations by 30 percent.
The twin goals of producing power on the one hand while reducing emissions on the other may appear at odds, but Cummins is well positioned to do so by advancing engine-based solutions and investing in the right technologies. An example in the marine sector is the powerful QSK50 dual-fuel engine.
Fully certified by the U.S. Environmental Protection Agency for Tier 4 operation and equipped with dual-fuel capability, the QSK50 is battle-tested with more than eight million hours of operation in the field across more than 1,000 units. The dual-fuel option provides a number of benefits including reduced diesel consumption while operating at an optimized substitution rate tailored to provide the same power density and transient response as its diesel-only counterparts.
With efficient machinery and alternative fueling solutions, Cummins is on the leading edge of the decarbonization curve.
Global View
When optimizing for efficiency, the whole is greater than the sum of the parts. Therefore, to design for efficiency, the best results will come when using a global systems' view to develop a fully integrated solution.
Swedish manufacturer Berg Propulsion takes this global view seriously with integrated system design from engine power source to propeller wake. Traditionally, the vessel's main engine was the focus, constituting the largest capex and maintenance cost in terms of propulsion. Rules were set around that, and other system components such as drives, reduction gears, thrusters and propellers were designed to adapt.
But now, with hybrid power, alternative fuels and emissions considerations, battery systems and power integration require the largest investment. Instead of the relatively low cost per kW that a diesel engine would provide, the cost is now higher when considering electric power. This means it's of utmost importance that every other component of the propulsion chain be more efficient in order to keep the power system right-sized.
Every gain in hull and propulsion efficiency results in smaller electric motors, drives and battery size, resulting in a lower total cost. This not also saves money during construction but also reduces fuel consumption, thereby lowering operational costs.
The current uncertainly over which power source will rise to dominance also means that it's not only possible but essential to design a "future ready" propulsion line. If the electrical system and propulsion are optimized, then the power source can be modified or swapped entirely with no adverse effects.
This is happening already with changing regulations driving vessel power upgrades and refits. In some cases, this results in a return on investment due to improved vessel efficiency and marketability. In other cases, however, upgrades are required for the vessels to meet new standards and rising customer requirements. The alternative in these cases is that the vessel can no longer work.
An interesting example of Berg's whole system approach can be seen with the Canadian-flagged bulk carrier Nukumi. The vessel entered into service for Canada Steamship Lines (CSL) earlier this year.
To achieve a reduction of GHG by 25 percent and air pollutants by 80 percent, Berg worked closely with the owner, designer and builder to provide an integrated package that included Tier 3-compliant, variable-speed diesel gensets, engines with innovative permanent-magnet (PM) generators and PM electric motors that drive the propeller shaft directly and require no reduction gearing or other energy-consuming components.
This drives the company's Twin Fin podded propulsion system, which allows for the increased cargo capacity usually associated with thrusters and the reliability and safety afforded by conventional propellers.
By working closely with the builder, owner and other stakeholders, Berg was able to deliver a forward-looking solution that maximizes efficiency while aligning with its "future proof" vision.
Making It Work
All that power eventually needs to be transmitted to the water if the ship is to go anywhere.
A properly designed propeller allows the ship to operate with the highest levels of performance, minimal noise and vibration, and at top speeds with the lowest fuel consumption. Otherwise, the ship is literally "dead in the water."
ZF Marine's in-house architects work with the leading schools of hydrodynamic design to help shape its propellers for maximum efficiency, manufacturing each propeller for a specific vessel type, size and operational requirement.
Not restricted to just propellers, ZF manufactures complete drivelines. The company recently unveiled its new POD Propulsion 4600 system at this year's Fort Lauderdale Boat Show.
Designed to provide speed and unmatched maneuverability to vessels with planing and semi-displacement hulls measuring from 80 to 130 feet, the design was previously only available in European markets. The first installation was onboard the 26-meter yacht Azimut Grande earlier this year with a twin POD system driven by MAN engines.
The unique design draws on expertise gained from the company's automotive experience with the gearing and reduction ratio allowing for larger propellers to further boost efficiency. The result is a system twice as powerful as comparable market offerings while still consuming 15 percent less fuel than a traditional shaft line.
Now we're getting somewhere.
Meeting the Challenge
The twin goals of increasing power and efficiency while decreasing total emissions may seem at odds with each other. But this is what both the market and the environment demand. We're fortunate to have access to forward-thinking, progressive companies that take these demands seriously and apply the latest technology to achieve them.
Through smarter design and application of advanced technologies, shipping is moving toward IMO 2050 in the same direction it's always moved. Forward.
There's an old saying at sea that the only true cure for seasickness is to go sit under an apple tree.
The same could be said for the modern-day emissions challenge – it could be easily solved if all the ships would just stay tied to the dock.
But then, that's not what ships (or sailors) are for.
Master mariner Sean Hogue is Senior Vice President of Operations for Baker Marine Solutions.
The opinions expressed herein are the author's and not necessarily those of The Maritime Executive.