Hans-Christian Mordhorst, Managing Director, DA-Desk
The company that pioneered outsourcing disbursement account services is on a roll.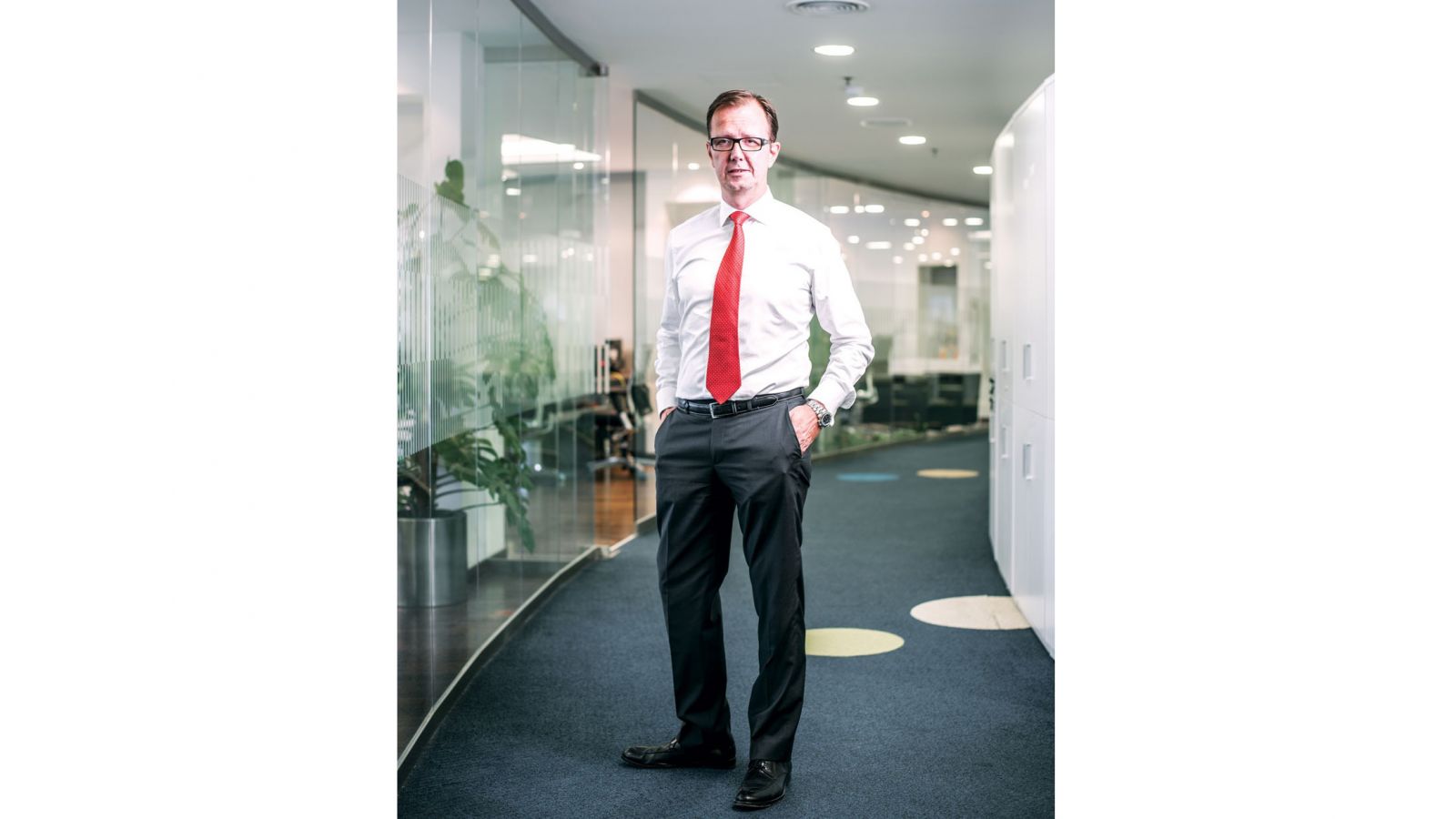 (Article originally published in Jan/Feb 2016 edition.)
What is DA-Desk, and how did it get its name?
DA stands for "disbursement account." It's the account funded by the vessel-operating company and, in the past, typically managed by the operator and his designated port agent to pay for services related to a port call. The "Desk" part refers to our blended approach of always having systems backed by trained specialists.
Are there other DA-focused companies? Was DA-Desk the first?
DA-Desk developed the concept 15 years ago and was the first to introduce to the global maritime industry the concept of outsourcing the administration and management of the DA process to an independent third party. As a bedrock principle, independence guides our business because we believe there should be a checks-and-balances system between the spender and the controller. There are other companies offering similar services, but they are linked to agents and traders and thus are not independent.
Where are you based, and how many offices and employees are there?
Our operating headquarters are in Dubai, UAE, and we have a second site in Mumbai, India. We have over 500 employees in both offices. Through our parent company, the Marcura Group, we also have representative offices in Europe, America and Asia.
Who are your major customers?
We do not disclose names. Suffice it to say that our customers, who now number over 250, include some of the biggest companies in the tanker and dry bulk sectors as well as global commodity traders, liner companies and project cargo companies.
How does the process work?
Our system reduces the burdensome DA process to three simple steps: First, appoint the local agent; second, approve the pro forma disbursement account (PDA); and third, approve the final disbursement account (FDA). The rest is handled by our customer teams. The efficiencies extracted are a key reason why our customers save time and money.
We've read that port costs can account for up to 25 percent of vessel operating expenses. Is this correct?
Yes, that is correct. Port costs can be a significant expense, and there are great opportunities for efficiency and cost optimization on items such as tariffs, towage expenses, foreign currency exchange (FX), and other port-related outlays.
How do you do it?
Our sole focus is on processing our customers' DAs and related payments, which we do through PortSpend Management and PortPayables, respectively. We wrap these services in a layer of compliance, which we believe benefits principals and agents alike. We continuously learn from the best practices of our customers and other leading players in the compliance space.
Tell us about Marcura. Where does the name come from?
It is a combination of "mar," the Latin word for "sea," and "cura," which is Latin for "to care for." "Cura" is also the root word for "curator" – a manager, overseer, or keeper of heritage.
What other companies are in the Group, and what do they do?
The Marcura Group operates a number of companies and new business units that share the same commitment as DA-Desk: Streamlining the administrative processes of the shipping industry while maintaining independence and transparency in terms of how they do business and the way they earn their fees. Some of these businesses are:
PortsDirect – a contract management solutions company focused on the vetting of service providers, procuring discounted rate agreements (such as towage, launches and pilotage), and managing these agreements for the benefit of shipping companies and suppliers.
CP-Desk – a Marcura business unit that provides charter party (CP-related) services such as drafting, checking and storing customers' CPs.
MarTrust – a business that supports companies in the maritime industry by procuring the most competitive FX rates and banking fees for their crew payments. MarTrust also delivers highly advantageous FX and banking costs for supplier payments for a range of services such as dry docking, fresh water, ship chandlers and engine supplies.
PortLog and PortPoint are decision support and business intelligence products that help shipping companies manage and optimize their port call time and costs.
Manifest-Desk – a business unit that provides sanctions' compliance screening services (on cargoes, vessels, counterparties, etc.) for liner companies and commodity traders through a blended approach of people and systems.
What new products are on the horizon?
DA-Desk has recently launched Laytime-Desk in response to strong customer demand. Laytime-Desk takes care of demurrage calculations and collection as well as laytime administration. For more information, see www.laytime-desk.com. We're also in the process of releasing CargoVetting, an online tool used for sanctions' compliance of cargoes, under Manifest-Desk (see www.manifest-desk.com).
Your company has been at the forefront of the crusade against corruption and bribery in the port services business, joining organizations like the Maritime Anti-Corruption Network (MACN). Tell us about that.
Well, we are not actually on a crusade. For us, compliance is so pervasive in everything we do that we feel obliged to contribute to this industry agenda, to raise the standards. We are an associate member of MACN as a supplier to the industry.
What is TRACE?
TRACE is a leading anti-bribery standard-setting organization. DA-Desk has undergone TRACE certification, which is a comprehensive due diligence process and part of our ongoing goal to stay at the forefront of compliance efforts. TRACE certification is also part of our commitment to transparency.
The word "transparency" seems to be an important part of DA-Desk's DNA. What does it signify?
It's the foundation for our business model. At any given time our customers know what we do and why we do it. We are entrusted with our customers' critical documents and business-sensitive information. This trust is gained over time through our transparency. As with independence, transparency is essential and a non-negotiable element for our Group, our staff and our services.
We understand you also offer Sarbanes-Oxley compliance.
Yes, for those subject to U.S. laws we offer compliance services for this critical piece of anti-fraud legislation enacted in 2002 in the wake of various accounting scandals. In keeping with the requirements of Section 404 of the Sarbanes-Oxley Act, DA-Desk annually engages the international accounting firm Deloitte to conduct the International Standard on Assurance Engagements (ISAE) 3402 Type II audit on DA-Desk's PortPayables Service and IT General Controls.
A key component of our compliance-related controls is what we call DA-Compliance®, which has the sole goal of maintaining the necessary systems and processes to minimize our customers' exposure to legal, financial, transactional, regulatory and operational risks. DA-Compliance is a multi-pronged approach to addressing issues related to trade and economic sanctions, bank account verifications, payment approval and transaction monitoring, anti-money laundering, anti-corruption, and IT systems.
What is the biggest challenge facing the company – and the industry – right now?
As far as the industry is concerned, I'd suggest the following:
The global regulatory environment is becoming increasingly complex, and the cost of complying with these regulations is high for any single company to tackle, and
Technology is disrupting old ways of doing things and will have as strong an influence on the future of the industry as the actions of competitors and regulators.
These are challenges, but they also present opportunities because we feel we are positioned to help our customers navigate the issues involved. And, on a separate note, the current state of the dry bulk industry is, of course, a major concern to everyone.
How did you become interested in the maritime industry?
The international nature of the business fascinated me. And because of its impact on world trade and global economies, it puts you at the center of world commerce. That makes it a very fulfilling industry to be a part of, and I have been in shipping all my professional life.
How would you describe your management style?
If I could put it in one word, it would be "collaborative" – with a strong dislike for bureaucracy.
My focus is always to put the customer first in everything we do. This is what guides my management style. And I want to contribute to a workplace that's inspiring.
Tell us about your extracurricular activities, both in the industry and the community.
As a member of the United Nations Global Impact, we invest quite a lot of effort in environmental initiatives. We are also part of BIMCO and associate members of MACN. Privately, I thoroughly enjoy being part of a Danish CEO network in the UAE, which provides great learning opportunities and insights from fellow members, including executives from leading companies like IBM and McKinsey.
Have you read any good books lately?
Yes, Treasure Island and Dr. Seuss! With two small kids, I don't have much time to read for myself. When I do, it's books about technology development and new leadership trends.
What do you like best about your job?
Interacting with customers. We are a business built on innovative products and service, and our people are completely committed to that effort. I think our high staff retention is testimony to how rewarding it is to work here as many of our employees have been with us for over 10 years. And the company itself is only 15 years old! – MarEx
Jack O'Connell is Senior Editor of the magazine.
The opinions expressed herein are the author's and not necessarily those of The Maritime Executive.