Digging Deep
GLOBAL ECONOMIC GROWTH IS DRIVING DREDGING MEGA-PROJECTS.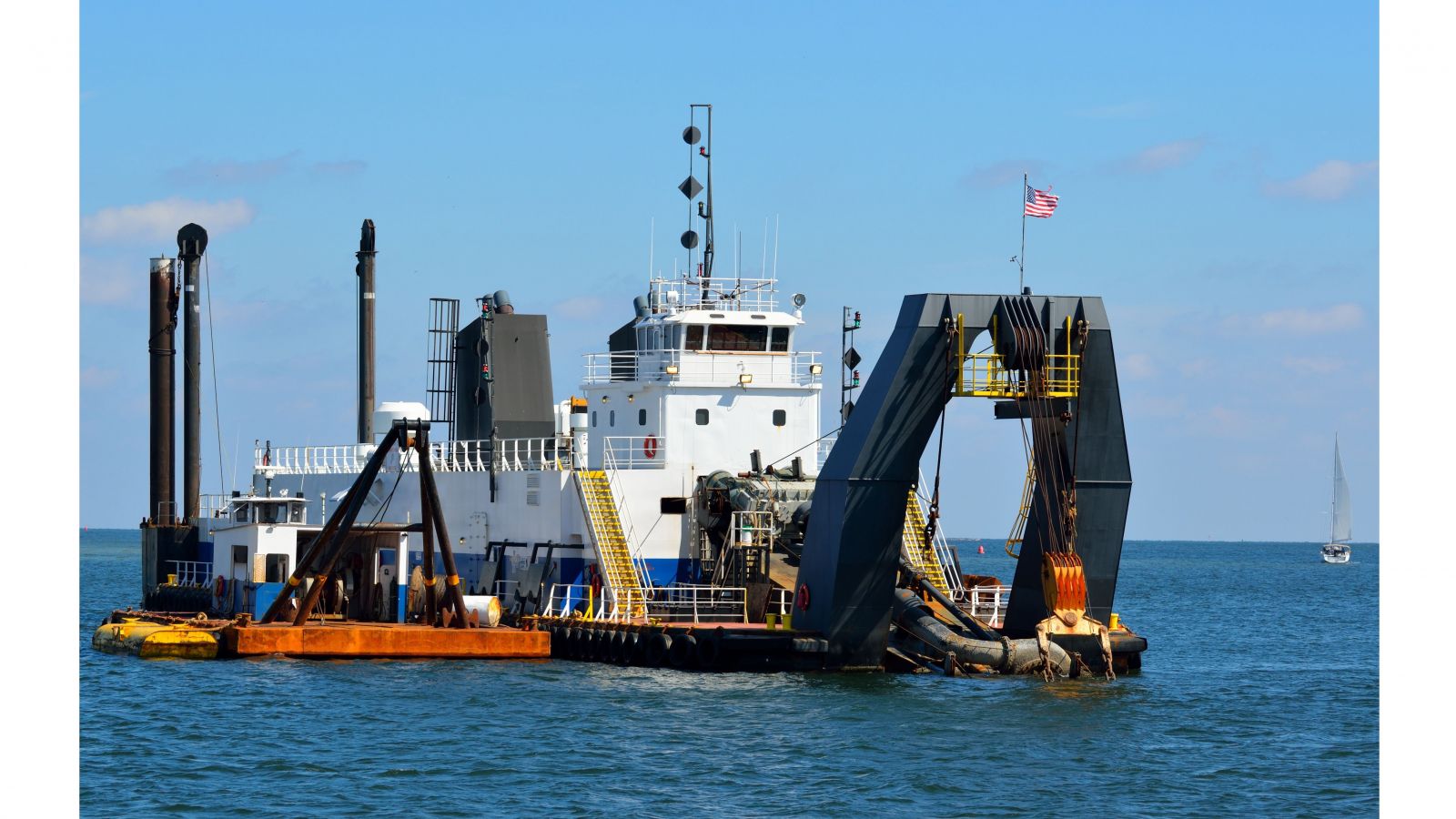 (Article originally published in Sept/Oct 2017 edition.)
The Panama Canal Expansion is complete. The New Suez Canal has been built. China's island-building campaign appears to be finished, and Dubai's land-reclamation market has slowed. The next truly big thing for marine construction may be China's "One Belt, One Road" initiative to build transportation infrastructure abroad:
It's a trillion-dollar gamble, and it's funding large, complex dredging projects in unexpected places. Meanwhile, ports continue to expand as ships get bigger, and the world's top dredging contractors are working on major expansions from the U.S. to Kenya and Ukraine.
For both "capital dredging" (creating new or expanded waterways) and "maintenance dredging" (preserving existing waterways), it's a bull market.
China Rising
China has managed its own waterways with dikes, dredging, canals and reservoirs for millennia, and hydraulic engineering has been a cornerstone of public policy since at least the Han Dynasty. Generations of Chinese leaders drew legitimacy and power from the maintenance of the country's canals, and more than a few – including former President Hu Jintao – rose to prominence after finding success as hydraulic engineers.
Today, China's coastal and riverine waters are the biggest market for dredging in the world. The deepening of the silt-laden Yangtze River estuary, the world's busiest waterway, required 170 million cubic meters of capital dredging – over four times the amount for the Suez Canal expansion. Every year it requires 30 million cubic meters more in maintenance dredging, enough to fill half of the New Panama Canal.
One massive state-owned company, China Communications Construction Corporation (CCCC), has a dominant position in the Chinese dredging market. The assets of subsidiary CCCC Dredging Co. (CDC) put CCCC in first place worldwide in terms of both total hopper dredger capacity and total installed power on cutter suction dredgers (CSDs).
CCCC draws most of its dredging revenue from domestic projects, but when the need arises it also serves Beijing's foreign policy initiatives. It gained international notoriety when it deployed modern, high-tech equipment to build China's island bases in the South China Sea – including dredgers like the Tian Jing Hao, the largest and most expensive CSD in Asia at the time of her launch. Over the span of just a few years, Chinese-operated dredgers created seven islands with 3,200 acres of new land, enabling China's military to install runways, radar arrays and air defense batteries in waters claimed by neighboring states.
China's island-building campaign wrapped up last year, and CCCC has put its assets to work on other ventures including China's rising number of overseas port and waterway projects. The firm is a relatively new entrant to the international dredging market, but it's starting to scoop up more contracts abroad, especially Chinese-financed contracts tied to Beijing's multitrillion-dollar "One Belt, One Road" initiative or OBOR, a trade name for Chinese global infrastructure investment. Under the OBOR rubric (and a similar concept that preceded it), CCCC completed the port of Hambantota, Sri Lanka in 2010 and is now building a new $500 million seaport in Lamu, Kenya.
Not all its overseas projects are directly linked to Chinese initiatives. Late last year, a CCCC-led consortium won the design contract for the first segment of the Venice Offshore Onshore Port project, which will extend the Port of Venice with container and petroleum terminals on reclaimed land. It was CCCC's first harbor construction contract in Europe.
In May, the firm won its second European bid – a $40 million tender from the Ukrainian Seaports Authority for dredging at the port of Yuzhny, part of a grain terminal project for agribusiness firm Cargill. CCCC beat out all four European dredging firms in the process. The contract is commercial, but Chinese and Ukrainian development officials have spoken enthusiastically about partner- ships: Ukraine is a top supplier of agricultural commodities to Chinese markets, making it a strategically valuable trading partner.
CCCC's dredging business benefits from Beijing's connections and international ambitions but also gets a boost from the sheer size of the conglomerate as a whole. CCCC is a Fortune Global 500 company and the largest international engineering, procurement and construction firm in Asia. The $2.5 billion in new dredging contracts it signed in the first half of 2017 was a tiny fraction of its total sales, and dredging and marine construction go hand in hand with many of its onshore mega-projects.
For example, the equipment and materials imported through the CCCC-built port of Gwadar, Pakistan supply its many projects for the China-Pakistan Economic Corridor, a $62 billion transportation network that will connect western China with the sea. Overall, CCCC received $16 billion in contracts related to "One Belt, One Road" last year according to Li Qingwei, Executive Vice President of its International Division.
CCCC's competitors also benefit. In 2013, leading European firm Jan de Nul won the contract to dredge the entrance channel to Sabetta, a newly built seaport that serves the Yamal LNG project in the Russian Arctic. Yamal LNG is financed in part by China's $40 billion Silk Road Fund, which holds a 10 percent stake in the project, and China National Petroleum Corporation, which holds an- other 20 percent. The conditions in the Russian Arctic are not easy to work in, and Sabetta is reliably ice-free for just three months of the year.
Last season, Jan de Nul brought in 18 dredgers from around the world to work round-the-clock on the entrance channel, access channel and turning basin. The firm's engineers achieved the targeted 50-foot depth in the harbor and expect to finish the full scope of work this year. Its technical expertise and hard work made it possible, but so did the support of the Silk Road Fund as it is unlikely that Sabetta and Yamal LNG as a whole would have been built without Beijing's financial backing.
"Big Ship Ready"
While China is putting billions into overseas infrastructure, most of the rest of the world is investing closer to home. In the U.S., attention has been focused on projects that are intended to make container ports "big ship ready." For years, America's East Coast ports have been preparing their channels and harbors for the arrival of 14,000-TEU container vessels via the expanded Panama Canal, the "big ships" that promise to increase efficiency and improve ocean carriers' margins. Half a dozen ports along the eastern seaboard say they must have 50 feet of channel depth (or more, in one case) to compete for boxship traffic. PortMiami and the Port of New York and New Jersey have already dredged to 50 feet, and Charleston, Savannah, Jaxport and Port Everglades are well on their way. Baltimore and Norfolk already had 50 feet.
While container ships get most of the attention, they are not the only vessels to call in the U.S. or carry billions of dollars in exports. Product tankers carry countless barrels of fuel every month out of Gulf Coast ports and are increasingly accompanied by fully laden oil tankers. Crude export volumes are on the rise, and some of the ports that trade in oil may also need to dredge in order to keep pace with the booming market.
Corpus Christi now exports about 22 million barrels of crude each quarter, about a third of the nation's total. It is a multibillion-dollar business, and Platts expects American crude exports to rise sharply in the near term, especially at Texas ports. Among other things, this means increasing tanker traffic and a demand for bigger, more efficient ships. For now, that isn't possible at Corpus Christi: The port has a 47-foot draft limit, barely enough for a fully laden Aframax. Bigger tankers can enter the port when empty but cannot leave fully laden.
The Port of Corpus Christi
Authority aims to lift that limit. It has a congressionally-approved, $350 million plan in place to dredge its channel to 54 feet, which would be enough for million-barrel Suezmax tankers. Congress authorized the project for construction in 2007 and gave the U.S. Army Corps of Engineers enough money to complete two of four phases. The Corps finished this initial scope in 2012, but the most important elements – the main channel and barge lanes – languished for lack of funding.
Late last year Congress passed legislation that allowed the Corps to treat the Corpus Christi channel as a "continuing project," allowing work to resume. The port entered talks with the Corps about self-financing a $32 million contract for one segment near the harbor entrance, and on September 9, just one week after Hurricane Harvey struck, they finalized the deal. "It took a lot of negotiation back and forth," says Corps Project Manager Nicholas Laskowski, "but we had senior officials from headquarters at the table and we got it done quickly. It's been a long road, but we're pleased we have the agreement with the port."
The port will pay for this first contract with cash on hand, says Executive Director John LaRue. The port's share of the entire project is $102 million, and after the first $32 million segment at the harbor entrance is done it could continue paying for more work. However, LaRue and the Corps would both prefer to secure federal funding for the full $327 million project before going much further. "We've accelerated the first contract, but we're still looking for the federal government to pay their share," LaRue says. "We'd like to get it federally funded in three to four years."
If the port can't get federal funding, it could negotiate an agreement with the Corps to "advance" the $225 million federal share like PortMiami did for its Deep Dredge project, which was paid for in advance with state and local dollars. LaRue hopes that won't be necessary. "If we wanted to pay for the entire project, there is no commitment from the federal government that we would be reimbursed," he says.
First Things First
However the funding shapes up for Corpus Christi's capital dredging, there are emergency projects to attend to in the port's channel and in virtually every other navigable waterway along the central Texas coast as a result of Hurricane Harvey, which sent loads of sediment and debris into shipping channels throughout the area. Response to storm damage is a basic part of the Corps of Engineers' mission, and in a flurry of round-the-clock activity the agency's Galveston District reopened about 90 percent of its navigation projects within two weeks.
"We've never seen this amount of active survey vessels or dredges working in the Texas navigation channels at one time," said Colonel Lars Zetterstrom, District Commander. The Corps has issued rapid-response contracts for dredging and debris removal and is reassigning its existing, everyday contracts to the needs of disaster recovery, says Tricia Campbell, Operations Manager for Houston-Galveston.
While most waterways reopened quickly, draft restrictions will linger for months. The busy Houston Ship Channel has a restriction of 42 feet on a 46-foot project, and it could take contractors as long as six weeks to remove all of the obstructions from the bottom. At Corpus Christi, the entrance channel had a 42-foot draft restriction on a 45-foot project due to shoaling, and the Corps has contracted the hopper dredger Bayport to remove sediment. Some areas are still closed altogether: At the Port of Beaumont, the fourth-busiest port in the U.S. by tonnage, a large shoal created a restriction of 26 feet on a 40-foot project, effectively shutting down the port to most commercial traffic.
But for far too many towns and cities in the area, the damage on shore is much more serious than the damage to the waterways. "Parts of the community are devastated," says Corpus Christi's LaRue. "There's almost total destruction in some of the areas on the barrier islands – schools, sewer systems, everything was hit hard." While dredging will restore the navigation channels and help bring back the region's maritime economy, it will take much more time and effort before the Texas coast fully recovers. MarEx
The opinions expressed herein are the author's and not necessarily those of The Maritime Executive.