Amiria Macbeth Shares Her 15-Year Career at Sea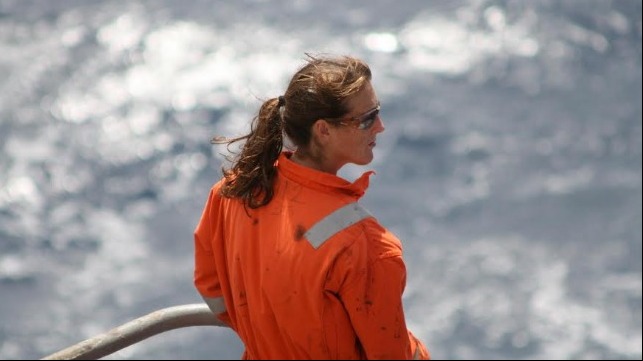 Meet Amiria Macbeth from Brisbane, Australia. Amiria has worked on the water for 15 years. After high school, she found her career in the offshore oil and gas fields of Australia.
As a Service Technician offshore, Amiria is involved in many tasks: rigging, crane and mooring operations, building scaffolding, involvement in helicopter operations, waste management and logistics, rescue and firefighting roles and coxswain of lifeboats, as well as the maintenance of deck and lifesaving equipment.
Amiria attended high school in New Zealand, where she was inspired to work on the water. She was sponsored by her school to take part in a sail training voyage. Since that introduction to the sea, working on the water has been a huge part of her life. "The sea offers a sense of freedom that few land based jobs could match."
A career offshore is not without its challenges. For Amiria, everyday tests her resilience, even if just a little. "Terrible weather and storms [test my constitution]. I suffer from formidable seasickness, which is unfortunate for a seafarer. Including feelings of inadequacy and imbalance as a minority gender around male colleagues, the extremes in temperature, including food boredom and endless long-life milk cartons.
"As I age, I am more often fearing the possibility of a night or day of broken sleep, subsequent fatigue and a traumatized circadian rhythm, as it impacts my energy levels. When I was younger, it was easier to bounce back.
"A lack of female mentors and comrades can also be a challenge at times."
She also notes that it's not for everyone, due to "...a lot of solitary time, including time on leave when friends are working 'normal' jobs."
Despite all that, Amiria has much to be proud of over the course of her 15-year career at sea. "My proudest achievement is sailing as part of a five-person crew on an ancient 12 meter, wooden yacht from Darwin, Australia to Bristol, England via the Red Sea. I was able to prove to myself that my willpower was far greater than I could have imagined throughout some very challenging conditions over those five months at sea. I also have lost any desire to own my own yacht!"
Amiria is part of an elite group of women who only make up 3.6 percent of the worldwide offshore workforce. Women Offshore admires and thanks Amiria for sharing her offshore career with us!
Ally Cedeno is the founder of WomenOffshore.org
The opinions expressed herein are the author's and not necessarily those of The Maritime Executive.