USS Chancellorsville Renamed for Civil War Hero Robert Smalls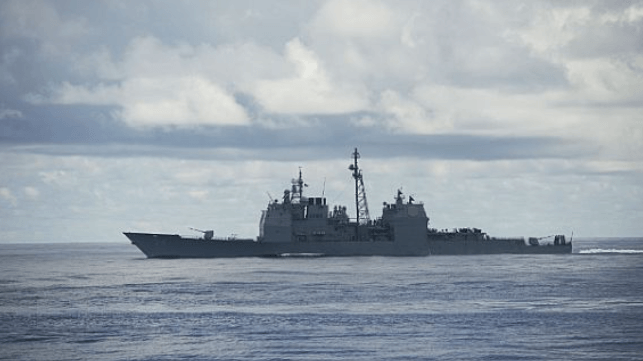 A U.S Navy warship that for over three decades has carried a name that commemorates the Confederacy has been renamed in honor of an African-American sailor and statesman who was born into slavery in South Carolina.
Following recommendation by the U.S Congressional Naming Commission, Secretary of the Navy Carlos Del Toro announced that the Ticonderoga-class guided missile cruiser USS Chancellorsville will be renamed USS Robert Smalls, honoring a U.S. Navy hero of the Civil War.
In September last year, the Commission recommended that the U.S. Navy rename two ships as part of Pentagon-wide plans to remove Confederate names from places of honor across the armed forces. Secretary of Defense Lloyd Austin accepted all recommendations from the naming commission and gave each service until the end of 2023 to rename their assets.
USS Chancellorsville, which was commissioned in 1989, was named in honor of the Battle of Chancellorsville, a devastating Union loss that cost more than 1,000 American soldiers their lives. In announcing the selection of USS Chancellorsville's new name, Del Toro said that the renaming of the Navy assets is not about rewriting history, but to remove the focus on the parts of the U.S. history that don't align with the tenets of the country, allowing more space to highlight events and people who may have been overlooked.
"Robert Smalls is a man who deserves a namesake ship and with this renaming, his story will continue to be retold and highlighted," Del Toro said.
Born in 1839, Smalls became a skilled sailor and was an expert navigator. He was conscripted by Confederate forces in 1862 to serve as pilot of the steamer Planter at Charleston. On May 13, 1862, while the vessel's three officers were ashore, he commandeered the Planter and spirited her out of the heavily fortified Charleston harbor with his family, his crew, and four extra cannons as cargo. After passing out of range of Confederate guns, he surrendered the vessel to the U.S. Navy. He ultimately became the captain of Planter in Union service.
As an ardent civil rights advocate for African Americans, Smalls led one of the first boycotts of segregated public transportation in 1864. The movement led to the city of Philadelphia integrating streetcars in 1867. After the Civil War, Smalls was appointed a brigadier general of the South Carolina militia, and from 1868 to 1874 he served in the South Carolina legislature. In 1874, he was elected to the U.S. House of Representatives and served for five terms, advocating for greater integration. He died at Beaufort in 1915.
In considering renaming USS Chancellorsville, the commission looked at not just the ship's name itself, but the sentiments behind its selection and the Confederate iconography accompanying it on board. USS Chancellorsville's motto, "Press On," was attributed to Confederate Lt. Gen. Thomas "Stonewall" Jackson, who said the words while urging his men forward to attack Union soldiers. The inverted wreath on the ship's crest was designed to commemorate Jackson's death.
USS Robert Smalls is currently assigned to Carrier Strike Group Five and is forward-deployed to Yokosuka. Her renaming begins immediately and will be carried out with minimal disruption to operations, the Navy said.
The vessel's new name may have a brief tenure: like all of the Ticonderoga-class cruisers, the Navy is planning to remove her from service within several years' time.
Another U.S Navy warship, the USNS Maury, a Military Sealift Command survey ship named after ex-Navy oceanographer Matthew Fontaine Maury, is also set for renaming due to his ties to the Confederacy.