Mitsubishi Shipbuilding Joins Race to Design Ammonia Bunker Vessels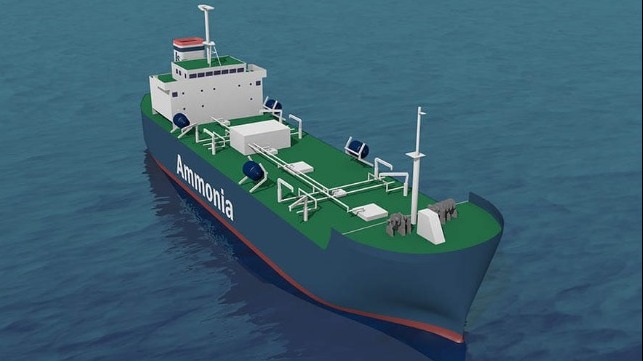 Efforts to build out the infrastructure that will be required to support the introduction of ammonia as a marine fuel are continuing with Japan's Mitsubishi Shipbuilding Co. becoming the latest to report it is developed a bunker vessel design. The toxic nature of ammonia and its unique properties are among the challenges that the shipbuilders are working to overcome to support the adoption of ammonia as an alternative fuel.
Mitsubishi reports it has recently completed a conceptual study for an ammonia bunkering vessel capable of supplying ammonia fuel to ships. The study involved joint investigations with the Japanese oil and gas company INPEX. Mitsubishi Shipbuilding said the study drew on the shipbuilder's knowledge of the design and production of multi-purpose liquefied gas carriers, which are capable of transporting ammonia. The conceptual considerations for a highly flexible ammonia bunkering vessel include having enough tank capacity, maneuverability, and bunkering equipment that ensures compatibility with various ammonia-fueled vessels expected to be served.
Based on the knowledge and technical information developed in the conceptual study, Mitsubishi Shipbuilding reports it will carry out further technical investigations for the ammonia bunker vessel. They plan to cooperate with maritime-related companies and are looking to commercialize the designs for the ammonia bunker vessel. The shipyard is also developing designs for ammonia-fueled vessels including an large-scale ammonia gas carrier.
Several other projects are also advancing the design of ammonia bunker vessels, including in Japan efforts involving NYK and Mitsui O.S.K. Lines (MOL). The Japanese government is targeting ammonia as one of its key energy sources and supporting efforts to develop it as an alternative fuel. Government estimates have said that annual ammonia demand in Japan could reach three million tons by 2030 and 30 million tons by 2050.
A year ago, MOL working with ITOCHU Corporation, and Sembcorp Marine Integrated Yard reported they have achieved Approval in Principle from the American Bureau of Shipping for their designs for an ammonia bunkering vessel. The design effort was part of a larger project that began in the spring of 2021 to study the development of the ammonia fuel supply chain in Singapore.
Similarly, in September 2022, NYK became the first shipping company to receive approval in principle (AiP) from ClassNK for an ammonia bunkering vessel. Like Mitsubishi, NYK said it was working with its understanding of LNG and first applications with LNG-fueled car carriers to develop the designs for ammonia bunkering.
Internationally, Italy's Fratelli Cosulich also reported last fall that it was making progress with its designs as part of a joint development project launched in November 2021 with Italian class society RINA and Singapore-based engineering firm SeaTech Solutions to develop an ammonia bunker tanker. Cosulich also signed a Memorandum of Understanding with Nantong CIMC Sinopacific Offshore & Engineering for the construction of what could become the industry's first ammonia bunker tanker.
A group of companies working together in South Korea, including Korean design engineering company KMS EMEC, Singapore-based shipping company Navig8, and in consultation with the Korean Register also developed the design concept for the bunker vessel. The Korean Register granted its Approval in Principle (AIP) for the ammonia bunkering vessel in March 2021.
All the companies working on their concepts for ammonia bunkering agree that by the late 2020s, there will be strong demand for ammonia as a fuel. With engine manufacturers reporting progress in the development of the large motors fueled by ammonia required for propulsion, the expectation remains that ammonia will become one of the primary alternative fuels for shipping.