Mitsubishi Shipbuilding and WinGD Partner for Ammonia-Fueled Engines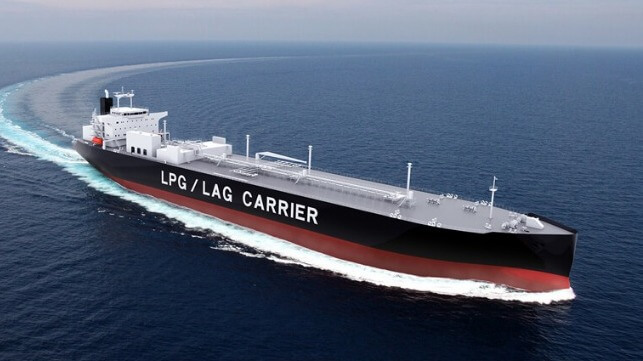 In a unique partnership, Japanese and Chinese interests from the shipbuilding industry have agreed to work together to develop their leadership in ammonia-fueled vessels. Japan's Mitsubishi Shipbuilding Company and Swiss-based marine power company WinGD, part of China's CSSC group, have agreed to collaborate working on studies for an ammonia fuel supply system and the designs for ammonia-fueled ships.
"This collaboration will give both Mitsubishi and WinGD an important first-mover advantage in using ammonia in marine engines to meet IMO decarbonization targets. It will set the path for the new generation of technology applicable to a wide range of vessels over the next decades," said Manabu Kawakado, Head of Marine Engineering Centre for Mitsubishi Shipbuilding Co. during the signing ceremony in Switzerland.
According to the companies, the project will see WinGD applying its X-DF-A ammonia-fueled engines to a range of vessel designs. Mitsubishi will both design the vessels and complete the fuel chain with its ammonia fuel supply system. WinGD, like all the major engine manufacturers, is working to develop a new generation of gas-fired engines that can operate on ammonia. WinGD's design for the X-DF-A is a large, low-speed two-stroke marine engine fueled by ammonia.
Mitsubishi is working aggressively in the ammonia sector developing a number of vessel designs as well as participating in Japanese government-sponsored research efforts. They have already received several design approvals on concepts for ammonia-fueled vessels that would transport ammonia as well as ammonia bunker vessels and a project for an ammonia-fueled Newcastlemax bulker.
Under the new partnership, WinGD will develop X-DF-A engines at appropriate sizes for the vessel designs, providing Mitsubishi with the specifications for installing the engines and the requirements for all auxiliary fuel systems. Mitsubishi will design the vessels, set performance parameters for the engines and further develop its existing AFSS for use with WinGD's ammonia engines.
"This project will allow WinGD and Mitsubishi to make further progress in bringing ammonia-fueled capability to merchant vessels within our established future fuel development timeframe. It is a timely opportunity to apply X-DF-A engines across a wider range of bore sizes," said Dominik Schneiter, Vice President R&D for WinGD.
The project will commence in the third quarter of 2023, with a timeline that could place ammonia-fueled vessels in service by 2027.
Mitsubishi announced in late May that it has completed the delivery of an ammonia fuel supply system for large, low-speed two-stroke marine engines, to Japan Engine Corporation (J-ENG) as part of an ongoing program supported by the Japanese government. The ammonia fuel supply system supplied by Mitsubishi Shipbuilding is being used as part of tests J-ENG is currently conducting with an experimental, large-scale, low-speed two-stroke marine engine located at the MHI Research & Innovation Center.
The Japanese shipbuilding is competing with South Korean and Chinese shipbuilders which are all conducting research on ammonia-fueled designs as well as the major engine manufacturers including Wärtsilä. The technology group at Wärtsilä has reported good progress on its engine tests and today reported it has received design approval for an ammonia release mitigation system which addresses the toxic nature of the ammonia by monitoring and diluting it with air, or bubbling it in hazardous dirty water tanks, to prevent venting pure ammonia which would be dangerous to the crew and the surrounding area.