Irish Coast Guard Airlifts Crew from Grounded Trawler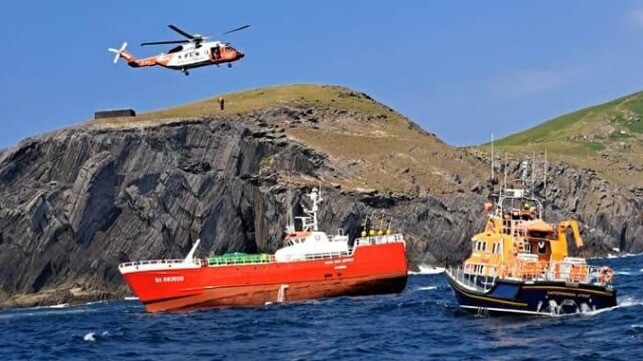 The Irish Coast Guard responded to a grounded fishing trawler on the west coast on Friday airlifting nine crewmembers to safety. The Coast Guard reports it was a challenging situation but that everyone was safe and the vessel was eventually pulled from the rocks.
A Coast Guard helicopter was first on the scene on Friday afternoon, June 2, finding the French-registered fishing vessel hard aground on the rocks near Dursey Island at the end of the Beara Peninsula. By the time they arrived, the crew of the vessel was all on deck in lifejackets. The helicopter was joined by an RNLI lifeboat from Castletownbere and the RCC Valentia from the Coast Guard.
The RNLI reports that they observed the 105-foot long vessel "listing and rocking back and forth," raising concern for the safety of the crew. The weather conditions however were overall favorable with light winds and a moderate swell.
Because of the angle of the deck and the rocking motion the helicopter crew decided to begin airlifting the crew off the trawler. They later said the concern was that the vessel would roll over further. Nine non-essential crewmembers were taken aboard and transferred to shore.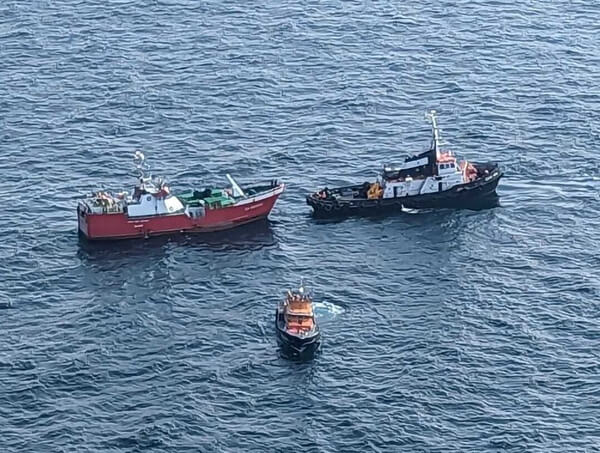 Fishing boat being towed to port after being pulled away from the rocks (Castletownbere Coast Guard)
The vessel, a 35-year-old steel-hulled ship named Grand Saint Bernard had departed the port of Castletownbere, on the west coast of Ireland. The vessel, which is homeported at Bayonne in southwest France, had offloaded its catch in Ireland and refueled before heading back out toward the fishing grounds. Coast Guard officials were concerned over a potential diesel leak because the ship was reported to have full tanks.
The master of the Grand Saint Bernard, along with the engineer and a mate, chose to remain aboard the vessel. With the help of the lifeboat and three tugboats that had come to its assistance, they were able to refloat the vessel approximately three hours later at high tide. The trawler was pulled away from the rocks. While they reported no leaks or significant hull damage, the lifeboat said the trawler lost steering approximately 100 meters from shore.
The trawler was towed into the port of Castletownbere. It will be dry-docked for further inspection.