Updated: India Holds Off Suspending Anglo-Eastern's Recruiting License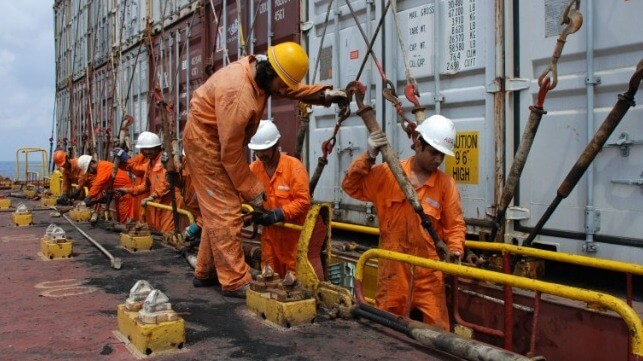 Update: A day after confirming the discussions with the Indian authorities, Anglo-Eastern now reports that the Mercantile Marine Department decided to put on hold the suspension of its recruiting license. The company reiterated that there will be no interruption of its day-to-day operations, employment of Indian seafarers, or their schedules. The company thanked the seafarers, unions, and officials for their response, pledging to support the efforts to improve seafarer safety and wellbeing.
Anglo-Eastern, one of the leading employers of Indian seafarers, is confirming media reports that the company's recruitment and services license has been suspended by a division of India's Directorate General of Shipping. While saying the matter relates to a five-year-old case, the management company said it was confident of a quick resolution and that there is no impact on its day-to-day operations. Union leaders are also speaking out against the government order saying it is "badly affected the morale of Indian seafarers."
According to a report in the Economic Times of India, the Seamen's Employment Office, affiliated with the Directorate General, issues the suspension order effective June 1, 2023. It runs for three years with the newspaper reporting the order cites the results of an investigation that concluded there were several violations related to the company's recruiting practices leading up to the 2018 incident. The newspaper says the order refers to violations of the rules of engagement for a chief engineer who subsequently died while aboard one of the company's vessels. It also calls for the prosecution of the master of the vessel for failure to act in an attempt to save the life of the chief engineer.
Anglo-Eastern says it is legally prohibited from commenting on the ongoing case but that it is fully cooperating with authorities. The company cites its history of over 30 years employing Indian seafarers and its recognition, including recently from the Directorate General, as a top foreign employer. The company says it employs more than 20,000 Indian officers and crew on nearly 1,000 vessels under its management.
The All India Seafarers & General Workers Union issued a statement condemning the order while calling the situation of the deceased chief engineer "very unfortunate." They said the order, which relates to a case pending in the courts, is seen as "disrespect for the Indian judiciary." They also said it was bad for the ship management industry which is a large employer and generates a lot of revenue for the state.
Anglo-Eastern confirmed that it is in discussions with the Seamen's Employment Office about its recruitment and placement services license. While saying they were certain of a quick resolution, the company emphasized it does not impact the continuity of employment of seafarers and their schedules ashore or on board. They said that a contingency plan is also in place to ensure that it remains business as usual.