EU Issues Stringent Limits on Russian STS Transfers, AIS Spoofing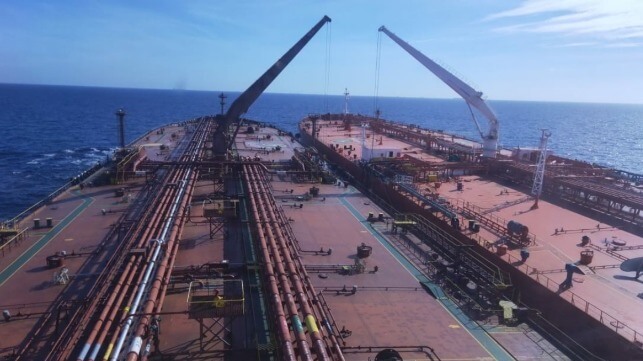 The EU has previously announced plans to restrict port access for tankers that transfer Russian oil at sea, but the details are much more stringent than anticipated. If any tanker carries out a suspicious-looking Russian STS transfer on the way to an EU port, anywhere in the world, it can be banned from entering without waiting for further investigation. Deceptive AIS transmissions are also strictly banned. The rules are among the first meaningful restrictions on covert STS operations and AIS spoofing, both of which are known risk factors for sanctions-busting.
The standards demand a relatively high degree of transparency on vessel movement. Operators will have to disclose more than ever before about the twists and turns of "gray fleet" tanker chartering, where cargo is often swapped between hulls like the ball in a shell game before it reaches the destination.
First, if a vessel engages in any STS activity at any point of an EU-bound voyage - anywhere in the world, including international waters - and the authorities find reason to believe that the STS activity breached sanctions on Russia, the ship can be banned from EU ports.
Second, if a vessel engages in STS activity in an EU member state EEZ or territorial sea, it must provide the authorities at least 48 hours' notice before making the transfer. If it does not provide prior notice and the transfer is carried out anyways, it can be banned from EU ports, whether the oil was sanctioned or not. This prior-notice provision will cover some (but not all) of the areas actively used for Russian STS activity in the Mediterranean.
Third, AIS signals will come under new scrutiny. Any pattern of AIS behavior that suggests tampering, spoofing or going dark will be enough in itself to result in a port ban for a tanker carrying Russian oil.
The rules take effect on July 24, but there is an important exception that aligns with the spirit of SOLAS: a member state can waive the port ban as needed for safety or humanitarian purposes (e.g. port of refuge, crewmember medical treatment or rescuee offload).
The sanctions package also contains important carve-outs for oil terminals located in Russia. The Caspian Pipeline Consortium (CPC) line starts in Kazakhstan and transits Russian territory to the Russian port of Novorossyisk, connecting Kazakh oilfields with maritime transport. The EU now offers assurance to technical service providers that they can work on the Kazakh pipeline and marine terminal without risking exposure to sanctions aimed at Russia.
The package also extends a sanctions exemption for the Sakhalin-2 terminal, which is Russian-operated but strategically important for Japan, a key European ally.