Crowley Invests in Mobile Floating Dry Dock for Use with Floating Wind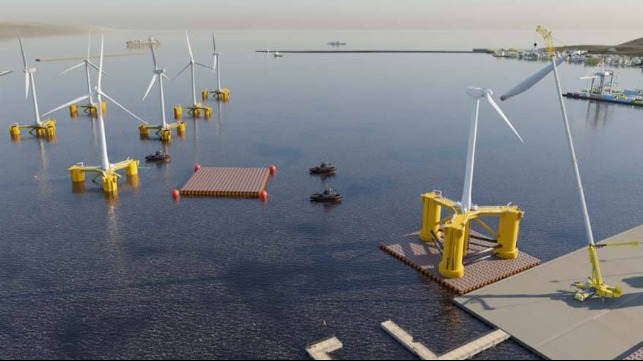 Crowley is investing in a UK-based startup, Tugdock, which is developing what is billed as the world's first road-transportable floating dry dock. The company plan to explore the potential use of the platforms especially to support the developing floating offshore wind applications in California and elsewhere in the U.S. It is the latest development of the U.S. maritime logistics company which has been moving to expand its role in the wind industry.
Found in 2017, Tugdock uses a patented marine buoyancy bag technology and a modular form that allows for the transport and assembly of floating dry docks that are delivered by road and assembled in port. The technology allows them to offer dimensions far wider than most of the world's existing dry docks, which they note were not designed for the news of the floating wind industry. They report the submersible platforms can operate in as little as 5 meters (approximately 16 feet) draft, enabling a more efficient construction and the air lift bag design provides a large lifting capacity. Once assembled, the platform can then be towed to deeper water for the launching of the turbines. It can be provided either as a purpose-built permanent or temporary pre-assembly solution.
"The cost and time constraints associated with port infrastructure developments and submersible barge suitability are major bottlenecks holding back the growth of the floating offshore wind sector," said Lucas Lowe-Houghton, Director of Strategy and Growth at Tugdock "Our TSP technology helps overcome these issues, providing a ready-to-go solution that does not require planning or environmental permissions."
According to the companies, the technology for the portable, submersible platform, was developed to be launched in ports that lack sufficient water depth. It can help ports that lack the assembly space required to build and loadout the massive floating substructures required to support offshore wind turbines. They highlight the potential opportunities in locations, such as the U.S. West Coast, where depth and conventional dry docks may be ill-suited for the logistics required.
The Tugdock product line comes in a range of deck sizes from 12m x 12m up to 120m x 120m with a total lift capacity of up to 35,000 tonnes. The company reports the system can lift vessels and other floating structures clear of the water at a fraction of the cost of standard dry docks.
"This important investment and collaboration with Tugdock strategically complement our vision and market-leading logistics capabilities to support wind energy development from beginning to end," said Bob Karl, senior vice president and general manager, of Crowley Wind Services.
Crowley Wind Services is developing and planning wind terminals in California, Louisiana, and Massachusetts. At the California Port of Humboldt Bay, Crowley is progressing on an agreement to build and operate a terminal for manufacturing, installation, and operation of offshore wind floating platforms. They are planning for the use of large heavy cargo vessels and to provide crewing and marshaling services for the Pacific waters recently approved for leases for wind energy.
Humboldt and other West Coast installations they note will rely upon floating offshore wind turbines due to the water depths and topography of the continental shelf. Globally they highlight that about 80 percent of the world's offshore wind power potential lies in waters deeper than 60 meters, according to the Global Wind Energy Council, which means that development will be contingent on the development of floating wind applications.