Coast Guard Finds Half-Sunk Charter Boat With One Dead, Four Missing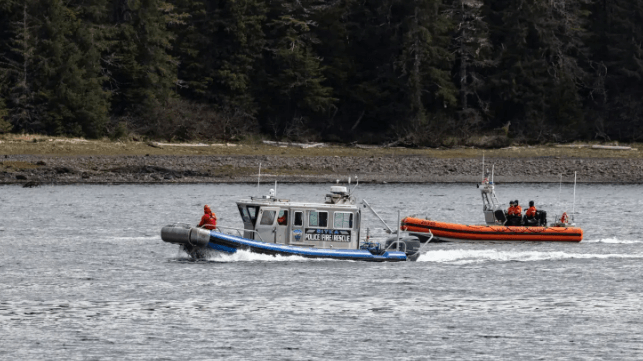 The U.S. Coast Guard has suspended a search for four missing people from a charter fishing boat off Sitka, Alaska. One person has been confirmed dead, and the body has been recovered. The boat was found intact and partly submerged, raising unanswered questions about the nature of the casualty.
Watchstanders at Sector Juneau received a phone call Sunday evening from established local sport fishing outfit Kingfisher Charters. The company reported that a subcontracted charter vessel was overdue with five people aboard, including the skipper and four passengers. The "six-pack" charter boat was last seen underway Sunday afternoon near the southwestern tip of Kruzof Island, and no distress signal or EPIRB alert was received.
The vessel was found undamaged but partly submerged off Low Island, about 10 miles west of Sitka. One individual's body was found about 100 yards away, a Coast Guard spokesman told local media.
The search for the four remaining missing people was suspended on Monday night. A Coast Guard MH-60 helicopter, an HC-130 search plane, a fast response cutter and a Coast Guard boat crew were involved with the search, with assistance from good samaritans. The Coast Guard crews searched about 825 square miles over the course of more than 20 hours.
"Despite our best efforts and those of several partner agencies, we were not able to find the four remaining individuals," said Capt. Darwin Jensen, Captain of the Port - Southeast Alaska. "Suspending a search is never an easy decision. We extend our deepest sympathy to the loved ones during this difficult time. Our sincere thanks to community partners and the good Samaritan vessels who rapidly responded to help in the search."