CMA CGM Buys La Méridionale and Plans LNG/Methanol Ferries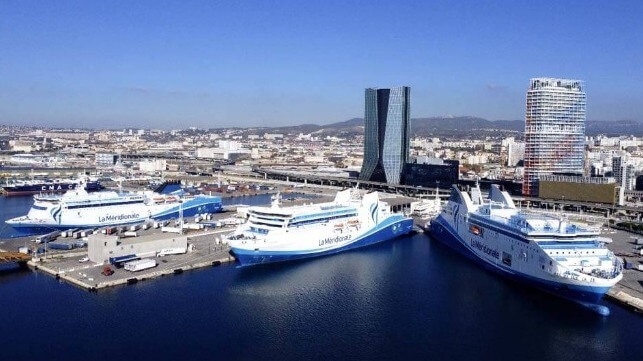 CMA CGM Group completed the acquisition of La Méridionale, a passenger ferry operator in the Mediterranean, as part of the strategy of the container carrier to expand its operations into new segments. The group plans to invest in modernizing the ferry fleet to enhance its environmental performance to provide what CMA CGM calls one of the first green corridors in the Mediterranean.
Reports of the possible acquisition first surfaced in February 2023 with French media saying that CMA CGM had approached French conglomerate STEF Group, which owned the ferry company for the past decade. A mixed-use freight and passenger shipping company established in Marseille in 1931, La Méridionale currently has four ro-pax vessels, which operate up to 13 weekly crossings between Marseille and the ports of Ajaccio and Porto Vecchio on the French island of Corsica. In December 2020, the company also launched a new service between Marseille and Morocco, which according to media reports has been underperforming expectations.
CMA CGM Group reports it will invest in modernizing the ferry company's fleet to improve energy efficiency and reduce its environmental impact. They intend to place an order for two new LNG-powered vessels that will also be able to run on methanol to support the vision of the Mediterranean green corridor. The new ships they said will be quieter and more comfortable ships to improve the passenger experience and will also be able to operate with zero CO2 emissions during port calls. They will be deployed to replace the oldest vessels on services between Corsica and Marseille.
Other investments are planned to overhaul boarding at Marseille, upgrade onboard telecommunications equipment, digitalization of the customer experience, and develop La Méridionale's tour operating activities to enhance Corsica as a tourism destination. They will also enhance employment and training including a partnership with the Lycée Maritime et Aquacole high school in Bastia, to attract young people to seafaring. La Méridionale will introduce a plan to promote members of front-line staff into officer roles aboard its ships and career opportunities will also be offered to young officers on deep-sea routes operated by CMA CGM's fleet.
The acquisition is a milestone in the development of CMA CGM's specialized shipping division the company said. It marks their return to passenger shipping. The group also has an investment in Brittany Ferries, and an investment in NEOLINE, a Nantes-based company developing the first sail-powered ro-ro vessel.
The group has launched a new division focusing on specialized shipping which also includes CMA CGM's new car carrier operations and increased focus on logistics coordination. According to the CMA CGM, the new division is part of a focus to transport cargo and passengers more sustainably. Other diversification efforts included the launch of its CMA CGM Air Cargo division.
The group reports it has a total fleet of around 600 vessels and transported 21.7 million TEU in 2022. With its subsidiary CEVA Logistics, a global logistics player acquired in 2018, CMA CGM says it also transported 522,000 tonnes of air cargo and more than 22 million shipments of inland freight last year.