Cargill and Kotug Deploy First Fully Electric E-Pusher and Barge
Cargill and Dutch towage company Kotug have deployed their first fully electric pusher boat and barge operating on the inland waterways in the Netherlands. They highlight the efficiency of using the waterways to transport goods which has been further enhanced by the 100 percent electric vessel which eliminates both emissions and noise pollution.
Known as E-Pusher 1 it is a Type M vessel capable of pushing barges with over 1,000 tons of cargo. The tug will be deployed running between the Port of Amsterdam and Cargill's cocoa factory in Zaandam in the Netherlands. According to the companies, the e-pusher and barges are expected to reduce CO2 emissions by 190,000 kg per year.
When plans were announced for the e-pusher in 2022, the companies said the boat would utilize Shift Clean Power's ESS battery system. The power supply is containerized and swappable. The plan was to use Shift's battery charging stations. Power for the charging operation will come from the Windpark Hanze wind farm which is operated in a partnership between Cargill and Vattenfall.
"Electrifying the transportation of our cocoa beans is just one example of how we are implementing new, innovative sustainable practices to reduce our impact on the planet and protect people. The Kotug E-pusher Type M is the first-of-its-kind and Cargill is excited to be a partner in launching it in the Netherlands," says Emiel van Dijk, Managing Director Cocoa & Chocolate Europe & West Africa.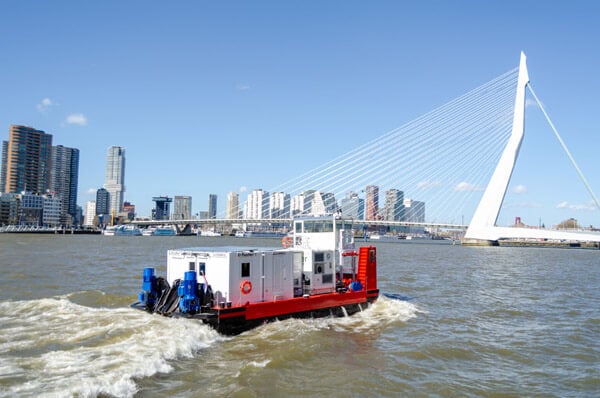 E-Pusher 1 is fully electric using containerized power sources (Kotug)
Kotug highlights several unique features of the vessel. They employed plastic in the construction to make the vessel lightweight. It also has a shallow draft up to 30 percent less than a conventional pusher tug. Because the power is containerized, the pusher tug is flexible in its energy source. They highlight that in addition to batteries, it is possible to use a containerized hydrogen system that would generate the electricity to operate the vessel. The vessel also has solar panels.
They also highlight that the E-pusher is a scalable pusher tug. Three models range between 18 feet to 72 feet. The hull is made of Polyethyleen which provides buoyancy and resists the force of the water while underway.
It is another example of an emerging fleet of electric-powered tugs. The first examples were launched in New Zealand and now in Canada to demonstrate the possibility of running harbor craft entirely on batteries and electric power. Last month, the first conversion was also completed for an inland vessel operating in the Netherlands powered by hydrogen.