Smarter with Marlink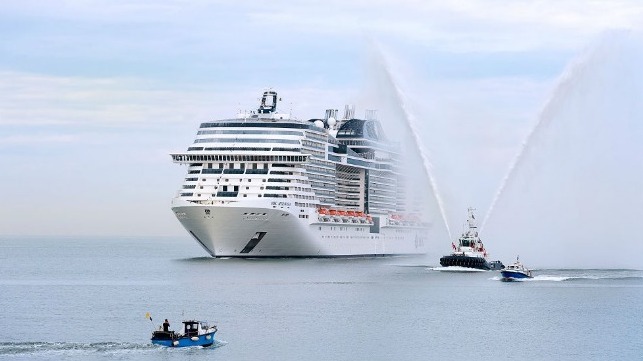 The annual Seatrade Convention in South Florida brings many business travelers from all parts of the globe. Tommy Dybvad, Director of Cruise and Ferry for Northern Europe, is a long-time veteran of the satellite communications scene for the cruise industry. So, let's catch up with what is happening with onboard communications in those small villages also known as cruise ships.
MarEx: What have been some of the most significant developments in satellite communications over the last year?

Dybvad: Bandwidth is still a really big deal. Last year, Marlink provided more than 300 Mbps bandwidth for the maiden voyage of the MSC Meraviglia, which has more than 4,500 guests. The ship used Marlink's Sealink VSAT which delivered connectivity through the Intelsat EpicNG Throughput Satellite network and IDirect 9350 modems.
The MSC Seaside, which is the 14th addition to the MSC fleet, was also provided more than 580 Mbps during her December maiden voyage. Meanwhile, the entire MSC fleet has been optimized with a dedicated cloud of bandwidth on the Marlink VSATs network which is made up of 25 satellites and 32 overlapping beams.
MarEx: Have the satellite systems changed that dramatically?
Dybvad: No, the satellites are still the same, but it's the routers and equipment that are much better today. With that said, I don't expect there will be an extreme beyond a gigabyte in services; the costs are simply too high.
MarEx: Are the cruise lines the biggest users of bandwidth?
Dybvad: The cruise lines are both technology and bandwidth hungry considering that they can have 5,000 passengers on one ship. Marlink covers more parts of the world than any other company with our Sealink VSAT, but the new challenge is cruise ships going into the extreme areas like the Arctic and Antarctica where connectivity can be a bit more challenging.
MarEx: What is the normal bandwidth for a cruise ship?
Dybvad: Today, about 100 megabytes would be normal, but those levels are growing quickly. It is mostly how much are the operators willing to buy and then sell to passengers. It can be expensive: as much as a dollar per passenger per day, per cruise. The large cruise ships can use a gigabyte compared to half a megabyte for a commercial ship.
MarEx: We hear that Marlink has been expanding through acquisitions, tell us about them.
Dybvad: The company has been quite active in the M&A business recently, with the purchase of Telemar which has been in business for over 70 years selling and servicing bridge electronics. Additionally, OmniAccess, which is on the cutting-edge of IT for network solutions and broadband connectivity services for superyachts, river and ocean cruise companies. These two acquisitions have greatly enhanced the services provided to Marlink's customers.
The opinions expressed herein are the author's and not necessarily those of The Maritime Executive.