New Designs Help Ports Support Growing Cruise Industry
The rapid growth in the cruise industry is creating both opportunities and challenges for ports. Increases in the number of passengers carried aboard the largest ships are adding stress on existing facilities and challenging ports to come up with new ways of handling people and the services required to support the cruise industry.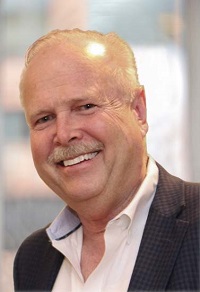 The Maritime Executive spoke with Luis Ajamil, President and CEO of Bermello Ajamil & Partners to get an in-depth view of the evolving challenges and how smart designs can help address the issues confronting ports. A Planner and a Professional Engineer, Ajamil is recognized for his broad experience in developing innovative master planning for cruise and waterfront projects.
Currently, Ajamil is leading port projects in Miami, Port Everglades, Port Canaveral, San Francisco, Long Beach and internationally in Mauritius, Spain, Denmark and the Balearic Islands. They are the architect of record for the new Royal Caribbean International Terminal A under construction in Miami, and designed Norwegian Cruise Line's Terminal B in Miami, Terminal 25 for Celebrity Cruises in Port Everglades, San Francisco 27, and the most recent rehabilitation of the Long Beach terminal for Carnival Corporation.
What are the biggest challenges facing the ports today in terminal design and operations?
Ports are entering a period where deep-water berths for these giant ships are very limited. The existing terminals are too small. So, as growth continues, the pressure to find space for newer and expanded terminals is becoming paramount.
Traffic, parking and human resources are issues that are scalable, but multiple ships can easily break down the infrastructure of a facility. In ports of call, the transport and dispersal of tours is another challenge.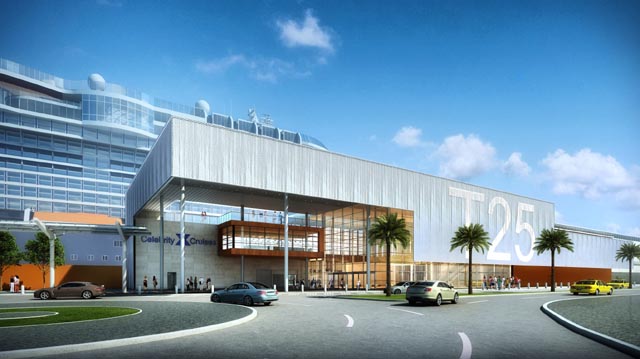 New Port Everglades terminal currently under construction for Celebrity Cruises
Addressing these challenges and upgrading facilities may require large investments of capital that local ports often lack. Is public-private partnership the best solution for financing these projects or how can ports meet the financial challenges?
The financial feasibility is an issue especially for new ports with low passenger volumes. Currently some of the major terminals are being developed in partnership with the cruise lines, but every port is different, so it is too early to tell if the cruise line investment model will be globalized. For now, those are only used in the major primary ports. Third party investors are coming along also, so there are new options that were not available to the ports just a few years ago.
How can design improve the passenger experience?
It's critical that the experience not be like at an airport, where people are stressed throughout the process. The goal for the new terminals is to create welcoming interiors, more amenities, improvements to the ground transportation areas, more use of technologies and spacious designs and seating to make the experience a great one.
The ports can also integrate the terminals into an active waterfront where passengers can feel comfortable to go spend their time enjoying the fresh air.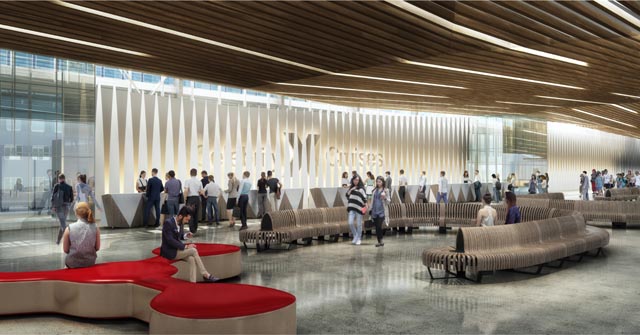 Check in view at new Celebrity Cruises' terminal in Port Everglades
What attracted BA to the specialized field of terminal design?
We started working on cruise terminals beginning with the early terminals at PortMiami in the 1980s. It was apparent to us that over time this would become a much larger business practice and wanted to develop a business line that could grow with the industry. We built this specialization over the past 30 years by being not only very hands on in the buildings and their operations, but also helping guide many ideas on how to handle larger and larger ships in compact spaces.
What is your philosophy of design for a cruise terminal?
Terminals have to be functional and very cost effective, and now it must be a part of a journey, taking the stress and hassle of traveling and making it part of a seamless enjoyable experience. In many cases the terminals need to reflect the needs or history of a community as it becomes a prominent structure in a city's' waterfront.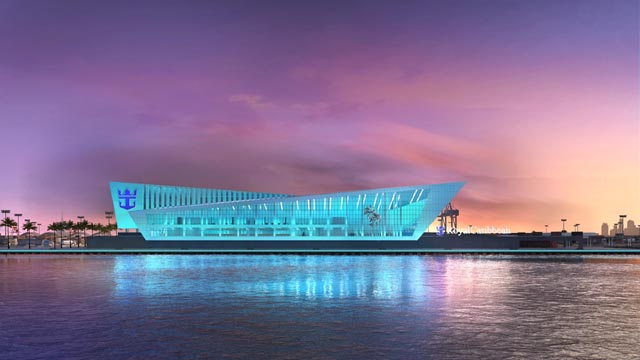 Dramatic exterior of Royal Caribbean's new Terminal A in Miami
What are the elements of a successful terminal design?
1. Seamless integration and flows to allow embarkation and disembarkation within the target time for ship arrival and departure times
2. Minimum or no queuing
3. Meet the latest security and Customs and Immigrations procedures
4. Cost effective both for capital and for operations costs
5. Integrated into the community
6. Reusability for other functions
How are you adapting your designs to address the challenges of embarking and disembarking the large numbers of passengers on today's ships?
We spend a lot of time in simulation to streamline flows. We focus on eliminating bottlenecks by providing enough passenger processing capacity at all points in the flow, from escalators, to CBP booths, to security positions. It's all carefully planned with the goal of eliminating bottlenecks. We have developed our own proprietary metric system to guide design that will greatly define the operation of a facility. We simulate until we achieve a base line that will meet the target.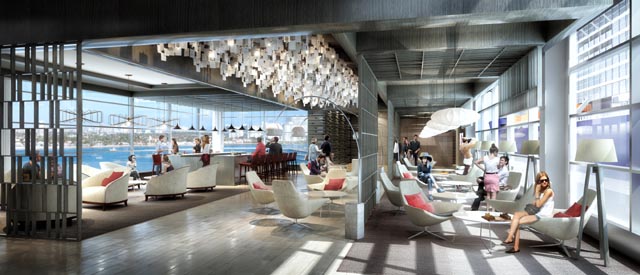 Lounge for suite guests and VIPs at new Celebrity terminal
You have said that one of the goals is to make passengers feel like they started their vacation when they arrive at the terminal. How do you achieve that?
Theming and interiors as well as simple activities create a welcoming environment for the passengers and reduces the stresses from "the wait" in the terminal. By creating better interiors with better seating, providing views and the use of balconies and outdoor spaces we can improve the passenger experience.
How is technology affecting terminal operations and the passenger experience?
Very positively as the check-in counters are slow disappearing with the use of new elements such as handhelds for roving check-in. Taking the luggage in a less stressful manner without an arrival area cluttered with boxes and forklifts is the way of the future. The terminal is becoming more about embarkation security and disembarkation Customs processing.
How do security concerns and the enhanced efforts of Customs and Boarder Control services impact your designs?
Security and Government processes now represent close to 40 percent of the space in a terminal. Anticipating changes is critical, so we look at the potential future impacts of biometrics and other ways to limit the intrusion of these activities.
What do you see as the future trends in terminal designs?
That's what keeps us thinking now. We always plan for a future ship, and then scale the design back to the immediate needs. That way, the facility can always be adapted to grow. We are also looking at how the terminals could be used as a mixed-use space for functions such as weddings or fashion shows when it's not hosting cruise passengers.
One area though where we see opportunities is to focus on the ship-to-shore interface for baggage and provisioning. There has been very little innovation in this area, and it is a big space to save funds.
Thank you, Luis.
The opinions expressed herein are the author's and not necessarily those of The Maritime Executive.