Navigating the New Challenges of Floating Offshore Wind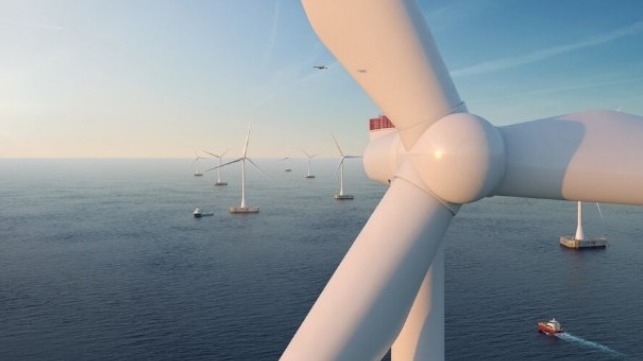 Offshore wind capacity needs to increase by an additional 50 GW each year over the next 30 years. How can we make sure floating offshore wind is able to play its part?
With decarbonization and energy security as top priorities for governments, corporations, and institutions worldwide, green energy sectors such as offshore wind are experiencing a developmental boom.
Fixed wind turbines can only reasonably be installed at depths of up to 60 meters, so floating offshore wind (FOW) must play a major role in deeper waters. Indeed, around 80 percent of the world's offshore wind power potential is found at greater depths. With this in mind, the Global Wind Energy Council has revised its long-term outlook, forecasting 28 GW in floating offshore wind capacity by 2031. This trend will be principally led by Europe, North America, and East Asia.
The challenges on the horizon
To unleash this massive potential, floating offshore wind developers must overcome a number of challenges, not least of which is the need for a reliable supply chain. As turbines grow in size, competition for materials is intensifying. This is particularly the case for steel – where the oil and gas sector is contributing to scarcity and rising costs – but also for concrete, mooring line chains and synthetic fibers, and construction facilities. Materials must be sourced from around the world, resulting in increased demand for facilities for component construction. Add to this increasing scrutiny of sustainability credentials, which is forcing developers to pay close attention to the carbon intensity of their supply chain.
Next on a developer's list of challenges is the fact that floating turbines are currently between 1.5 and four times more expensive than their fixed counterparts. Significant investment is required to unlock growth—like the £31 million ($39.5 million) of funding from the UK government, matched by over £30 million ($38.2 million) in funding from industry, recently pledged to develop FOW in UK waters.
In addition to these concerns, as turbines are placed in deeper and rougher waters, FOW support vessels have more specific design requirements. Operators will also need to provide more onsite accommodation for technicians and maintenance crews, as daily commuting to remote locations becomes inefficient.
Bureau Veritas: a partner in floating offshore wind
Bureau Veritas is supporting the growth of the FOW sector through the publication of dedicated marine renewable energy (MRE) guidelines and the creation of the NI 631 verification schemes, which complement the IECRE certification schemes for renewable energies.
To validate designs, Bureau Veritas' international teams of experts provide Approvals in Principle (AiP) and Basic Design Assessments (BDA). Clients leverage Bureau Veritas' knowledge in relevant disciplines such as mooring, structural integrity, and seakeeping, to verify suitability for use and environmental credentials. Building trust in new designs through independent verification is particularly important as FOW developers must adapt to various local regulations. As a trusted third party, Bureau Veritas provides clarity and a clear global standard.
Certification services available to clients include assessments of the structural integrity of prototypes/demonstrators and commercial projects – from design through operations, including fabrication and installation – and ensuring materials and equipment conform to specifications. Bureau Veritas experts can also verify a project's compliance with a variety of requirements, including environmental rules, national regulations, and standards. For example, Bureau Veritas has been supporting the Provence Grand Large FOW project since 2017, certifying to IEC 61400- 22 for design, manufacturing, transportation, and installation surveillance. As a trusted classification partner for the marine and offshore industry, it provides expert services for both floater installations and the specialized vessels they require.
Looking to the future, Bureau Veritas is involved in a number of in-house and cross-industry research and development projects. The knowledge gained from these projects informs Rules and software, such as Bureau Veritas' OPERA tool. Joint Industry Projects (JIPs) like those currently in progress with the EU also spread knowledge that helps legislators more effectively regulate and encourage funding.
Overcoming challenges, shaping trust
The floating offshore wind sector has huge potential and is facing major challenges, making this a pivotal moment for its players. This emerging technology raises almost as many questions as it answers. As one of the world's foremost class societies, Bureau Veritas is perfectly positioned to support the industry to overcome its hurdles. It helps ensure that the sector develops safely and efficiently to shape trust in this high-potential technology.
Technical Advisory Consultancy
Bureau Veritas Solutions is a subsidiary of its Marine and Offshore division, dedicated to helping clients go beyond compliance. Its services range from support with design to technical studies and risk analysis. It offers environmental assessments and project management for platforms, mooring and anchor systems, and subsea cables, as well as in-depth expertise in marine operations for transport and installation.
Get more insight into marine renewable energy from BV Marine & Offshore online at: https://marine-offshore.bureauveritas.com/insight/business-
insights/supporting-breakthrough-ocean-energy
This article is sponsored by Bureau Veritas Marine & Offshore. For more information visit them online.

The opinions expressed herein are the author's and not necessarily those of The Maritime Executive.