Made in China: The Heavy Lifter
As payloads get bigger, the ships carrying them across the world have to follow suit.
COSCO's 98,370 dwt semi-submersible Xin Guang Hua recently hauled the cylindrical FPSO Western Isles, a 31,000-ton behemoth, from Shanghai to the North Sea.
Since her delivery into service in December 2016, Xin Guang Hua has been setting records. She is the largest semi-submersible in China and the second largest in the world. The Western Isles was the largest single piece of cargo by weight and the largest cylindrical object by volume ever carried by a COSCO semi-submersible.
Xin Guang Hua is owned by COSCO Shipping Specialized Carriers, while the Western Isles FPSO was manufactured by COSCO Shipping Heavy Industries Company. Both companies belong to the newly-merged China COSCO Shipping Group. Their collaboration in the transport of the Western Isles FPSO to the U.K. included everything from ensuring loading preparedness to the pre-voyage meeting and on-site loading, and was another example of Chinese companies adding "service by China" to the "made in China" label.
"Xin Guang Hua will significantly improve the service capabilities of our company's semi-submersible fleet for transporting large-scale international maritime projects and promote the progress of modularization and upsizing in the manufacturing industry. The vessel symbolizes a firm step towards our strategic goals of being the world's most competitive specialized carrier company and the leading provider of project logistics services," says Han Guomin, General Manager of COSCO Shipping Specialized Carriers.

Xin Guang Hua is the eighth semi-submersible heavy-lift vessel operated by the company. Designed by Vuyk Engineering Rotterdam, with detail design by MARIC, and built by GSI (Guangzhou Shipyard International), Xin Guang Hua is classed by DNV GL and CCS. In addition, she has been awarded the class notations 1A1 Semi-submersible heavy transport vessel and BIS DK (+) DPS(2) E0 ICE (1B) Recyclable RP.

"This is an impressive vessel, she has a very robust structural design and is equipped with redundant propulsion power, making her optimized for sea transportation of heavyweight and oversized cargoes," says Chi Shaoguang, DNV GL's Guangzhou Station Manager.
New flagship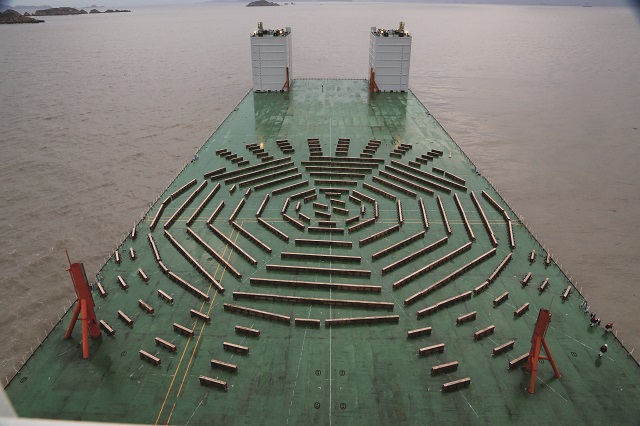 60 millimeter steel deck plates and a reinforced load bearing structure enable a loading capacity of 25 tons per square meter.
The vessel features an ultra-long open and strengthened deck measuring 208 meters (682 feet) in length and 68 meters (223 feet) in breadth, providing a main deck area of over 14,000 square meters, equal to two standard football pitches. To ensure the cargo deck loading capability, the deck plates are made of 60 mm grade E steel plates, which in combination with a supported and strengthened internal structure, results in a loading capacity of 25 tons per square meter uniform load, and the load of up to 125 tons per square meter on transverse web frames arranged at every second frame.
The hull has been reinforced, and propulsion power meets the requirements for Baltic Sea 1B ice class (0.8 meters (2.6 feet) of floating ice), which means the ship is capable of sailing safely in moderate ice conditions at 10.25 meters (33.6 feet) loaded draft.
Equipped with two electric propulsion systems plus two sets of side thrusters fore and aft that meet DP2 dynamic positioning system requirements, Xin Guang Hua is the largest semi-submersible heavy-lift vessel with a DP2 dynamic positioning system in the world.
Electric power on board is supplied by six 4,750 kW diesel main generators. The vessel has redundant propulsion and steering systems with double propellers. This means that in the event of loss of main propulsion, she can sail on with no less than 50 percent of design power and sufficient steering capacity.
Xin Guang Hua has 117 ballast tanks with one valve to sea in each. When submerging, the onboard control system will open the valves of the corresponding tanks without additional power. Within six hours she can submerge to a depth of 30.5 meters (100 feet), where the waterline reaches 16 meters (52 feet) above the main deck.
When Xin Guang Hua has reached her required depth, four heavy-duty air compressors are available to lift the vessel back up. By virtue of her sheer size, this gigantic ship is capable of handling ultra-large indivisible objects such as offshore units, large steel structures, floating docks and feeder vessels which are unsuitable for ocean navigation. Xin Guang Hua is also able to handle salvage and rescue operations.
A new era for COSCO after 50 years
One day before the delivery of Xin Guang Hua, COSCO Shipping was renamed COSCO Shipping Specialized Carriers, forming the largest specialized carrier company in the world. DNV GL has enjoyed a productive and cooperative relationship with the company for many years. This relationship was further enhanced when DNV GL and COSCO signed a new framework agreement at the beginning of 2017 to deepen their partnership in fields such as newbuilding, ship operation, loading technology, and engineering technology services. This is another step forward for both companies in their efforts to respond to the demands of global specialized transport by delivering well-designed solutions.
Source: DNV GL Maritime Impact 01-2017
The opinions expressed herein are the author's and not necessarily those of The Maritime Executive.