LEDETs ? 35 Years of Law Enforcement Missions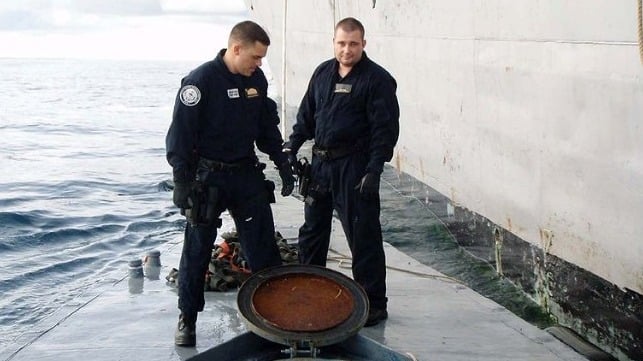 In the late 20th century, international environmental, economic and political developments created new missions for the Coast Guard. For example, during the 1970s, the rapid growth of illegal narcotics smuggling by sea drove the need for highly trained boarding teams known as Law Enforcement Detachments (LEDETs) to specialize in interdicting drug smuggling vessels. The Coast Guard formally established the Law Enforcement Detachment program in 1982. Originally, LEDETs operated directly under Coast Guard "groups," local commands that operated under Coast Guard districts.
Legislation during the 1980s reinforced the LEDETs' drug-interdiction role. In 1986, Public Law 99-570 authorized Coast Guard personnel, such as LEDETs, to conduct law enforcement operations from U.S. Navy ships, in addition to Coast Guard vessels. In 1988, Public Law 100-456 required all Navy surface units transiting drug interdiction areas to carry Coast Guard law enforcement personnel increasing the need for LEDETs. In addition, the 1989 National Defense Authorization Act tasked Department of Defense agencies with monitoring maritime and aerial importation of illegal drugs. The act named the Coast Guard as the lead agency for waterborne drug interdiction and apprehension of illegal drug traffickers.
The 1990s saw many changes in the role and operational structure of the LEDETs. In 1993, the LEDETs' mission expanded when they began deploying aboard NATO and Allied naval vessels. During this time, LEDETs were moved from under Coast Guard groups into support units called Tactical Law Enforcement Teams, or TACLETS, whose purpose is to train, support and task its LEDET teams. Commissioned in 1993, the four original TACLETs included TACLET-Gulf, in Mobile, Alabama; TACLET-North, in Yorktown, Virginia; TACLET-South, in Miami; and PACTACLET, in San Diego.
Between 1999 and 2004, the service consolidated the four TACLETs into two, TACLET-South in Opa-locka, Florida, and TACLET-Pacific in San Diego. TACLET-South supports eight LEDETs (LEDETs 401-408) and the Authorized Use of Force Locker while TACLET-Pacific supports 10 (LEDETs 101-110). Each LEDET includes eight to 10 members and can deploy within hours of assignment. LEDET deployments last between 45 and 90 days; however, some LEDETs deploy as long as six months spending much of their time assigned to Coast Guard cutters, U.S. Navy and Allied nation naval vessels. LEDETs deploy to the Caribbean and the Atlantic, Pacific, Mediterranean and Indian oceans, to perform any mission requiring their skill sets.
LEDET members undergo constant training. Candidates start with the boarding officer course at the Maritime Law Enforcement Academy in Charleston. There, they study maritime treaties, regulations, and laws, both national and international. Graduates then take an indoctrination course to prepare them for the physical and mental demands before they take the Basic Tactical Operations Course, an eight-week training program that introduces prospective members to high-risk maritime interdiction operations and close quarters combat, and qualifies them to serve as LEDET members. In all, the qualification process can take as little as a year or up to three years depending on billet requirements and is one of the most rigorous training programs in the Coast Guard. After qualification, LEDET members receive specialized training in a variety of areas, such as hook and climb training, vertical insertion, container climbing and more. LEDET members continue their training and mission readiness exercises while serving at the TACLETs.
LEDETs count among their members some distinguished Coast Guardsmen. These include Damage Controlman Nathan Bruckenthal, posthumous recipient of the Bronze Star and Purple Heart medals, and a Fast Response Cutter namesake. Another LEDET member, Lt. Cmdr. Joe Rodriguez, was the first Latino rescue swimmer and Rescue Swimmer School instructor; first Coast Guardsman to complete the U.S. Army jump school; and first non-Marine officer to command the Marine Corps Special Operations Training Group. Rodriguez also attended the Marine Corps' scout sniper course and Amphibious Reconnaissance School. An exemplary specialized forces member, Rodriguez was also the first commanding officer of MSST 91102, and one of TACLET-South's first commanding officers. Other members of LEDETS and TACLETs have achieved flag rank including admirals Tom Atkins, Peter Brown, Pat DeQuattro, and Keith Smith.
LEDETs have participated in numerous law enforcement and humanitarian operations. These include 1994's Operation Able Vigil and the 1998 interdiction of Chinese Motor Vessel Chih Yung, which had 172 Chinese migrants on board. Immediately after the terrorist attacks of 9/11, LEDETs provided security details around New York City, including screening ships arriving in the port facilities. LEDETs have also played a vital role in Operation Martillo, which has supported drug interdiction operations since 2012. For over 10 years, LEDETs have deployed with the Navy's Combined Task Force 151 to fight piracy off the coast of Somalia and Gulf of Oman. In 2010, LEDETs assisted with port security in Port-au-Prince after the devastating earthquake that struck Haiti. In addition, since 2007, LEDETs have taken part in nine of the 11 largest maritime cocaine seizures.
LEDETS have also participated in several wartime boarding operations. Between 1990 and 1991, during operations Desert Shield and Desert Storm, 10 four-member LEDETs deployed to the Persian Gulf to enforce sanctions against Iraq. LEDETs led or supported 60 percent of the Gulf War's approximately 600 boardings. In 1993, four LEDETs deployed aboard NATO vessels supporting the United Nations embargo against the former Yugoslav republics. In Operation Iraqi Freedom, LEDETs deployed on Coast Guard and Navy patrol craft to board and inspect vessels in the Northern Arabian Gulf. As a member of one of these LEDETs, Bruckenthal died when boarding an explosives laden dhow that detonated.
Since 1982, LEDETs have evolved from a counterdrug unit under local Coast Guard command, to one of the service's modern Deployable Specialized Forces with a global area of responsibility. Over the course of their history, the LEDETs' role has expanded to carry out a variety of maritime interdiction missions, including counter-piracy, military combat operations, alien migration interdiction, military force protection, counter terrorism, homeland security, and humanitarian response. The LEDETs and their law enforcement mission form one more link in the long blue line.
William H. Thiesen, Ph.D. is Coast Guard Atlantic Area Historian.
Source: Coast Guard Compass
The opinions expressed herein are the author's and not necessarily those of The Maritime Executive.