China Challenges India's Leadership in Indian Ocean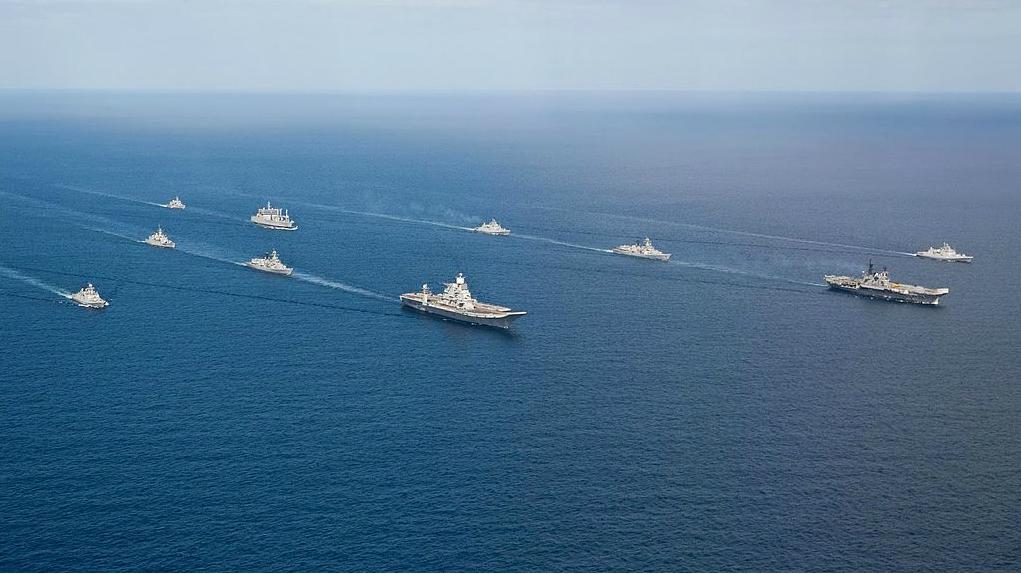 [By Abhijit Singh]
The recent Indian Ocean conference at Colombo generated much enthusiasm in India's strategic circles. Organised by the India Foundation (a prominent Delhi think tank aligned closely with the Prime Minister Narendra Modi's government) in collaboration with the S Rajaratnam School of International Studies in Singapore, the meeting drew participants from across the Indo-Pacific region, including Bangladesh, Sri Lanka, Mauritius, Seychelles, Singapore, Indonesia, Brunei, Fiji, Australia, Japan, South Korea and the US.
A slew of analyses by Indian observers hailed the meeting as another example of India's invigorated Indian Ocean diplomacy. For many, External Affairs Minister Sushma Swaraj's call for the development of security architecture at the conference and for littoral states to strengthen cooperation created an unmistakable aura of responsible Indian leadership. Swaraj's characterisation of the Indian Ocean as "not just a water body, but a global stage for social, economic and diplomatic dialogue" seemed like the perfect premise for regional engagement.
And yet, the Indian commentariat's endorsement of this energised maritime diplomacy does not obscure the paradox that Delhi's political establishment increasingly faces: that the rhetoric on India's leadership in the Indian Ocean isn't matched by the facts on the ground, which increasingly seem to favour China.
Recent developments are unlikely to provide much comfort to Indian policymakers. Since January this year, China has been able to establish a strong military and economic presence in the Indian Ocean region, with many South Asian states bending over backwards to accommodate Beijing's regional initiatives.
First, China set up its first military outpost in Djibouti, underscoring Beijing's growing political influence in India's strategic "backyard." Described as a "logistics facility" for anti-piracy and humanitarian missions, the new base embeds China into the geopolitics of the Indian Ocean. The Djibouti government's eagerness for strategic engagement with Beijing made it possible for the Chinese military to establish a facility close to the main port in the East African state. In return, Beijing provided port investment and defence aid to Djibouti, including assistance in the development of military capabilities.
More disquieting for Delhi is Beijing's growing sway in Sri Lanka, where China Merchant Port Holdings (CMPH) has just acquired a 70 percent stake in Hambantota Port. Colombo says it will not allow the docking of Chinese warships and submarines at Hambantota, but this is unlikely to endure in the long run. After swapping its existing debt for equity and taking majority stakes in port operations, the CMPH is in firm control. Beijing is set to benefit from the agreement's ambiguities, which could be used to facilitate Chinese naval deployments. Colombo hasn't revealed the exact nature of the pact and has avoided discussion of the issue in parliament. To add to Delhi's woes, the implementation of India?-backed projects on the island seems to have ground to a halt.
The story isn't much different with Bangladesh, whose strategic embrace with China has only tightened. Despite a successful visit by Prime Minister Sheihk Hasina to Delhi in April, Dhaka avoided signing a long-term comprehensive defence pact with India, presumably because much of its military equipment (including strategic platforms such as submarines) is sourced from China. Enamoured with Beijing's economic clout, Dhaka has decided to give majority stakes at Payra Port to China Harbour Engineering Company Limited (CHEC), a Chinese state-owned enterprise. This, even as China pressures Bangladesh to convert its soft loan of $25 billion into commercial loan, giving China greater leverage over the South Asian state.
In Myanmar, China is looking to take a stake of up to 85 percent in a strategically important sea port in Kyaukphyu, even pushing for preferential access to port facilities. Beijing has already built an oil and gas pipeline spanning from Kyaukphyu to Kunming, in the province of Yunnan.
Delhi cannot excuse its bungle in Vietnam last month, when the Indian Foreign Ministry refused to acknowledge the sale of Brahmos missiles to the Vietnam military, even after the local media reported it. China openly voiced its displeasure over the deal, but Delhi apparently couldn't summon the gumption to publicly defy Beijing.
Australia, meanwhile, still hasn't figured out why it was not invited to attend the Malabar naval exercises in July. Delhi procrastinated over Canberra's request for participation for nearly two months before turning it down days before the commencement of the drills. While India's reservations about including Australia in a maritime quadrilateral in the Indian Ocean are well known, Canberra believes the recent improvement in bilateral ties were an opportunity for Delhi to turn a page. India's inability to get over the experience of the quadrilateral in 2007, when Australia abruptly pulled out of the four-nation initiative, is indicative of Delhi's political belief system.
With the U.S., India has taken one step back for every two forward. Despite signing a logistical agreement with Washington, Delhi has little idea of how to put it to use. After waiting for over a year to operationalise the agreement, the Indian Navy is yet to bring the arrangement into real effect. India is also moving slowly on the Communication and Information Security Memorandum of Agreement (CISMOA) and the Basic Exchange and Cooperation Agreement (BECA), two crucial foundation pacts meant to enable the transfer of critical defence technologies. Far from decisively moving ahead, India's Defence Ministry is dragging its feet on the agreements, complaining that certain contentious clauses potentially hurt Indian interests.
Meanwhile, Washington has announced its first bilateral naval drills with the Sri Lankan navy. The U.S. Navy has moved to include Sri Lanka and Bangladesh in the multilateral Southeast Asia Cooperation and Training (SEACAT) exercises, a clear sign that U.S. security initiatives in maritime Asia will not wait for Indian approval.
Delhi's increasing use of persuasive rhetoric to highlight India's Indian Ocean leadership does not impress regional observers any longer. During the first Indian Ocean conference in Singapore last year, prominent Indian speakers waxed lyrical about India's Indian Ocean pre-eminence – its role as the ocean's "centre of gravity." Their advocacy for a special Indian role in the Indian Ocean Region resonated strongly with foreign delegates, who took it as proof of Delhi's commitment towards a pan-regional security architecture. A year later nothing has really changed, which is why India's friends now regard Indian hyperbole with a degree of circumspection.
Delhi's real problem is that while it talks a big game about cooperative security in the Asian littorals, it has no real plans for operational follow-up. The security establishment's reluctance to allow the Indian navy to participate in joint patrols with the US and other ASEAN navies in Asia's sensitive littorals precludes official Indian participation in technical discussions on Indo-Pacific security. Beyond reiterating its support for freedom of navigation and the rule of law in solving maritime disputes, Delhi does not show any great enthusiasm for participating in Western Pacific security initiatives.
If India hopes to serve as the "pivot" for geopolitics in Asia, Delhi must raise its game in the neighbourhood by walking its strategic talk. Without operational follow-up, India's expressions of political intent are unlikely to ever be taken seriously.
Abhijit Singh is a Senior Fellow and head of the Maritime Security Initiative at the Observer Research Foundation (ORF) in New Delhi.
This article appears courtesy of the Lowy Interpreter and may be found in its original form here.
The opinions expressed herein are the author's and not necessarily those of The Maritime Executive.